In April, I was delighted to be selected to receive a copy of
Learning in Spite of Labels: Practical Teaching Tips And A Christian Perspective of Education , by
Joyce Herzog, to review for the Old Schoolhouse Magazine Schoolhouse Review Crew.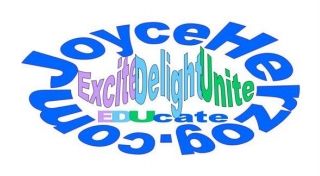 I had heard of Joyce Herzog and some of her products, but I had not previously had the opportunity to actually read or use any of her materials.
The Crew had many titles to choose from when indicating which book(s) they were interested in reviewing. I had indicated three possible products:
Learning in Spite of Labels, Timeless Teaching Tips,
and Educational Dice Bag. I figured any one of these would be a good fit. All the same, when I learned the title I was to receive, I was a little skeptical as to how well it would fit my situation. My son has some learning issues, but we don't see him as having a "label". One set of doctors, by observation, had labeled him, but another specialist, on closer questioning, had decided my smart son was just "gaming the system" (realizing that he could get away with things because people thought of him as ADHD). But reviews said, "Every parent needs to read this book." So I dove in.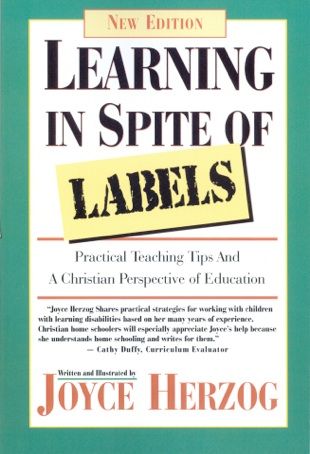 Learning in Spite of Labels is a 216-page paperback book for parents, relatives, teachers and care-givers. It is a resource that will be valuable to any parent or care-giver of a child with ADD, ADHD, Downs Syndrome, autism, behavioral issues, Learning Disability, ...but basically it will be valuable to the parent of any child.
Learning in Spite of Labels is broken down into four sections, further broken down into 20 chapters, with an additional introductory section (Acknowledgements, Foreward, etc.) and a section of Apendices with an Afterword.
The sections within the book are:
What Do I Need to Know? [Focuses on LD, learning, behavior and strength, and issues to consider.];
What Do I Need to Do? [Focuses on where to start - medical exam, visual and hearing exams, focus on diet, learning environment, how children learn, how to approach learning from many different directions, etc.]
Where Do I Start? [Starting with early childhood, looks at spiritual, emotional, social, physical and academic perspectives. Gives mom things to consider that affect learning. Encourages mom.]

And Furthermore [Discusses Learning Styles, homeschool law, LD in history, learning from history, specific labels, and visual issues.]
My son being halfway to fourteen years old, information on early education and diagnostics were not something I needed. Once I had waded through sections that did not really apply in our situation, I began to get to things that will really help me in working with my son.
~~~~~~~~~~~~~~~~~~~~~~~~~~~~~~~~~~~~~~~~~~~~~~~~~~~~~~~~~~~~~~~~~~~~~
Our Applications:
I want to regularly revisit the author's list of "What is Really Important?"'.

I want to remember what is important and do Bible time first.

Structure and routine help my son succeed. I need to work on consistency.

I need to find ways to encourage him more.

Consistency is key in what I require, what I expect, and what consequences will occur if expectations are not met.

To help my son succeed, I need to break tasks into achievable steps and make sure he is able to accomplish each step, and will allow him to practice several times before I expect him to be able to do the task by himself. (Particular math skills.)

Our homeschool would benefit from some variety. (This might or might not be true; I'll see. My son really resists change.)

I need to remember to reward my son for small achievements.

I need to use ingenuity to give my son choices at various times. When he feels like it was his choice, he might be more willing to do it. ("Do you want to do Math first, or history, or this biography?")

I need to work to present lessons in ways that are multi-sensory...
Well, these applications are all from one section (one that I got a lot out of), but I'm quickly realizing that it would be very difficult to list all the things I found that I'll be trying to apply...
The Good:
Learning in Spite of Labels is quite comprehensive. To begin with, it has material to benefit families with children with any number of "label"s, as well as children who don't have labels!

The material contained therein runs the gamut from what to look for, where to get evaluations, where to get help, tactics to use on your own that can also help your child.

The various aspects the material discusses are so vast it is difficult to even discuss them all here!

The section and suggestions for being alert to and combating depression is very helpful.

The Appendices are full of a wealth of resources that will be very helpful to those wondering what to do, where to go, who to contact, how to proceed.

Joyce Herzog has a heart for the Lord, and it comes through in what she writes.

The author also is very encouraging toward parents teaching their own children if they can. Who could love them more?
Could Use Improvement:
The main thing is that most of the book reads like a book that was written before computer usage was an everyday normal in most homes. There are no suggested programs to benefit the learning experiences. Suggestions like "Write a note" do not include "or email", and this would apply throughout the book that there are spots where the wording could probably use updating.

The wonderful Resource Appendix needs to be updated to include webpages for most of the listed resources (HSLDA.org; NICHCY.org; etc.).

The photocopied list of resources is from 1993 -- twenty years old! These things need to be updated.
I really enjoyed and benefited from this book and will continue to use it in the days ahead. I'd love to read more of her materials in the future.
If you have a child with a label, or one you suspect has some sort of learning disability, I highly recommend this book. You will find it very helpful.
See for yourself; download a sample!
I think you will agree with me.
Hope you found this review helpful!