In early May I learned
Hewitt Homeschooling was coming up as a vendor for a Crew Review.

I love materials from
Hewitt Homeschooling! And we were being offered a huge variety to choose from. My student is in high school, so that narrowed down my choices. I finally settled on asking for
British Medieval

. I liked the literature it covered as they were mostly titles I already owned.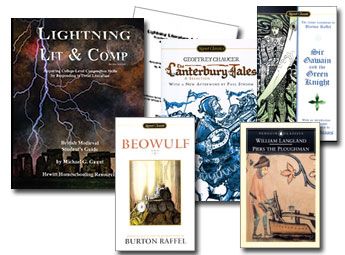 The beauty of
Hewitt Homeschooling Lightning Lit & Comp materials is the way the teach the student because it has the student read classic literature and write compositions in response just the way they will have to in their college English classes.
The materials arrived. I received the Student's Guide and the Teacher's Guide. I'm the student on this one this time and when new school books come in the mail I feel like a kid in a candy shop! I can't decide what to "taste" first, and it is hard for me to settle down and really get started. When I was finally able to slow down and focus, I began by reading the Student's Guide Introduction.
I love the Lightning Lit Introductions. They start by talking to the student about who they should take this course, why to read literature and how to read literature. They also discuss how to read poetry. The Introduction discusses aspects of poetry: vocabulary, syntax, alliteration, assonance, rhyme and meter. Poetry can be easier to read an easier to understand if you read aloud.
The author recommends the student consider memorizing poetry, and I am humbled to remember the original tradition of story-telling involved individuals memorizing classics like The Odyssey and Beowulf for the purpose of its retelling. Wow!
The Introduction then teaches the importance of learning to write well. Although it comes more naturally to some than to others, it is a skill that can be learned. The book discusses brainstorming, topic statement, research, outlining, and steps to turning the outline into a final product.
The Introduction also (of course) discusses how to use the Student's Guide. There is information about what to do with the Lessons and what to keep in mind while you read. I really like that the Guide recommends the student keep a vocabulary notebook and a reading journal.
Next the Student's Guide jumps right to Unit 1, Lesson 1: Beowulf. Before starting Beowulf, I took a look at the Teacher's Guide. The Teacher's Guide is 85 pages, plain white 3-hole-punched paper, stapled. I will probably get this put into a 3-ring binder sometime -- not having it in a binder causes it to get beat up. The Teacher's Guide also starts with an Introduction, so I started reading again!
The Teacher's Guide Table of Contents is linked on the Hewitt website. The schedule is available in both the Student's and the Teacher's Guide for both a one semester schedule and a full year schedule. The material as presented counts for 1/2 credit. For one full credit the student would need to complete two Hewitt high school Lightning Lit & Comp titles. Another option is to spread the material out over the course of a full year and supplement it with other English work such as grammar and further study such as author studies.
I began my studies of Beowulf. I was surprised as I read, because I have apparently read it before. I didn't remember that I had read it. The only thing I can figure is that I must have led my oldest daughter's literature class when they were studying Beowulf. In my defense, that was about 20 years ago. Yes, it really was. I was able to understand the story better this time because the introduction explained some things I just didn't figure out the first time. I really got into the story and just wanted to enjoy it, so I was frustrated to have to stop and answer the comprehension questions. I know this must be how my students sometimes feel, but at the same time it causes one to slow down and think more about specific aspects of the literature.
The Teacher's Guide provides checklists for writing assignments followed by a grading template for grading the writing assignments. I love the sheets provided for the units to help the teacher come up with the grade. Grading has always been very hard for me! There are ten aspects given to consider when evaluating the student's work (giving a score from 1-10), and then you add the ten scores together to get the final grade. Great grading method. And when the student understands what things contribute to the final grade, it is easier to pay attention to detail. There are also templates for grading comprehension questions and for vocabulary work. The final grade consists of 80% writing assignments, 10% comprehension and 10% vocabulary. I decided to try to work at the one-semester pace, knowing that I might have to slow to the full-year pace if my life got too hectic.
Week 1 involves completing the Introduction and the first half of Beowulf with the comprehension questions.
Week 2 finishes the reading of Beowulf and calls for the Literary Lesson for Unit 1 Lesson 1.
Week 3 gives a choice of Writing Exercises and calls for a rough draft. The student begins Lesson 2, Anglo-Saxon Riddles, and comprehension questions. When you understand the riddles, they are so funny!
Week 4 had me finalize my Week 3 paper and begin a second writing project. The reading for this week was "Old and Middle English".
Week 5 finally let me start Piers Plowman. I had never read it before! It is so funny, what I've read so far. By now I really had to slow down; life is busy. I haven't finished my week 5 work yet.
Doing the British Medieval work on my own has been fun, but I am glad I don't have to grade my own writing assignment. It is hard to be objective about your own work. I have also had difficulty in the past being objective about grading my own kids' writing. I like the way the teacher materials tell the parent not to unnecessarily mark everything wrong. I always struggle with that. As the teacher, make positive comments and keep criticism unemotional. I'm not good at that, either. Avoid rewriting the student's work. I am working on it.
British Medieval is a fantastic program. The Hewitt Lightning Lit & Comp materials are all fabulous. I have previously talked about British Mid-19th Century and the
Gr 7 Lightning Lit Set and I loved them both. I've never tried a Hewitt Homeschooling product that I didn't love. Give them a try!
Other members of the Homeschool Review Crew reviewed various Hewitt Homeschooling products. Click on the button below to see other Crew reviews of Hewitt Homeschooling products.