For the past month or so I have been working with a product from Everyday Homemaking to review.
For the past month I have been working with the concepts presented in
The Everyday Family Chore System.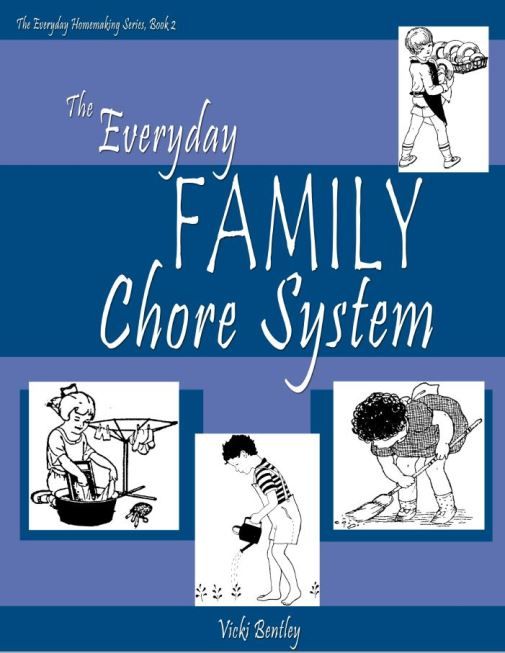 I received access to the PDF version of the book in late mid-July. I had just undergone foot surgery, and my son was away on a trip with the Civil Air Patrol. When I learned that
The Everyday Family Chore System

was coming up for review I expressed interest. Sitting in a chair with my foot elevated, looking around at the mess my house was, I knew I needed help. I thought, "Sure! Why not!"
As I began reading
The Everyday Family Chore System

, I began to get a lump in my stomach. We were expected, for this review, to "read through the book and implement something from it."
This system is a great product, but my family is not a good fit for the system, and the time-frame was not good for my son's summer schedule. My son, in the midst of a ten trip, came home briefly and then left on another trip. Shortly after his return from his second trip, there was County Fair week...
As I further explain the Family Chore System I will help you further understand what I mean (that the system is great but that I was not able to implement the system).
The Everyday Family Chore System

is an ideal system to begin following when your children are young. It gives excellent instructions and encouragement to the mom on how to implement the system with various aged children. The book teaches which chores are appropriate at which ages.
The Everyday Family Chore System

begins with a section that covers training the child: realistic expectations; setting up rules; establishing disciplinary consequences; and cultivating your relationship with your child.
Section two covers setting up the actual system. It involves first determining things that need to be done daily, weekly, monthly, etc. Next jobs are divided between children (and parents, if desired). Next there are resources provided that you can print out to set up the system. The first is called "How-To-Do-It Cards". If you have additional jobs you write them up on 3"X5" cards. You put contact paper on everything and cut out the cards. Instructions are given for what to do with the cards and how to set up a "Job Box".
A third section of the book focuses on teaching the children to work with diligence. You demonstrate the task and gradually let the child take over. You want to be organized and have a functioning routine. Success gets rewarded; slacking has consequences. Commit everything to the Lord.
A forth section gives the actual templates to use with instructions. There is also a link given to a workshop you can listen to, Getting Kids to Help at Home.
I'm not trying to explain the whole system -- I want you to buy it if you want it. There is a rotating system for daily and weekly jobs assigned to your various children, and it is explained how to work in the less frequent jobs.
So where the program did not work for me was that I have only one child (almost adult) in the home at this point. During this review his time was already taken.
But I do love the system. What I read that is totally working for me is the various "How-Do-Do-It Cards". I've been homemaking almost 40 years, and gradually over time things have been going downhill in cleanliness. The instruction cards, while not rocket science, are very helpful for me. I read, and I say, "Oh, I never thought of that! No wonder that is so dusty!" In other words, author Vicki Bentley includes cleaning steps that I have not been doing, which explains the gradual downhill slope of cleanliness around here. I think I used to move so frequently that it never got this bad. At this point we have lived in this house 18 years, and there are places that just haven't been getting cleaned.
So while I don't have an army of little people to train to help me with the many jobs that need doing around here, I do appreciate the content of
The Everyday Family Chore System

and look forward to the gradual improvement I will see around here as my little army (hubby, son and I) work to make improvement. This is a program you can run with as is or tweak to fit your situation. Improvement is good; we don't need perfection. Neatness and cleanliness bring peace.
I got an email from the author this morning offering my readers a special deal -
10% off
The Everyday Family Chore System
and/or
Everyday Cooking
(print or e-book) through Labor Day!
The code for your discount is TOS10books -- you can apply it to as many books in yout cart as you'd like, but you do need to shop first, apply the 10% discount code last. Expires
Sept 5
.
Other members of the Homeschool Review Crew were reviewing both
The Everyday Family Chore System
and
Everyday Cooking.
To read more reviews please click below.