For the 2011-2012 School Year I have had the privilege to be a reviewer for The Old Schoolhouse Magazine's TOS Homeschool Crew. Each year, at the end of the year, the reviewers get to vote on the favorite and the best products of the year. The votes have been tallied and the results are in. Below are the results. For the products that I had the privilege to review, the product is linked to my review. For ones that I did not review, the product is linked to the TOS Crew Blog's Reviews page for the product.
Each winning vendor has received this wonderful award to display with pride: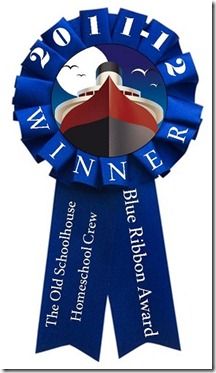 C
ongratulations to the winning vendors! TOS Crew hopes you will sail with the Crew again!