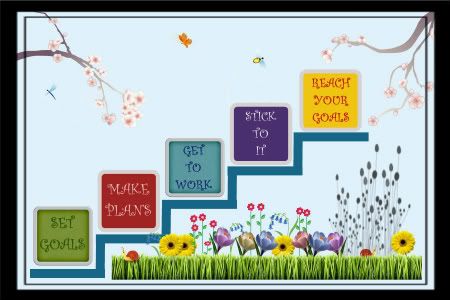 I wasn't really planning to figure out goals for 2013, but Debbie, over at Debbie's Digest, really inspires me. (The graphic above came from her blog, too.) So here goes.
Spiritual
My Bible reading has slipped from every day to... not every day. I already didn't read yesterday, but I am going to get back to doing five minutes or mor every day. (Start small so you don't fail and chuck it is the plan in this instance.)
Read Godly/Spiritual books.

I have not settled on which book I will be starting with.
Prayer life- regular prayer and journaling.

Family

Nation

Church

Missionaries

Ministries
Memorize 100 verses in 2013 with group on Facebook. Feel free to go to that page and request to join.
Health and Fitness
Exercise at least five days a week on the treadmill. Implement Family Time Fitness with my son as well.

Now that I've had some physical therapy for some issues, I'm ready to do this.



Educational
I will be working on Latin and Spanish in 2013. If it becomes too much, I will choose one or the other.
Adjust our planner and move on. Finish year strong. Help JD to "own" more of his own work.
Remember to cover the "Daily"s daily. Review his math papers daily.
Begin working on the next school year's plans early. For financial reasons, try to school using what I already have wherever possible.

Integrate Review items where appropriate.

Maybe purchase an Algebra I program from Horizons.
Organizational/Flylady
Flylady says to make my bed every morning and shine my sink every night. Well, I don't get my bed made every morning, and I usually get my dishes done and the dishwasher running every night. I think I'll be working on her monthly habits:
Weekly home blessing: I don't do this. Maybe I can start trying to do one a day throughout the week... FlyLady sets her timer for 10 minutes to work on each of 7 ways to b

less the home:

Vacuum

Dust

Quick Mop

Polish Mirrors and Doors

Purge magazines and catalogs

change sheets

empty al

l trash cans
Routines; check-off lists; timers - I could really benefit to implement some of this. When you have certain routines, you do things without thinking about it. Before they develop into a habit like that, check-off lists are really helpful. I even need to get this going for JD; I know it would help him. And using the timer is amazing. Not only are my dinners not mushy or burnt, but racing the timer gets things done quicker, which equates to more done in a day. I know that is not stated as a goal -- okay, I will seek to improve in my routines, check-off lists, and increase my use of the timer.
Personal/Leisure
Blog with lots of photographs.
Read for pleasure. Start with finishing White Gold Wielder, by Stephen Donaldson.
Begin my scrapbooking. Work on scrapbooking at least one day a month.
Bowl at least once a month.
Those are my goals for 2013. How about you???
If you made goals, make goals, or want to set goals post them on your blog and Click at the bottom on the button to go to Debbie's Digest and link up. Tell your friends and have them link up!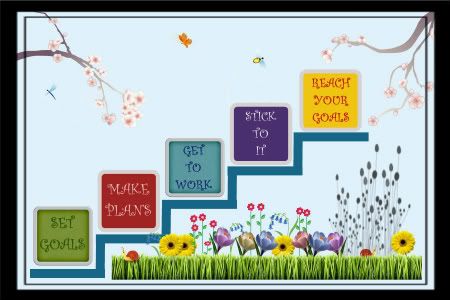 I am also linked up with Weiser Academy's blog entry about New Year's Goals.