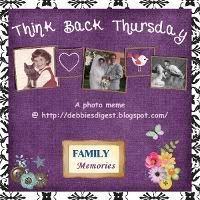 I am the daughter of a bricklayer,
(Above: Herbert William Hall and Ida Mae Holien Hall, wed on 8/29/1952)
who was the son of a brick layer,
(above: Herbert Hall, Jr., my grandfather)
who was the son of a brick layer.
(Above - Herbert Hall, Sr., my great-grandfather, who married Carrie Jycals)
Bricklaying was thick in my family -- my dad's brothers were both bricklayers, and my mom's brother also got into bricklaying. My dad and my relatives built our family home that we lived in when I was born (photos are another blog entry).
In the Hall family I do not believe there were any fourth generation bricklayers, although my cousin from my mom's brother Wayne Holien did go into bricklaying.
The Halls and the Morris's lived in Canada when Herbert and Dora met and married.
Dora was born January 1, 1906 in Dublin, Ireland on a RAF Air Base.
(Above: Baby Dora, 1906)
(Above: Dora with two brothers, Percy, and...? circa 1911) The family emigrated to the Canada in 1914 -- Great Grandfather Alfred received a land grant from Great Britain to thank him for his many years of military service.
Not many photos exist from Dora's childhood. The family farm was left one summer for holiday, and when they returned the house had burned to the ground!
The above photo says in ink across the front: "Around the Speedway", and there are model-T's racing in the background. My grandfather has a guilty look on his face, and his fingers seem to be roaming on my Gram. His other arm around Aunt Betty, he must have been a family friend for awhile -- his arm was always around one or two of Gram's sisters...
Grama Dora, aged 18 or 19, standing on the running-board of an old Ford.
My dad, Herbert W. Hall, was born in 1925 and died in 2006.
He was born to Herbert Hall, Jr. and Dora Elaine (Morris) Hall, at the Washington Women's Hospital, and lived in Greenbelt, MD (at 28-B Ridge Road).
(Above, Herby sitting in front of the family townhouse in Greenbelt.)
Herbert William was first born, followed by his brother Robert. Above is my grandma Dora on the running board, my dad Herb on the front fender, and his dad Herbert Hall, Jr. on the right.
(Above: left to right, Phyllis (Dora's sister), Herb and Dora (my grand parents), an unknown brother of Dora, Dora's mom Bessie, and Dora's sister Betty, and in front my dad Herb and my uncle Bob. I love the flapper hats! Taken in the late 1920s.)
(Above: l to r, my Uncle Bob, my grandfather Herbert Hall, Jr., and my dad in knickers on the right, with a family dog.
(Above: Left - Uncle Bob, right is my dad Herb, with the same family dog. The boys are both in knickers!)
And finally, one day in the 1930s a 3rd brother joined the family: George Edward (Uncle Eddie):
(Above: Newborn baby George Edward was not expected to live. He was kept warm all winter by his sleeping box being kept on top of the kitchen stove. Too young to nurse, he was fed condensed milk with water through a bottle.)
(Above, my grandma Dora holding my uncle, Eddie, when he was about 6 months old.)
(Above: Baby Eddie, a.k.a. George Edward Hall.)
(Above: baby Eddie, my dad Herb in the middle, my Uncle Bob on the right.)
(Above: My Uncle Bob on the left, my Uncle Eddie the baby, and my dad on the right)
My dad was raised during the Depression. He was raised with a strong work ethic. He was a Boy Scout and progressed to the rank of Life Scout. Somewhere I have photos of him at camp, but I don't know if it was a Boy Scout camp. I can't find them for today's entry.
(Above: Dora holding Eddie, my Uncle Bob standing, my dad Herb on the right.)
Herb also learned to play Saxophone in school and was a proud member of his high school's marching band.
My dad graduated high school in 1943,
and worked in a machine shop on "The Waterfront" in Washington, DC. He wanted to enlist, but was not allowed to immediately because his job as a machinist was considered vital to the war effort. He was finally allowed to enlist in 1945, after peace papers were signed, but at a time that was still considered World War II. He served from 1945-1949, spending time particularly in Belgium.
He traveled a great deal in Europe during his time in service. His primary job was driving a truck to deliver supplies to provide for the officers (ice, booze, nice foods...).