Members of the Homeschool Review Crew were given the opportunity to receive a
Yearly Membership
to
SchoolhouseTeachers.com
and were welcomed to write a review.

I have had a Yearly Membership to
SchoolhouseTeachers.com
for several years as a member of the Homeschool Review Crew. I don't use this as much as I wish I could -- my only student is in 11th Grade and takes most of his courses through dual enrollment at the local community college.
Whenever I visit
SchoolhouseTeachers
and see the wealth of materials it offers to a homeschool family, it makes me wish I had had this resource ten years ago, when my son was a seven-year-old 1st Grader! Then I would have had, in one place and for a small one-time annual price, access for my son to lessons in Bible, Math, Science, Language Arts, Social Studies, Art, Music and much more! That means I would have had everything I needed to teach six of the eight subject areas my state requires, plus more. (The other two subjects my state requires are Health and Physical Education.) Then I found links for PE and Health under Quick Links -- they're just not listed at the 1st grade level.
Each grade level has its own spread of basic subjects, from pre-school through high school, with additional materials just for teacher enrichment. Everything is laid out very intuitively, with a very helpful tab for "Start Here" (for the new user).
Each option on the menu bar goes to another array of selections. Here are the choices when you select "Start Here":
The resources on
SchoolhouseTeachers
include downloadable, printable items, videos and online classes. The gems that I have found for my son and I (remember, he's an 11th Grader) are:
College Choice Guidance;
SAT-ACT Math Prep;
Writing: College Admission Essay;
Whole Foods Cooking with Sue Gregg;
Geometry; and
This Month's Menu.
There were also courses in English Composition, History, Spanish and Science that we could have used, but my son is taking those courses at the Community College this year.
The best news I have for you today is that a
Yearly Membership to
SchoolhouseTeachers.com
is currently on sale!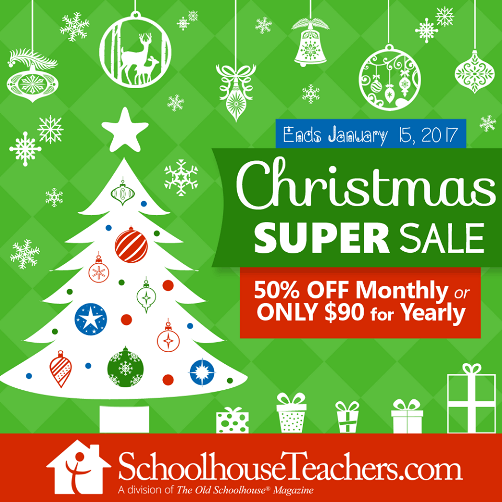 Join during SchoolhouseTeachers.com's Super Christmas Sale and Save!
Use Code:CHRISTMAS for $9.95/month or CHRISTMASYEAR for $90/year.
50% discount on upcoming price increase ends: 15 January 2017
In mid-January,
SchoolhouseTeachers
is having a price increase. The promotion is to LOCK IN NOW at the $9.95/month rate so that you save 50% on the NEW prices. In about a week and a half this same monthly service will be $19.95/month--approximately twice as much!
Read the whole thing here:
http://campaign.r20.constantcontact.com/render?m=1101381905269&ca=ff64d755-7fac-4af8-b645-560377bc8ea4
Also, members of
SchoolhouseTeachers
are allowed to be affiliates. I am an affiliate. I haven't earned anything yet, but if you join after clicking one of my affiliate links I will earn a little something to use toward my son's college books.
To see more reviews of
SchoolhouseTeachers.com
click on the link below.