In May I learned I had been selected to be part of a review with
Lamplighter Publishing.

I received in the mail a beautiful book called
The Secret Bridge.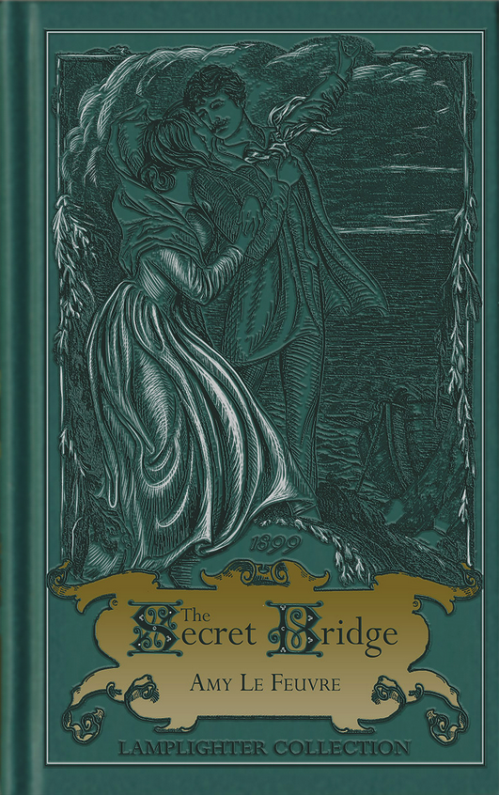 I had not known what to expect. I had heard of Lamplighter in the past and even owned a Lamplighter book, but I had forgotten all about them. But receiving this beautiful book!... I was immediately impressed and couldn't wait to start reading.
The exterior is like a blue
faux
leather embossed with shiny gold. I opened and began reading. I was immediately hooked. The writing style was quaint, old-fashioned. Curious, I quit reading for a moment to look the book over. The setting seemed to be the 18th or 19th Century. Reading information pages at the end of the book, I learned that Lamplighter mission is to print "books of high-quality with an emphasis on character development, biblical insights, artistic design, excellence, and skilled craftsmanship". I vaguely remembered knowing this. I flipped through a few more pages and found mention of the one Lamplighter book I had already owned: Teddy's Button. Wait! What? It's written by the same author as The Secret Bridge! Are you serious?
So I went back to my reading. The story begins on board a ship traveling from India to London. We meet some of the passengers: Godfrey Bullingham, traveling alone; Bridget Channing, traveling alone. Godfrey has been watching Bridget, and he begins a conversation with her. Eventually we learn she was raised by her father, her mother having died at her birth, and now her father has passed away. Before dying, her father made arrangements for Bridget with a step-brother in London, who promised to take care of Bridget's support.
Upon arriving to London, Godfrey and Bridget part ways as Bridget goes to seek out her step-uncle. Shortly thereafter Godfrey comes upon Bridget in the street, and we learn that Bridget's step-uncle died before her arrival and left all his worldly goods to an unsympathetic housekeeper who refuses to permit Bridget to enter the uncle's house.
Godfrey wants to help Bridget, but Bridget feels strongly that she cannot rely upon the sympathy of a stranger, and she seeks to make a way for herself on her own merits. The times and customs being what they were at that time, she soon learned that she could not find employment without references, not as a teacher, and not even as a nanny or a maid! Godfrey continues to pursue her, having decided the only way to help her is to offer marriage. Godfrey is in the Navy, and time becomes short when he must depart for a tour of duty! As departure approaches, Bridget is reaching the end of her funds and becoming desperate. She finally agrees to marry, and on the day Godfrey is departing they are wed, and Godfrey moves Bridget into rented rooms in a country estate where she will stay while he serves his year at sea.
Godfrey's family is away, though, when they are wed, and because Godfrey hasn't been able to tell them he is getting married he asks Bridget to keep their marriage secret until his return in a year. Godfrey wants Bridget to meet his family and wants them to fall in love with her before he tells them he has married her. We learn that his parents would not approve of him marrying a woman of unknown pedigree...
Godfrey leaves, and as Bridget begins to meet people, we learn of the familial feuds of the area dating back to the time of Henry VIII. The house Bridget is staying in belongs to the Bullinghams but used to belong to the Fitzroys, but they fell into disfavor with the king because they were Catholic and the king banished them and gave the property to the Bullinghams, who never saw it necessary to permit the Fitzroys to reacquire it. Of particular dispute is a carved mantle the Fitzroys want back, which the Bullinghams adamently refuse to let them have.
We meet family members from both clans, and learn even of a Fitzroy daughter who is never spoken of. Eventually we learn this daughter ran off and married someone not approved of by mother and father, and sailed away only to die after a year or so of marriage.
I begin to see foreshadowing, only to have my suspicions confirmed fairly early in the book: the missing Fitzroy daughter was Bridget's mother! A Bullingham has married a Fitzroy and no one even knows it! Meanwhile, through letters they have been exchanging, Bridget and Godfrey are falling in love.
The pressure and stress Bridget is experiencing weighs her down. She begins to find an outlet in a new-found relationship with her Savior. She and Godfrey regularly exchange letters, and she agonizes over what and how much to tell him about her new found discovery. How it all resolves is very satisfying.
Every good book usually has some point at which the reader can think, "So that's why that is this book's title." I really loved when the book revealed the reason for its title,
The Secret Bridge. Very fun!
I really enjoyed
The Secret Bridge, and I think you will too. I can't wait to pass it along to my adult daughter so she can enjoy it too. I really love Lamplighter Publishing's goal of developing
"Christlike character one story at a time."
To learn more about Lamplighter you can touch base and follow them through social media:

Facebook:
Other members of the Homeschool Review Crew also reviewed
The Secret Bridge. To see other product reviews, please click the button below.