In March I learned we had an upcoming review for
Institute for Excellence in Writing.
The product up for review was
High School Essay Intensive.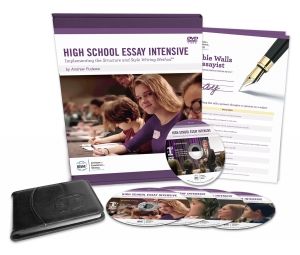 At first I did not believe this would be a good fit for my situation. My son is already an accomplished writer, and I didn't think we "needed" this product.
After taking a closer look at the product website, though, I changed my mind: this product was a perfect fit!
What I saw specifically that was such a good fit was:
1) Understanding and Preparing for the new ACT Essay;
2) Understanding and Preparing for the Redesigned SAT Essay; and
3) Strategies for the Personal Essay.
In case you are wondering, that is three out of four parts taught on the Essay Intensive. The fourth part (which is actually "Part 1") is General Strategies for Essay Writing. Part 1 is on two DVDs (Part 1a and Part 1b), and Parts 2, 3 and 4 each have their own DVD.
In my home school I am to the point of having only one student. He is finishing his Junior year. He is taking dual enrolled college courses at our local community college and doing well, due in part to the many IEW products he has been blessed to be able to use over the years. (His siblings were not so blessed -- IEW was just beginning as a company when they were in high school.)
I am so excited about the timing of this review, because my son is scheduled to take the ACT (with essay) on June 10. In addition, he will be filling out college applications this summer, which will require personal essays, and he will be taking the SAT in the fall. How wonderful to have High School Essay Intensive at this time! And I thought it was not a good fit for us. What was I thinking?
In addition to the boxed set of High School Writing Intensive we were given the videos via streaming, which we received first. Even though Part 2 was my topic of highest priority, when I had access to the streaming DVDs I started by watch Part 1! It has fabulous information in it! I got interrupted, though, and did not finish Part 1.
Then the package arrived!
The first thing I saw when I opened the box was the "Portable Walls for the Essayist".
At first I thought it was the Portable Walls I already owned, but it is not. The first page lists all the types of essays our students will need to learn how to write with a brief description. Page 2 covers Essay Models. Page 3 summarizes the Essay Writing Process. Page 4 covers Essay Writing Strategies for timed ACT and SAT essays and has a pocket for the student pages for High School Essay Intensive. Page 5 is dedicated to breaking down Specific Models of essays. Page 6 gives an extensive list of Transitional Words and Pages.
When I got back to work on the Intensive I went to Part 2 since my son has the ACT coming up in one month. Watching the ACT section of the Essay Intensive was fabulous and I know it is going to help my son. I have to say, though, that it is better to watch Part 1 a&b first because there are things Mr. Pudewa teaches there that he references in Part 2 that it is clear the student should try to learn.
The information contained in "Part Two: Understanding and Preparing for the New ACT Essay" will help your student arrive prepared on the morning of the ACT. Mr. Pudewa teaches your student about ways "optional" might be interpreted (as in "ACT Essay optional"). He covers time the student will have for the essay, type/purpose, audience, and grading. He shares how long the student will have for the essay and breaks down how best to utilize that time. The form of the essay will be "argumentative". Mr. Pudewa teaches the student how to break down and analyze and evaluate options provided with an essay prompt, and how to complete the essay. Links are given for where to go to learn which colleges require the essay and which do not, as well as a site where the student can see more potential essay prompts. Mr. Pudewa strongly encourages the students to take time to plan and outline before writing and to proof after writing, and the use all the time that the student is given! (My student will believe this more when told by Mr. Pudewa than if told by Mom!)
I strongly encourage High School Essay Intensive for your high school student. My son is going to benefit from every section in this program. He needs the personal essay section for college application essays, and he needs the SAT Preparation section because he will take the SAT in the fall. I am so thankful he has this opportunity.
You can follow
Institute for Excellence in Writing on Social Media using the links below.
Facebook: https://www.facebook.com/excellenceinwriting
YouTube: https://www.youtube.com/iewtv
Twitter: https://twitter.com/iew @IEW
Pinterest: https://www.pinterest.com/iewriting/

Hashtags: #hsreviews #highschoolwriting #SATprep #ACTprep
Other members of the Homeschool Review Crew also reviewed High School Essay Intensive. To see other product reviews, please click the button below.