In March the Schoolhouse Review Crew learned that
Successful Homeschooling Made Easy
was giving the Crew the opportunity to review the 26-week long
Successful Homeschooling Made Easy Course
that they have created. While the course is designed largely for new home schoolers, I decided to indicate interest in taking the course myself. Even though I am a veteran home schooler (almost a "pioneer"), I have been feeling burned out and welcomed the opportunity to slow down, take a breath, and get some fresh perspective.
The course is delivered digitally in PDF format. The Crew received the course slightly differently than the normal customer does, so that we could see more of the course during the 6-8 week review period. The normal customer would always receive one lesson per week beginning with week one, with an occasional bonus being sent occasionally sometime else during the week. The Crew started the review with an email containing links to four weeks, and then received one lesson per week every week thereafter. This morning I received "Week 10", so I guess we had a six week review period before reviews began posting to the Schoolhouse review link up page.
So bear in mind that I still have not seen even half of the course. (Well, if she had given us a 26 week course all at once to review in six weeks, we still would only have been reviewing the portion that we used during that period.)
Week 1 of the course begins as speaking to someone considering home schooling, who has not yet "taken the plunge". Its title is, "Start Homeschooling Today". There is encouragement to the parent that this is something he/she truly can do, then steps suggested for how to do it. From thence, as the weeks and lessons progress, the author writes as assuming that the reader begins home schooling. Lesson 1 also explains the course and what to expect each week. Ms. Walmsley encourages the parent to look at the family schedule and suggests a basic schedule that will be used for eight weeks. Questions are asked to help the reader evaluate and settle on their schedule. The academics on the schedule, initially, include a "Literacy Hour" and a "Numeracy Hour". Then after that is included incidental learning, having fun.
In the weeks that follow, time is spent focusing on making Math easy, stories of other moms and their experience in beginning to home school, advice to help you make your home school strong and secure (against your own doubt and against the criticism of others). There are lessons to build your home school foundation to be successful, while still taking time to keep things balanced so that you take care of yourself as well. There is conversation about curriculum choices, and the fact that the curriculum choice itself is somewhat not as important as finding your comfortable home schooling style. There is time spent considering all the opportunities available for home schoolers, and that you cannot possibly do it all -- some times you need to say, "No!" to wonderful opportunities. Lesson 9 discusses how one manages housework and home school both, and the lesson I received today (that I haven't read yet) is about making a new full schedule.
Each lesson in this course is like a breath of fresh air. The author (Stephanie Walmsley) encourages the reader to find a quiet time and a comfortable place to work, to get a warm cup of a favorite beverage, and to get some paper and pen to take notes.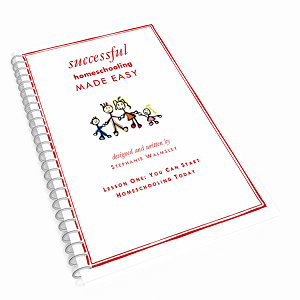 I finally worked my way into a system for using this material. Each week, when the email with the new lesson arrived, I would open the document on my iPad into my iBooks. Then each week I looked forward to my son's 2-hour Civil Air Patrol meeting, when I would find a quiet place to sit, read, and take notes. The author recommends printing out the material each week, which I did initially. But I found that for me it worked better to read from my iPad, where links in the material would stay "hot", so that when there was a link I could click it and peruse the content. I kept notes in the blank pages of my month-at-a-glance calendar book.
As with any product, you read this material for what works for you, what fits your situation, and what will help you. I have a student already homeschooling, working to finish subjects in his first year of high school, for grades that will go on a transcript. I'm in a different situation that the mom of a K and 2nd grader pulling them out to home school for the first time. We could not drop back to math and literacy, but I was able to relax a bit, evaluate some of what we are doing, and think through how to finish the current courses he is working on. And I remembered to breathe. I needed a chance to slow down and regroup, and I got that.
I am looking forward to the emails I will receive weekly over the summer, when I might find it easier to get time to read them and digest their content. I thought the content of this course excellent for the parent considering home schooling, excellent for the new home schooling parent, and helpful for the parent needing a fresh perspective. The content is helpful for
avoiding burnout
. That's exactly why I wanted it.
You can also follow the author on
Facebook
. This product was also reviewed by other members of the Schoolhouse Review Crew. To read more reviews and see what other moms thought, click on the link below.