In March, I learned from my Leaders at the Schoolhouse Review Crew
that I was among the Crew members selected to review
Family Math Package
by
A+ Interactive Math
.

or three months of the
Adaptive Placement Test and Individualized Lesson Plan.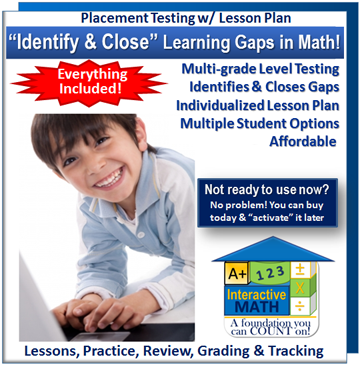 I requested the
Family Math Package
because my son is beyond working on the skills tested by the
Adaptive Placement Test
(skills generally studied in grades 1-8) and is rolling in Algebra I. I figured to have my son work on Algebra I in the
Family Math Package
.
You can, however, see reviews of the
Adaptive Placement Test
by clinking the link for more reviews at the bottom of this page.
A+
was kind enough to offer Crew members up ten student slots with the
Family Math Package.
My general method, whenever I am able, is to not only have my son work on a product I am reviewing, but also to work on the product simultaneously myself as one of the students, which I did with A+.
The first day I logged into my
Family Math Package
, even before I had my son log in, I came across some things in the Algebra I program that I emailed A+ Math about. I received back an email from the Company President explaining that right while we were doing our review period, the Algebra I portion of A+ Math was in the process of being revised. The programs for 1st through 6th Grade and pre-Algebra had recently been revised and improved. He wrote, "
If you could test/review Pre-Algebra or other grade levels, it would give you much more complete view of our program and I would much appreciate it."
I explained that if I did that, I myself would have to be the student for the review instead of my son, and he said he was fine with that.
So, for the period of my review, I logged into A+ pre-Algebra I on a regular basis and worked on the lessons to see what I thought. Some log-ins I did more than one lesson; some days I started and got interrupted, but I averaged at least three log-ins per week.
The first few times using pre-Algebra, I was still struggling to understand how the program works. I was able to learn that the student can enter the completed lessons and scores manually, but the program is also keeping track automatically. (I think this is kind of an interesting thing -- you can compare the manual against the automatic tracking to see if your student is actually doing what he/she says he/she is doing...)
Once I understood how this worked, things cruised more smoothly. Being as this student is accomplished in math, the scores on the daily work were good scores. Nevertheless, I have to tell you I loved the method used to explain least common factor, greatest common factor, least common multiple, and the method used to get a common denominator for adding and subtracting fractions. I learned something!
I don't know how well I can explain it here, but basically it is this: If you were adding
1/5 + 1/6 = ?
using my old method I would multiply
(1/5 X 6/6 = 6/30), and I would multiply
(1/6 X 5/5 = 5/30), thus
6/30 + 5/30 = 11/30.
My method was always very confusing to my kids. First of all, I was getting to the multiple intuitively, not using the LCM (least common multiple) method, and multiplying each number by a different "value of 1" t get a common denominator.
The A+ method figures out the LCM, then multiplies each number by the LCM, reduces before multiplying, then gets common denominators and adds. Same answer -- way easier for a kid to understand.
(30/30 X 1/5) + (30/30 X 1/6) = (6/30 X 5/30) = 11/30 --I don't know how to show you the cross-reducing before the multiplying -- A+ is interactive and explains it way better than I possibly can!

When a unit is completed, there is a test to be taken, but it does not pop up automatically. The student has to go into the button for the test to take the test. One part of me wishes the test were a blockade, telling the student he cannot continue to the next unit until he takes of passes the test, but another part of me says this would or could drive the parent and/or teacher crazy, so I decided I wouldn't want them to change the way the exams are set up.

There are worksheets for each lesson, but they are a tool and are not mandatory. After all, your student only needs more practice if he isn't understanding the concept. A student who understands Units 1-6 can fly through the program at a rapid pace and slow down only when he gets to new material. A student struggling in Unit 1 can take it slowly, at the pace he needs to progress at, doing the lessons, the interactive questions, AND the worksheets, and progress only when he understands each subsection of each unit.
Here are some suggestions I wish the program did that would make it more user friendly. (Not being a "Techie", I have no idea how easy/hard these ideas would be to implement:
When the student completes the lesson, the lesson completion should be automatically upgraded on this lesson tracker.
There should be some sort of shading that occurs on the Lesson selector bar to show the student which Lessons have been completed so he/she knows where to start for the day without having to open up the lesson tracker or mom's Daily Lesson Plan (which can easily get "off" if the student misses a day or does two lessons in a day).
Without any changes, the program is still wonderful. Having a drop-down menu button to check to find out where to start each day is just a matter of getting used to doing it. If you tell your student that's what to do, within a short time your student will just know to do it, no worries.
I like so many features of this program. The Family Math Package gives you the option to go to any grade with your student, so a 5th grader who doesn't quite have the multiplication tables down could go to the 3rd or 4th grade section and work on a multiplication unit for awhile, then jump back to 5th grade concepts when ready. The parent has the option of ordering A+ Math for just the one grade level, but then you lose that flexibility. (You get what you pay for.) If you have multiple students, you really win to purchase the Family Package. If you have only one student, like I do, it is an economic decision -- do I think I need that flexibility, or do I think I need to spend less money. I like the flexibility!
So, aside from what I thought, what did my son think? Well, remember first of all that he is in Algebra I which is being reviewed. He is also a very audio-sensitive person. He sat through one lesson with me and said it sounded funny and he couldn't tolerate the voice. The voice seems really sloooow when it is covering material the student already understands. The audio on the Algebra I sounds, at times, like someone speaking through a metal tube half filled with water -- echo-y and weird. They are redoing it. What can I day.
So, I really like the A+
Family Math Package
, and my son doesn't. I like that it is a complete Math program -- you need no other curriculum. I like the reports and summaries, the materials available to print out or not, the review worksheets available to use or not, the tests able to be retaken or not, etc. I like the way the program tracks progress and reteaches when an answer is incorrect.
So, there's the good and the bad. So how do you decide? Well, first, take a look at some more reviews by clicking the button. Second,
look over the website
yourself. Third,
sign up for the free trial
and decide by doing!
More cool stuff:
Free Software Download:
http://www.aplustutorsoft.com/get-free-homeschool-math-curriculum-software.jsp
Free Single Grade Level:
http://www.aplustutorsoft.com/get-free-homeschool-math-curriculum-program-online.jsp
Free eBook:
http://www.aplustutorsoft.com/get-free-homeschool-math-curriculum-ebook.jsp
Top 12 Reasons to use "Adaptive Placement Test & Lessons" program:
http://www.aplushomeschool.com/2015/03/top-12-reasons-to-use-adaptive-math-placement-test.html
Top 12 Reasons to use "Family Math package" program:
http://www.aplushomeschool.com/2015/03/top-12-reasons-to-use-family-math-packages.html
To see other product reviews, please click the button below.