In late March I learned that the Crew would have the opportunity to review unit studies created by
Homeschool Legacy
. I was selected for the review, and was sent a digital download of
Early Settlers
, which was a good fit for where we are in our history studies. I was able to open
Early Settlers
on my iPad in iBooks, and I love that flexibility!

Homeschool Legacy
is a small family company. A mom, making unit studies for her family, decided to make a business out of it and make the unit studies available to other families to benefit from, while using it to bring in some money to the family coffers. I like that. Small business is what America is all about -- the land of opportunity!
What I especially like about
Homeschool Legacy
studies is that they have woven into them suggestions for families to work, simultaneously, on Boy Scout merit badges and American Heritage Girls badges.
Early Settlers
offers a plan for both boys and girls to work on their respective reading badges. My son doesn't have the Reading Merit Badge yet, so it sounded like a great way to integrate school work with getting another merit badge. He had his Scout Master sign off on his blue card, and we were on our way!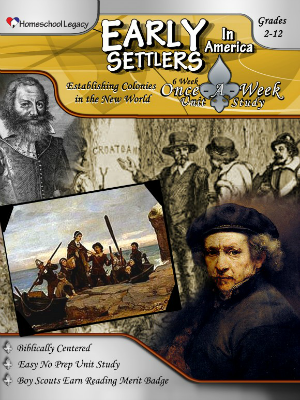 I started by printing out
part
of the unit study. (I am definitely not one who likes to use more of my printer ink than I have to.) I hole-punched the pages, stuck them in a 3-ring binder, and headed for the library. The introduction page to the unit study states, "NO PREP WORK IS REQUIRED - Even the library lists include alphabetically and numerically arranged Dewey decimal numbers!" I did, however, find that my library had some of the books labeled differently (Dewey decimal numbers) than the unit study pages. Also, not all the books recommended in the unit study were in our library system. Having the call number, though, enabled me to look for substitute titles.
Rather than give a blow-by-blow description of how our weeks went, I'm going to change direction here. After telling you a little more about
Early Settlers
, I'll tell you our experience with the unit, the good and the bad, what we liked, and what could be improved.
Early Settlers
is a 6-week unit study designed for grades 2-12. My son is a 9th grader. The study focuses on a slightly different topic each week:
Week 1: Roanoke, NC;
Week 5: Pennsylvania; and
Week 6: New York
Early Settlers
(and other Once a Week Unit Studies) are designed such that readings are spread out through the week, and then one day is set aside for additional activities. As with many products, you can tweak this to fit your family - do your unit study day a different day than the author, or even spread the activities out over the week and not do a specific day. We chose that latter method as we are scrambling to finish our school year and did not have one day per week which we would be able to use to focus only on the unit study material.
What we liked:
We really liked the way working through the weeks of the study helped us put early American history into a proper timeline in our minds. We have studied this history previously, in a piecemeal way. We were able to remember that "In 1492 Columbus sailed the ocean blue", and that the pilgrims came to Plymouth in 16-something, but the lost colony of Roanoke was lost to us... and Jamestown is still in Virginia, but we didn't remember that it was the first successful colony, that Roanoke happened before Jamestown, or even that Roanoke was in North Carolina. (We have one in Virginia, too, which makes things very confusing.) So working through this study was very helpful to teach us the history it is intended to teach us. Success!
What could be improved:
1. I know that many families doing unit studies have many levels of children, and older children read to younger children, and everyone benefits. But for families with only one child, it would be helpful if the suggested reading materials were listed with indication of appropriate reading level. I know my son can glean good information from a picture book, or a book geared toward 9-12 year olds, but when colleges see his reading list with his transcript they are going to be looking (also) for high school level titles.
2. Documentation should be improved on reading assignments. In Week 2 Hans Brinker was assigned for "Read Aloud". I evaluated the book - 50 chapters, and determined there was no way I could read ten chapters aloud daily, so I handed the book to my ninth grader and assigned ten chapters read to himself daily, and I read other things out loud. I fussed and I fussed, and he had a very difficult time finishing the book in one week. Then we got to Week 3, and the "Read Aloud" assignment was, "Finish Hans Brinker". AHHHH! What? So, Week 2 should have at least said "Week 1 of 2).
3. Documentation needs tweaking on some of the other suggested activities. Week 1 states: "Plan on spending a minimum of four hours reading some of the books listed in your Early
Settlers Once-a-Week Unit Study to your younger siblings." It is an activity to complete the Boy Scout Merit Badge, but the way the unit study presents it makes it sound like it needs to be done in Week 1 whereas it should actually be presented to read to a sibling one hour a week for four weeks.
4. While this unit study states, "NO PREP WORK IS REQUIRED", Week 3 has a tulip-planting activity that states near the end of the instructions, "Provide your bulbs with a cold temperature treatment for 12-13 weeks, making sure they always stay moist. They can be kept in an outdoor cold frame, an unheated attic or cellar, or in the vegetable bin of your refrigerator." This left me totally unprepared. I had not "cold treated" tulip bulbs. I didn't even have tulip bulbs! Elsewhere in week 3 there is a blurb that states:
*Plan ahead - make the ink (for next week's unit study day) the day
before so it will be ready for week 4's activities."
A blurb like that in Week 2 stating, "Get ready for next week by setting aside 8" pot, potting soil and 12 tulip bulbs" would have been so helpful.
Were do we go from here:
My son gave up on working on the Boy Scout Reading Merit Badge. He only needs four specific badges to reach the rank of Eagle, and he is going to focus on those.
While there were things about this unit study that benefited us, there were things that frustrated us. If I were going to do another
Homeschool Legacy
unit study, I think I would want to sit down in advance and read through every page before I started. If I was planning to help my son work on a merit badge, I would want to own the merit badge pamphlet (I don't), and I would not bother unless I knew my son was interested in earning the merit badge (he wasn't). I would want to try to have in advance all materials I would need for the study, like tulip bulbs and potting soil, ingredients for cookie recipe, whole walnuts for home-made ink, etc. I don't just have these things around my house.
Ultimately, I just don't feel confident doing this type of unit study with a high schooler. I really struggle to know what is enough work for a high schooler and what is insufficient. It takes a special kind of confidence to do unit studies through high school, to decide how much to assign and to glean written work to go into the portfolio my state requires. So, I'm kind of giving this a strong recommendation for families with younger students, and a restrained recommendation for using this with high school students. I think part of this also depends on the way your state laws are written (Maryland is slightly demanding - I started in Colorado, where the home school law now, compared to Maryland, looks heavenly). Also, I want to be able to do well when writing my son's transcript and class descriptions, and I am looking for an "Easy" button, and this is not it. Other moms will feel differently. Each family is different.
I thank Sharon Gibson and
Homeschool Legacy
for allowing me to review
Early Settlers
. I hope they will consider my comments and make changes to improve this study! (Many companies we review appreciate this type of input for just this reason.)
Homeschool Legacy
has a wide variety of titles available: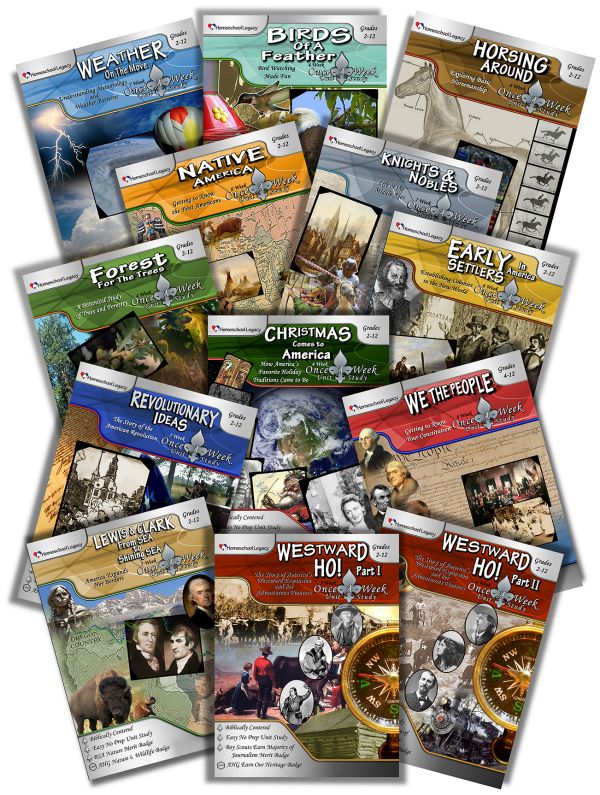 Check them out!
Other members of the Review Crew also reviewed Homeschool Legacy units pictured above. To see other product reviews, please click the button below.