In April I learned that I would have the opportunity to review
A Life in Balance
, a book by Dr. Frank Belgau, as told to Eric Belgau, provided to me by
Learning Breakthrough Program
.

As a parent with at least one child with Learning Disability, I wanted to read this book to get further insight as a parent. I never stop wanting to learn, and I especially never stop wanting to learn things that will help my children (no matter what their age). A life in Balance gives insight into ADHD alternative treatment, dyslexia treatment, reading improvement, brain fitness and brain training. But I get ahead of myself...
I received
A Life in Balance
in late April. I dived in and quickly found the book to be an easy read. The writing style is engaging.
The book, as mentioned above, was written from the perspective of Dr. Frank Belgau -- that is, in the first person, as if Dr. Belgau had written it. The writing was, however, in fact, actually done by Dr. Belgau's son, Eric Belgau, so I extend particular kudos to Eric. Eric Belgau was one of three particular guinea pigs in the program, recruited not because he had any learning disability or special need, but because he was available at a time when Dr. Belgau was working on the project. The impact on Eric Belgau and his siblings proved the methodology of the program worked not only for those with learning difficulties, but on anyone who used the method.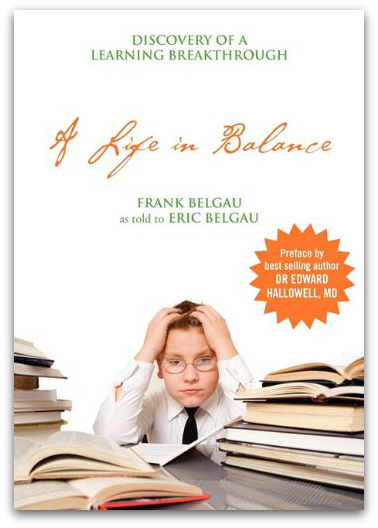 A Life in Balance is a sort of autobiography of Dr. Frank Belgau's life and work with the development of the
Learning Breakthrough Program. The book begins in the early years of Dr. Belgau's life, highlighting particularly some moments of insight during his education, as well as how he stumbled into working with special needs kids, when initially his specialty was just teaching of "normal" kids in the 1960s. The book also follows the development of how special needs children were handled, treated and taught through the decades as understanding of learning issues also progressed.
It was intriguing to me to read this history, as I lived it. I am not as old as Dr. Belgau, so I would be the age of some of his early students (or guinea pigs). I did not have a learning issue myself (other than boredom, but that's another issue), but I sat in the classroom beside these students, and I would hear the conversations of the adults. I heard the comments adults made (maybe even my parents or grandparents, I can't remember...) to the effect of, "Why are they even in the same classroom? They should be separated, or even institutionalized." I also visited one of the "institution"s of the 1960s and 1970s where Downs Syndrome children where sent. It was horrible! The idea was that they could not develop and they could not function, so the best you could do was feed and care for them until they died. So much has been learned since then!
I was so excited as I opened each new chapter. Reading this was part nostalgia and part education. Dr. Belgau's progress started with experimentation, of, "This works!" and, "This doesn't!". Then there were years of, "This works, but we don't know the science of why." These were followed by a gradual unpeeling (like layers of an onion) of, "This is part of why this particular exercise works..."
As I read, I began to share snippets with my adult child who had struggled with learning disabilities. I talked about how the practices Belgau had been working on had based on an imbalance and a disconnect between the left and right sides of the brain. She immediately understood and began drawing a sideways figure-eight in the air, which was part of how her learning disabilities treatment had helped her (on a chalkboard) in the "oughts" (the 2000's). My daughter was totally tracking with me, even though everyone else at the dinner table was looking at me with blank stares. ("What is she talking about? And why does she care?")
Through trial and error, Dr. Belgau learned that a suspended pendulum was a helpful tool. Using a two-handed stick, the child begins to develop through first hitting the pendulum, then aiming towards particular targets, then aiming to hit the pendulum with a particular wide stripe on the stick to get to the target, then hitting with a narrower strip. The whole system is progressive, as the student improves.
Then Dr. Belgau figured out that a balance beam on rockers was helpful. Then he realized that how the child stood on the balance beam mattered, so improvements in technique were determined and the system improved. Then the student stood on the balance beam and did the work with the pendulum ball and bat. Then developments helped everyone to learn that further progress could be achieved by including various sized beanbags, doing various methods of tossing them. Begin by tossing up and catching with the same hand; exercise the weaker side of the body. Then toss up and catch with the opposite hand. Then do exercises with your eyes closed. Do bean bag exercises on the balance beam. It is all so intriguing! Then Dr. Belgau began to include a superball bounce-back, and I had visions of my childhood where I spent literally hours throwing a ball against our home's 40'-high brick wall and catching it, never realizing I was benefiting my brain, but only thinking I had nothing else to do!
Further studies documented that the
Learning Breakthrough Program was beneficial to older individuals who were beginning to decline in some of their physical and cognitive abilities. This piqued my interest as well, because I am in that category.
So I wanted to let you know about
A Life in Balance. I found it to be a very worthwhile book to read. I'll warn you, though, that if it really hits a nail with what you are experiencing in your life (with your children, or in your own situation), it will probably make you desire to look further into possibly investing in the actual
Learning Breakthrough Program. That is where I am... Thinking about it...
A Life in Balance is a resource for the adult, parent, or educator,, although an older teen interested in understanding special needs children would possibly benefit from the book as well.
A Life in Balance can be purchased for $16.94 (price at time of this writing). If you have anyone in your life whose brain could use a boost, I highly recommend this book. (I received a digital copy, which is not available, but I believe the product is a paperback book that is 196 pages long. I highly recommend this book.
Find out more about
A Life in Balance on Social Media by clicking on the following links:
See more reviews of this book by clicking the link below.