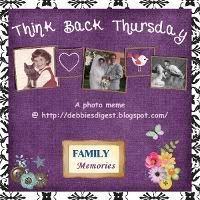 For today's Think Back Thursday we are focusing on "Extended Family". Being the geneology snoop that I am, I will delve back into years past and post geneology information. I don't have much time to dig up photos, so I'll do the best I can with what I've got.
In looking at what I've posted in the past, I've decided to focus on my mother's family today. My mother was descended from the Efraimson family (Pahlavalehto family, where John was Efraim's son and became Efraimson). My mother's parents were Ted (Theodore) and Esther Holien. I don't have a "couple" photo of them, or even a photo of my grandfather at all. He died when my mother was nine. If/when I find one in the future I'll try to get it posted.
Esther was the one from the Efraimson clan (pictured below, center).
She was firstborn to Alfred and Emma Efraimson, first child of 12.
At some point I'll post just about her, but not today. The men in the above photo are both her brothers. On the left is Rudy. On the right is Carl. There were many Lutheran ministers from that family. I can't even remember for sure which of the brothers weren't ministers (except Arne, who died as a child), but I don't know if I know what all the brothers look like even. Photo donations welcome,
Esther's parents, Alfred and Emma, met in Minnesota. Emma was an amazing woman. She was born
Emma Severina Savilahti in 1881 in Finland. After childhood she worked, as she was able, in Finland, but future prospects were not bright. She saved up her earnings, and as a gift to herself for her 21st birthday she traveled, alone, to the United States. This entailed traveling south to London, England and taking a steamer to Ellis Island. I found her name on the manifest; I think it was in 1902, but it might have been 1903 (her birthday was January 19, 1881 - do the math). Then she traveled west, with the other Lutheran Finns, and found a stopping place in a Minnesota mining town where she waited on tables. The papers show that her line of work was as a "Domestic", a housekeeper I guess. I never got to meet Emma. She must have been a hard worker because, while working and marrying and having her first child in October of 1905, she still managed to become a citizen in November of 1905. She was passed away in 1945 (after bearing 12 children) at the age of 64. I think in 1945 her youngest child was 20.
Alfred was working in the mines when they met, but with big ideas of his own. He was planning to use the homestead act to get a farm. Alfred and Emma were wed in November of 1904, and Gram was born in October of 1905. Jennie was born in 1907. Then the family headed west.
The claimed land in North Dakota and built a sod hut. My gram remembered living in it. The year they moved, Eino was born (1908), the two years later his sister Emma (1910), then Josephine (Jo) in 1911, Hilda (1913), Arne (1915), William (1917), Viola (1919), Carl (1920), Rudolph (1922) and Rupert (1924). My grandmother's youngest brother was born the year before my dad.
The twelve siblings did not all survive to adulthood. My gram graduated high school when she was 16 (as was common back then), and wanted to go to college for further education. However, her baby brother Arne got appendicitis, and the appendix ruptured. He had to be sent to Minnesota to be treated in a hospital there, but Emma (mom) couldn't go -- she had all these little ones to care for and was probably even having Carl when this happened. So Esther postponed her higher education and moved to Minnesota to live, to be at her brother's bedside while he was treated. Sadly, he died. He was only about five when he died, and it was difficult to even find documentation in Ancestry.com that listed him, but I did find a 1915 State Census that helped me out.
There was a really wonderful article available from a church newsletter that told more about the family. I can't insert it here because it becomes too blurry to read, but maybe sometime in the future I will transcribe it here for family to have access to it.
The remaining children, some born after Arne died, most lived long lives. Bill died of cancer in 1975 at the age of about 58. But a family photo of the siblings was taken.
First row, l to r, Eino Efraimson, Ivan O'brien (Emma's husband), Rupert Efraimson.
Second row, l to r, Martha Efraimson (Eino's wife), Jo (Efraimson) Larsen, Emma (Efraimson) O'Brien, Esther Holien, Jenny Efraimson, Hilda (Efraimson) Gregor.
Back row - Rudy Efraimson.
Kudos to a relative who helped me identify the folks in this photo. This week I learned that the last of this generation, Rupert (front right) passed away 6/28/13. I always thought these were all the siblings, but now I know why the center man and back left woman don't resemple the other siblilngs -- they are spouses.
In the above photo my gram is in the light blue shirt.
So that does it for today's Think Back Thursday. What do you want to post today about your extended family?