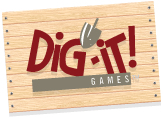 For many weeks now my son and I have been playing a new online game called
Mayan Mysteries by Dig-It Games. For purposes of this review I received a 12-month on-line subscription to this game.

Mayan Mysteries is an engaging game that draws your child into the efforts to solve a mystery about
Mayan relics that are being stolen by a mysterious looter named Ladrone. Ladrone periodically leaves clues behind, like a bad guy who actually wants to get caught (echos of television from my childhood -- we all know that the bad guy actually wants to get caught, right?).
Mayan Mysteries was created by a professional archeologist and former middle-school teacher
Suzi Wilczynski. She created
Dig-It Games as an umbrella for creating "educational games that promote creative thinking, independent thinking and cultural understanding" (blurb from their website). The company also has a similar game named Roman Town
.
The
Mayan Mysteries game combines learning with adventure in a way that encourages kids to learn almost subconsciously as they try to figure out each step in the various sections of the game. My son and I worked on this game together. The game involves a lot of reading, and because of that there were times when I wanted my son to play that my son just wasn't interested. In retrospect, though, when I asked him if he liked the game he said, "It's okay." He thought it was funny that sometimes, in the challenges, it looked like one of the 12 year old kids looked like he/she was in the driver's seat.
Now before you dismiss this game because my son's opinion was only "It's okay", please understand that my son is a very hard critic. My son is like "Mikey" on the old Life Cereal commercials ("He won't eat it! He hates everything!") To prepare for this review I was discussing the game with my son. I had gotten the impression that he didn't like it, and he said, "I didn't say that I didn't like it!" That was a really impressive defense coming from my son! And then he stood over my computer helping me in the above paragraph. I think, in his 13-year-old way, that if he has to do school (which he hates), that he thinks this is a pretty fun way to learn.
The game begins with a comic strip story, where Chief Matteo is thinking out loud as he puzzles over why so many Mayan artifacts are flooding Guatemala (which means some robber is stealing them from some ancient site and selling them illegally). After some preliminary information is conveyed this way, Matteo decides that he needs the help of his friend, Q, to solve the mystery. He calls Q
(Alex Quinn)
, who is happy to help but can't because he is watching his niece and nephew (Fiona and Charlie). The two convince their uncle that they should be allowed to go along and help, and they become "Team Q".
Initially I found the game too big for the screen (I had to scroll up and down to see certain features), but clicking the "Full Screen" button takes care of that. When Team Q gets to Guatemala ad Chief Matteo greets them, he greets the one playing the game as well! After some study of facts, a new artifact photo arrives via smart phone: A bracelet marked with "L" for Ladrone ("Thief" in Spanish)!
Step by step Team Q (and your child) learn about Central America's highlands and lowlands, cities and wars. They visit archaeological dig sites and acquire new clues. They learn how to navigate the Mayan numeric system, and pick up new hints and artifacts. They hunt for artifacts, calculate payments and change (in the Mayan numeric system), learn about the Mayan calendar, and flee from Looters.
There is one section of the game that introduces a spirit guide to guide Charlie and Fiona on their journey. Some families might be uncomfortable with this aspect of the game. I think my son took it in stride and just saw it as some sort of fantasy to add to the story line.
And you can try the game before you buy!
Click here to play the free demo of Mayan Mysteries
All in all, it is a pretty enjoyable way to learn about the Mayan history, people and culture.
One confusing thing is that whenever you take a "Challenge", you are running from the "Looters", whereas the apparent goal of the game is to chase down and track the Looters. I don't understand that contradiction.
One disappointment is that when you finally think you have solved the puzzle, you are informed that you've "made good progress tracking down the looters", you are informed that there is still more work to do, and you'll need to join Team Q again on their journey to stop Ladrone and locate Ich'aak in Mayan Mysteries 2, coming soon! That was a bit of a let down... I took a screenshot of that last page, but whenever I add it to this page it gives me an error message and will no longer save my blog page, so I can't include it in this review.
One flaw I found in the game was in the audio. There were a couple of places I found where the audio skipped words that were supposed to be read (the audio reads the words that are displayed on the screen, if you set the settings that way).
Two great things that I found were:
That the music, which can quickly become annoying, can be turned off.

That the words can all have the audio read to accompany them, which is great for younger or delayed readers, ADD and LD students, and me, when I'm falling asleep after lunch...
One frustrating thing that I discovered because I have a very, very touchy mouse (clicks on things wherever the cursor is, at times I don't want it to because I'm still reading) is that there were places where there was no "Back" key where I wished there WAS a back key. So I limped along at times, having missed some of the information because my computer had decided I was done with the page...
The one-year subscription to Dig-It Games
Mayan Mysteries is designed for children 11 years old and above and costs $21.99, which gives you a single-user account (that can be shared in a family). You can only run one game at a time, and my son and I just resume the game wherever it is when we pick it up, or play it together while sitting together. It was a lot of fun and reminded me of another mystery game my son and daughter have played in the past, which is one of the reasons I figured my son might like it.
I recommend
Mayan Mysteries to your family particularly if you are studying Central America, North American Native Cultures, or the Maya in particular. I am glad my (sometimes difficult 13-year-old) son was a good sport and worked his way through
Mayan Mysteries even though we were not at this time studying the Mayan culture or native Americans. Other TOS Homeschool Review Crew members were also reviewing this product at this time. You can click on the link below to read other reviews. This game is also available as an APP for the iPad (for $9.99).
This has been a TOS Homeschool Crew Review. Feel free to drop me a note and let me know what you think.