I have a son that generally does very well at math. He is advanced. I do not push him; he has just always been advanced. In Kindergarten, in Sunday School, the teachers would hand out pictures for the kids to color, and my son would turn the paper over to the blank side and write out addition problems and their solutions on the clean side.
Nevertheless, even though he is good at Math, it has gotten to the point where he hates it. (If you've read my other posts, he actually hates most everything right now, especially if it wasn't his own idea, but more on that in another post.) Setting his learning issues aside, I was concerned about his Math because, although he generally does quite well, I had become convinced that he really doesn't have those Math facts down... not really.
I learned in March that the TOS Crew had the opportunity to try out CapJaxMathFax, and I jumped at the chance.

CapJaxMathFax is a software program available from Starboard Training Systems, which is headed by Jack Fretwell. Jack Fretwell is Capt. Jack, although it appears to be a title as in captain of his sailing vessel, not a military captain. From their website's "About" page, Mr. Fretwell "earned a Master's degree in Educational Technology and has spent over thirty years in education and computers."
Mr. Fretwell has been heading up
CapJaxMathFax for ten years, and under his leadership many children have developed stronger Math skills, and corresponding confidence in Math. "Starboard Training Systems' goal is to help organizations that teach, train and mentor" children, so that not one is without basic math abilities. (That means they also want to help home schoolers.) I like that goal!

So, what's so special about
CapJaxMathFax that you should choose them? Well, here's what I know:
So a snapshot of the program:
Uses a computer to provide drill and practice so that practice time is not limited by teacher availability.
Automatically generates exercises. Teachers don't prepare quizzes. They merely provide the parameters for them.
Builds exercises for any of the four math tables (addition, subtraction, multiplication, division) or any combination of tables.
Guarantees student success by taking small steps through levels of
difficulty.
Can focus practice at a single level of difficulty or may review earlier levels.
Randomly generates problems without repetition.
Allows variable numbers of problems in an exercise.
Reduces learner stress by timing facts individually.
Provides immediate positive feedback for correct answers.
Provides extra reinforcement for fast, correct answers.
Displays an overall performance report at the conclusion of each exercise.
Prints reports for teacher review and for use as certificates of achievement.
Displays and prints item diagnostic details.
Uses a rating system that allows students to keep personal scores and
set goals.
Charts student rating progress graphically.
Maintains a database of student activity over time.
Oh, I thought this was fun:
To add special interest, praise messages that appear at the end of rating sessions sometimes include a bottle icon.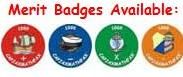 So, here are the particulars:
CapJaxMathFax

is a downloadable math facts program available to you for $29.95. This fee pays for a license fee to use the program for 12 months.

You can order a Free Evaluation Package to try this product out before you buy.

My son didn't love it. (Don't be alarmed. He hates most things. Given more time, he will probably warm up to it.)

This supplemental program will help your student memorize their math facts, which will help them in their required Math program at home and at school.

This program adapts to the student, so your student can begin it at any age, any grade, and it can be beneficial for students from 1st grade (K, even) through high school, depending on the situation.
Disclaimer:
I received a 6 month license key to
CapJaxMathFax in exchange for my honest opinion in my review; I did not receive any pay.
This has been a TOS Crew Review. To see more reviews by other TOS Crew members, go to the TOS Crew Blog page for this review, HERE. I always welcome your comments on my reviews and other blog entries, so feel free to comment.