Progeny Press
is a company that has been in business many years, providing materials that help parents and students get the most out of their literature.

I remember using
Progeny Press
guides for my older daughters for books they studied,
Les Mis
,
Old Yeller
, ...actually so many I can't remember them all. (They were in a co-op, so it's a little hard to remember which titles they used these guides with...")
Progeny Press
guides give the teacher permission to reproduce the guide in the classroom for use with the students. That's how my kids had access to these guides previously without my being very familiar with them.
Recently I was offered the opportunity to review a
Progeny Press
Literature Guide with my son, my present homeschooler. Knowing the quality of the company and their guides, I jumped at the opportunity. I was offered a selection of titles to choose from, and I asked to review
The Bronze Bow.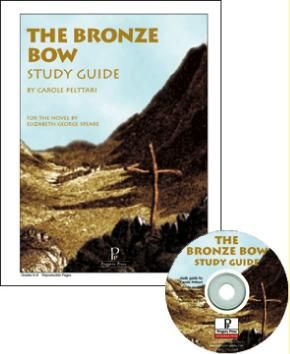 I was pleasantly surprised to learn that the
Progeny Press
guides have changed. First of all, they are now available in digital, which is the type of guide I received. (Okay, lately for me this is a negative, because I go through so much ink on my printer any more... You have no idea...) My guide was sent to me via a link. The product is also available via CD and print versions. The book itself (
The Bronze Bow
, for example) does not come with the product. . You can view their complete product line in their
Progeny Press catalog
.
Progeny Press
study guides
are available for Lower Elementary, Upper Elementary, Middle School and High School. Study guides cost from $10.99 to $27.99
The pleasant part of the surprise, though, was not that the product I received was digital (see above note), but that the digital guide for the student can be either printed out OR used interactively! If the student uses the Interactive format, the teacher can then read and grade the answers on the computer, even adding comments when grading as well! However, I need to back up so I don't leave anything out here...
The digital package I received for my review included the following:
The Bronze Bow "Read Me" file for the product (for the teacher);
The Bronze Bow Interactive Guide (for the student(s)) [You make a file copy for your student to use, keeping the "original" clean so that you can use it for as many students as you have.]; and
The Bronze Bow Interactive Guide Answer Key (for the teacher, obviously).
The "Read Me" file gives the teacher complete information on how to use the guide successfully, which software to use, what the copyright allowances/restrictions are, how to use the interactive materials, cautions to back up files, etc. In my opinion, the first time using one of these guides it is helpful if the teacher and student each have a computer to use, so that the teacher can have the "Read Me" file open to walk the student through the use of the Interactive Guide until he/she becomes familiar with how it works (unless you are printing out the guide, preferably in color, which would make the 2nd computer unnecessary).
The to the Interactive Guide best says the reasons for using
Progeny Press
Literature Guides: "Progeny Press study guides are designed to help students better understand and enjoy literature by getting them to notice and understand how authors craft their stories and to show them how to think through the themes and ideas introduced in the stories." When I think, over the years, of the stories we have read without analyzing, it's enough to make me feel entirely inadequate for the task of homeschooling! However, I need to remind myself that we don't need to analyze
everything
that we read, but that it
is
a skill and practice that we need to introduce to our students to prepare them for college and for life.
The guide says that most Middle and High School guides take from eight to ten weeks to complete. We didn't have that much time, and we didn't complete the task, but I am able to review with what we did do. The guides also contain an "Overview" at the end which can be used as a final test on the material, which is excellent (in my opinion).
The plan for using the guide begins with instructions to have the student read the book the first week. Well, this is where we already broke down on the plan. My son's entire school career, thus far, has been a different approach than this. My son, while a voracious reader (of what he chooses to read), has never read a book that I chose for him to read in just one week. So that didn't happen, even though I got the book in audio format from the library. ::sigh:: (I think it would have worked for me if it had been a book I had already been planning to do, instead of a book I was adding onto our already challenging school work...)
The Guide contains questions of multiple choice, but also many opportunities of answering questions in essay format, which my son does need to be instructed in, so I can see that, as a first guide this one was more than he was ready for at this time, but as a teaching and learning tool it is a perfect launching point to get our "Writing" program onto the right track for his grade level.
The guide gives Internet references, and the parent should use due diligence to supervise the student if the student wants to follow up on those references, not because Progeny Press put anything bad into their references, but because with the nature of the changing Internet, something could have happened to links that were once good links.
The Interactive Guide gives a nice synopsis of the content story, background information about the historical setting behind the story, as well as a brief biography of the author. It also gives some very nice "Pre-Reading Activities" to supplement the reading, including suggested map work, some Bible reading suggestions, and some vocabulary work. The guide contains some fun stuff, such as a crossword puzzle. The guide gives some work on characterization, thinking questions to be answered in short sentences (and some in essay format), suggestions for creative writing, written report, persuasive speech, discussion about conflict in writing, more vocabulary, discussion about protagonists... There is oh so much good stuff in here! And I like it! I need to do more of this!
Progeny Press
actually carries over 100 titles, and at this point I am giving serious consideration to looking through these titles to find another title (for a book we are currently already reading) so that I can really jump in with both feet. I really need to do this type of work more often in our literature studies. We didn't finish our work on
The Bronze Bow
before this review was due, and at this point I will just save this guide and reintroduce it at a later time when we are actually studying that time era. (We are currently studying the beginning of the 1800's, so doing
The Bronze Bow
at this time was difficult for us. My son saw it as "add on" work, not part of his normal assignments.)
So I really like this company and their products. I know writing is a weak subject in my home school, and these products can really help me work on that weak area more and strengthen it. I am also weak in literary analysis, and these guides will help me there as well.
So, how did mom like the product? I give it a 10 out of 10.
How did junior like the product? Eh... he hated it. "Give it to Mikey. He won't eat it. He hates everything!"
~~~~~~~~~~~~~~~~~~~~~~~~~~~~~~~~~~~~~~~~~~~~~~~~~~~~~~~~~~~~~~~~~~~~~~~~~~~`
Disclaimers:
I received a free digital download of this product for free in exchange for my honest review.
This has been a TOS Homeschool Crew Review.
To see more reviews of this product, go to the
TOS Crew Review page
.
Throw me a bone! Leave me a comment! I love comments!