Sometime in June I became aware of this book put out by Apologia:
How to Have a H.E.A.R.T. for Your Child
. I was wanting a new devotional, and this book was pulling me. I found the book had a
free sample chapter
, so I opened and read the introduction, "The Heart of the Matter".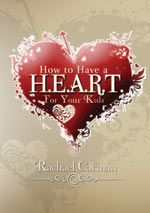 The writing style of the author pulled me in; it was written in a style that really communicated with me. I wanted the book. It was on the list for TOS Crew "Upcoming Vendors", and I hoped I would be selected to review it... I was!

So now I get to share with you what I think of this book that I was blessed to receive for free in exchange for my mostly unbiased review of its contents.
Rachael Carman's writing is direct, but familiar. When I sit down to read a section of the book, I feel like I'm having a chat with a friend over a cup of coffee at my local coffee shop.
The areas Rachael addresses in her H.E.A.R.T acrostic are provoking, yet gentle. She gentles her message by using real-life personal examples, so that as the reader I know that I am not being preached to by someone who has "arrived", but am being encouraged by someone who shares in the battle.
Each chapter ends with a page of application questions, she calls it a "Heart Check", to help you continue to mull over hwo to apply the contents of the chapter. It is helpful to read each chapter thoughtfully, with a Bible and notebook close at hand, so that you can look up referenced Bible verses, take notes, and write down and answer the application questions.
I enjoyed this book, and I will probably re-read it in the future. I have somewhat rushed through it on my first read, because my review's due date was looming. So, I won't be getting "down deep" here and revealing where this has applied to me personally...
This book is written with Mom in mind. Dad might benefit, but it is clearly written to Mom.
If you are looking for that next resource that you'd like to use as a side dish during your quiet time with God, I highly recommend you pick up a copy of Apologia's :
How to Have a H.E.A.R.T. for Your Child
, available at the Apologia website for $13.00. It can be purchased as a hardback book, or as a download (which will save you the expense of postage). In addition to this resource, Apologia offers a full line of Science materials (
Apologia Science
, other course products to promote a Biblica worldview in your student (
Apologia Press
), retreats for mom (
Apologia Live
), online courses (
Apologia Academy
), support materials to help moms
write transcripts or teach gifted children
, as well as additional books for mom, such as
Educating the WholeHearted Child
and more (
Parent Resource Page
).
You can see more reviews of this product, you can read them at the
Crew Blog
.
I received this book for free, in exchange for agreeing to review it. I was not paid for writing this review.