Wits and Wagers Family
is a group game made by
North Star Games
.

I had the privilege to review a game by North Star Games, called Wits and Wagers Family Game. What a delightful, refreshing game! Very quick and easy to learn; very quick and easy to play!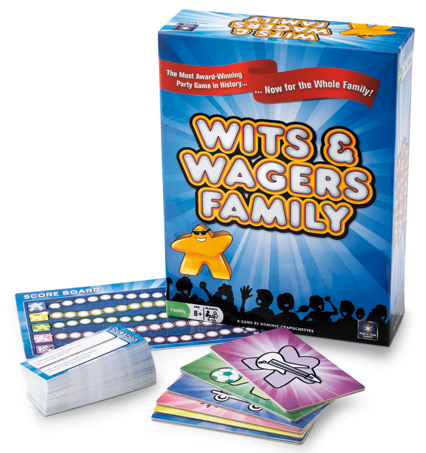 Here are the specifics about this game:
•
Wits and Wagers Family
is a game for ages 8+.
• It can be played by 3-10 players, making teams if you have more than 5.
• It only takes about 2 minutes to learn how to play.
• It only takes about 20 minutes to play each game.
The game comes with 10 little "meeples" -- I generally explain them to new players as "Me-peoples". There are two sizes -- one counts as 1 point if it is on the correct answer, and one counts as 2 points. The box also contains a score card, five "guess" boards, with a sixth similar board that has a "1" on it, and six dry-erase markers.
Basically, there is a box full of questions -- question on the top side of the card, answer on the bottom. One person takes "scorekeeper" responsibility. The youngest person reads the first question, and each turn thereafter the questions will be passed to the person to the left. When the question has been read, each person guesses the answer, which will always be a number, and writes guess on "guess board", and turns it face down. When all are done guessing, the boards are flipped and put in ascending order from the "1" board. Then, with all the guesses showing, people decide which answer is correct by putting their meeples on the boards. You can put both on one board or split them up. Then the answer is read. The board with the closest answer (that doesn't go over) is the winning answer. The person who guessed it gets 1 point for that, and then any little meeples on the board score one point, any big meeples on the winning "guess" board get two points. First person to score 15 points on the score card wins.
Good points:
• Easy to learn;
• Easy to play;
• Good solid construction
• Cool little dry erase markers;
• Meeples are fun!
What I would change:
• I think it should be marked for 2-10 players. I didn't open it for a long time because it said 3-10 players, and there were so seldom more people than my son and I when game time arrived;
• It would be nice if they include 5 little ...sponges or erasers... for the dry erase boards. We were wiping the marker off with our fingers and finally I decided to rip up a paper napkin so we each had something to erase with.
What I might do with this game in the future:
• Okay, only one bullet here. I thought this up, that this would be a cool way to practice, review, cement in our heads information that I want learned. I figured this out when a question came up: "What Year was Paul Revere's famous ride?" My son and I knew this because we have been listening to Johnny Tremaine and because we had just studied Longfellow's "Paul Revere's Ride." The poem goes this way:
Listen my children and you shall hear of the midnight ride of Paul Revere.
On the 18th of April, in '75, barely a man is still alive who remembers that
fateful day and year...
So I began brainstorming -- we could create 3"x5" cards and make our own review questions, as the years go by, and one day we'll have a great set of supplemental trivia cards, many of which will work better for us. I haven't read all the questions, so frankly I don't know but that these questions might also be in the set that came with the game, but I was thinking questions like:
• How many bones are in the body?
• How many countries are there in Africa?
• How many stomachs does a cow have?
• How fast can the fastest land animal run?
• How many teeth does an adult mouth naturally have (without extractions)?
• How many books are there in the Bible? (Old Testament? New Testament?)
I'm already thinking this will be a great way to make review fun! And, using your own question cards, you could make questions for the youngest players as well, so that children as young as 4 or 5 could play. The card could have several questions per card, with one of the questions being for kids 4-8 years old.
The first time we played this game, my 11 year old JD said, "I
like
this game!" And since then, he has been asking to play it again and again!
The makers of
Wits & Wagers Family
,
North Star Games
, also makes the original
Wits & Wagers
game (less suitable for young children), the original
Say Anything
game, and Say Anything Family game.
Wits & Wagers Family
is available from
Amazon.com
for $15.23, and Super Saver Shipping is available.
Disclosure: I received a free
Wits & Wagers Family
game in exchange for my honest opinion. I received no other compensation (other than the game), and this page contains my honest opinions.
This has been a TOS Homeschool Crew Review.
To read more reviews of this product, visit the
TOG Crew Review
page for this product.
Throw me a bone! Leave me a comment! I love comments!