Reading
Some children learn how to read as if by magic. For others, learning to read can be a struggle. In some situations, the mom sits with junior and princess every day, patiently and diligently instruction the little angels in phonemic sounds, blends, spelling, word-building; in other situations, life just keeps happening and instruction keeps getting neglected. Sometimes, even though mom is diligent, junior just doesn't get it. Sometimes her efforts work like a charm with princess work, but junior can't get it using the very same methods. Sometimes outside help is needed, a change-up, a game...
In my own situation, when my youngest child was "reading age", sibling issues and extended family issues kept pushing JBoy's time to the back burner. Month after month after month went by, and more and more conflicting events kept occurring.
And my son was not reading. I needed help from an electronic reading program.
I don't know if Reading Eggs was around then, but that son is reading now, thanks to a reading website I was able to let him use. I have a friend, though, who's life seems to be following a similar road as my life went down. My friend was similarly finding her youngest son's reading not progressing, and life issues kept pushing his one-on-one time to the back burner. Her son, Paul, was just not learning how to read. And mom was stressed over the fact, and knew something had to change, but didn't know what. Then she and I teamed up our homeschooling (my youngest now fitting the age group of her older two), and I stepped in to offer some phonics instruction. And I did begin, but it was going very, very slowly.
Then along came
Reading Eggs
!
Reading Eggs
is an on-line program designed to enable emerging readers to learn how to read. It has programs designed for children from age 3 all the way to age 13. I was asked to review Reading Eggs as I am a part of The Old Schoolhouse Homeschool Crew. The
Reading Eggs
people wanted 150 reviewers, so even though I myself do not have an emerging reader, the Crew Managers permitted me to review the program using my friend's son Paul. And my friend and Paul are so glad!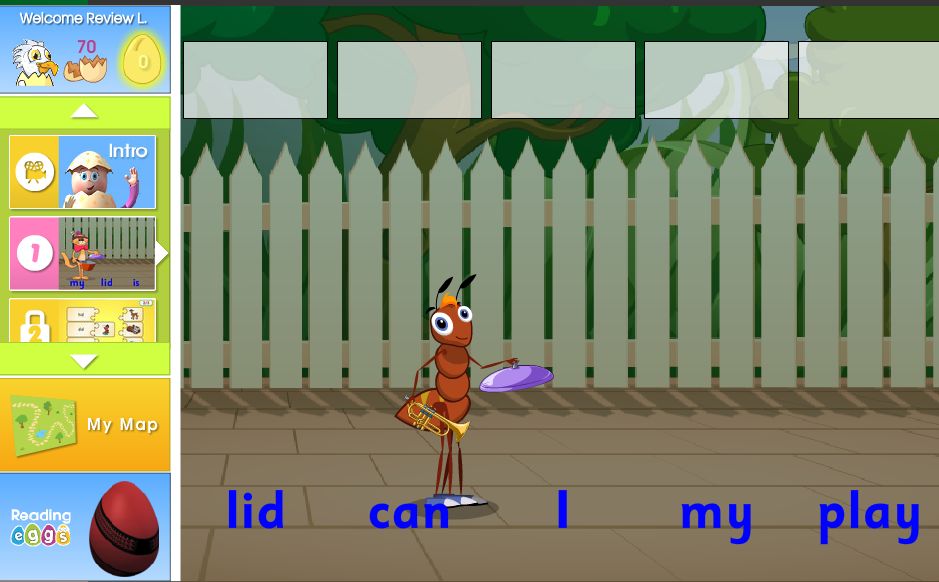 Reading Eggs
is like a game. It is fun, bright, challenging, engaging, and Paul loves it. I finally got to hear those words moms like to hear when he came into the kitchen and said, "Mom, can I please play
Reading Eggs
?" Paul has worked his way through the first two maps, and his mom happily says that he is now a "reader"! (... but he does still have a ways to go...)
Children love
Reading Eggs
because of its songs, games, hatching eggs that they earn, and a map that they work their way through. Non-readers start at the beginning, like Paul did. Partial readers take an assessment test so the program knows where to start them. The program is an incremental program, and offers individual, one-on-one lessons that allow children to progress at their own rate. You can learn more about
Reading Eggs
by clicking here:
About Reading Eggs
So, basically, the student works through lessons in sets of ten. Ten lessons completed successfully results in the child completing a "map" and being awarded a certificate. Paul has so far earned two certificates.
Pricing
:
To start, you can learn more about
Reading Eggs
by taking advantage of the
14-day free trial
!
A
12-month
online Reading Eggs subscription costs US $75.00, and will give your child access to all parts of the growing Reading Eggs website for 1 year – that's only $1.40 per week!
A
6-month
Reading Eggs subscription costs $49.95. You can even take advantage of our special 50% family discount, with any full price 6 or 12 month subscription purchase.
Add a second or third child
at the same time
and receive 50% off their subscription price.
A
monthly
subscription costs $9.95/month. (Be sure to read the cancellation policy.)
~~~~~~~~~~~~~~~~~~~~~~~~~~~~~~~~~~~~~~~~~~~~~~~~~~~~~~~~~~~~~~~~~
The company I know as
Reading Eggs
is also known as
Study Island
, and they are a leading provider of affordable, easy-to-use, web-based standards mastery products.
Their various products are:
Reading Eggs, First Steps - for pre-readers, approximately ages 3-4;
Reading Eggs, Ready for School - for those that are right at that ready-to-read age, often age 5;
Reading Eggs, Fun Practice Makes Perfect - for those who have some background reading, they take a placement test and get placed right where they need to start, often about ages 6-7;
Reading Eggspress, to help the child continue to develop his or her reading skills.
~~~~~~~~~~~~~~~~~~~~~~~~~~~~~~~~~~~~~~~~~~~~~~~~~~~~~~~~~~~~~~~~~
I received a two-month subscription of
Reading Eggs
for free in exchange for my review.
This has been a TOS Homeschool Crew Review. I received these materials for free from the publisher in exchange for my honest review.
To see more reviews of this product, go to the
TOS Crew Review page
.Throw me a bone! Leave me a comment! I love comments!
~~~~~~~~~~~~~~~~~~~~~~~~~~~~~~~~~~~~~~~~~~~~~~~~~~~~~~~~~~~~~~~~~