In March I was selected to be among the crew members who would be reviewing Write Shop Junior, Book D. I was delighted. But before I received it, I began to have misgivings, and was developing a bad attitude. I didn't want another program that was going to give me a lot of work to do and yield minimal results. Boy was I wrong! What a fabulous program!
WriteShop Junior is a very eye-catching
program. It is laid out in a way that is systematic and easy to follow. It is laid out, step-by-step, but can also be used piece by selected piece, if the parent wants to target a specific skill or select lessons they know will work best with their students. This was very important for me, because my student can be difficult and resists new products, and I wanted to select assignments that he would find interesting as I eased him into using this new program.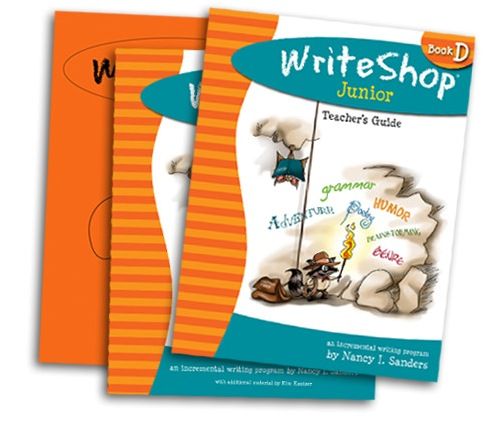 WriteShop Junior
is:
Ideal for students in 3rd and 4th grade.
May also be used with reluctant 5th graders (and even some 6th graders).
Parents also appreciate being able to use the program with struggling learners.
Start with Book D if your child has not learned punctuation or grammar skills and still needs help planning, organizing, and adding details to a story.
More reluctant 3rd graders should start with WriteShop Primary Book C.
My son has had a lot of creative writing experience, but it is all self-generated, unproofed, unedited. I want to work with him to help him learn to receive a writing assignment, brain storm, crank out a paper, and be prepared to have it reviewed, marked up for editing, and then given back to him to polish. Kids all seem to want their first draft to be accepted as a final paper with not corrections. I haven't yet eased him into those other steps of the writing process. This program holds my hand (and his) as we walk through those steps.

I received a
digital download of the
Write Shop Junior, Book D
Teacher Guide,
Student Activity Pack, and
Time Saver Pack. I love the portfolio style of the Teacher Guide e-document, but it is also daunting. I would have much preferred to receive copies in print, just so you know. It is worth it to spend the extra money to get the printed copies when you have only one student. Maybe digital is better when you have multiple students.
I just love this program! I love the creativity, the layout, and the format! I can't wait to walk through more of the material. Believe it or not, right now my favorite part of the material is the Appendix to the Teacher's Book, but that's only because it is absolutely amazing! It is stocked full not only with wonderful suggestions for finishing and displaying the writing assignments, but it is also chock-full of internet resource-links for more information, ideas, and resources. I am sure that, as I use this program, my favorite section will change every week or so, it is just that good.
Okay, even as I write that I am thinking that the Fold-N-Go Grammar Pack should be my favorite part, the way it lays out a fabulous tool-book to reinforce the following:
Punctuation Marks
Self-editing
Nouns
Pronouns
Verbs
Adjectives
Adverbs
Prepositions
Capitalization
References
It's all just so good!...
You can see a sample lesson of WriteShop Junior here:
Write Shop
carries products to help parents of students grades K through 12 to not only get their writing going, but also to improve their writing skills. While the
WriteShop Junior
I received does not stand as a full grammar program, it does reinforce the teachings of grammar, punctuation and vocabulary as it enables the student to improve their writing skills. The program introduces new tools for the parent and student to use to target weak areas and strengthen deficient skills.
WriteShop
was created by homeschooling moms. You can learn more about the company be reading the
story behind the program
.
WriteShop
is also the home of StoryBuilders and WordSmith Apprentice.
I found the
WriteShop
website to be a bit like a labyrinth. It is very deep, and a little difficult to find one's way around in. There are riches there, but you have to wander around a bit to find some of them, particularly the link to
WriteShop Junior
. I suspect it is a new product (published 2011) and not yet on all the site links. For instance, I would expect to find it on the same page that tells about WriteShop Prmary, Books A, B, and C, but it is not there.
You can see a sample lesson of WriteShop Junior here:
Write Shop Junior, Book D includes the following sections, available in ebook or print format:
Teacher Guide ($39.95 in print, $34.95 in ebook format)
Student Activity Pack ($39.95 in print, $29.95 in ebook format)
Time Saver Pack ($13.95 in print or ebook)
Level 1 Fold-n-Go Grammar Pack ($19.95 in print, $11.95 in ebook format) [optional]
***BONUS! If you purchase any WriteShop Primary or Junior products (including eBooks) through June 15, 2012 you can receive 15% off. Use coupon code CREW15 at checkout.***
Does the program need any additional materials? Sometimes you'll make a copy; sometimes it wants a piece of card stock, a file folder, construction paper. So far, for me, it has all been stuff I have around my house.

Number of pages/number of lessons: The Teacher Guide has 12 Chapters, 266 pages; the Student Activity Pack has 144 pages, with 10 Lessons (each lesson can take two weeks) and the Fold-N-Go Grammar Pack; the Timesaver Pack has 28 pages.

Is the product secular/religious? I haven't read the entire book, but thus far I have not seen anything offensive to the religious, nor overtly religious (which would offend secular folks).

How much teacher prep is required? Well, I definitely read through the lesson, print some things out, collect supplies, and maybe sometimes do some cut and pasting in advance. But it is oh so worth it!

What do I like or dislike? Well, I said it elsewhere in the review, but I dislike that I received a digital version, even though I like the digital version. (I don't like all the printing, and without printing things out, I get kinda lost on where I am in the three different books.) Other than that, I totally like LOVE everything.
So far I haven't found anything about the program that could be improved. It is excellent.
I would recommend the product to anyone who is struggling to get writing jump-started in their homeschool program, and this particular WriteShop Junior I would recommend to anyone with students 3rd through 7th grade, depending upon the student's writing experience and past materials covered.

Does my son like/love it? Nah, but I think it will grow on him. It's hard to get him to *like* anything that isn't Science, and he doesn't like all the Science programs either!
DISCLAIMER: I received a digital download of the
Write Shop Junior, Book D
Teacher Guide,
Student Activity Pack, and
Time Saver Pack in exchange for my honest review. I did not receive any payment for my review.
This has been a TOS Homeschool Crew Review. To see other TOS Crew reviews, go to the TOS Homeschool Crew Blog page for this product, HERE.