The TOS Homeschool Crew was pleased this month to have the opportunity to review
Go Science
DVDs, created by Mr. Ben Roy.

Go Science
is a creation-based DVD series offered by Library and Educational Services (LES), a wholesale supplier of books, CDs and DVDs and more, which are available for purchase by schools, libraries, churches, educators (home schoolers), and resellers. LES has been committed to excellence in customer service and product selection for over 30 years! When you call them, a real person answers the phone!
I have been purchasing Adventures in Odyssey from
LES
for decades! I have also purchased many books and school supplies from them over the years.
To see my links below on the
LES
website you might need to create or log in to your
LES
account.
LES offered the TOS Crew the opportunity to select two DVDs (per reviewer) to use with their families to review. The available
Go Science
DVDs are: Volume I: Motion: Discovering the Laws of Gravity and Motion; Volume 2: Simple Machines: Sound & Weather; Volume 3: Magnetism, Electricity, Engineering and Design; Volume 4: Chemistry, States of Matter, and Life Sciences; Volume 5: Air Flight, and Volume 6: Water, Space, and Solar System.
For my son's interests, I chose Volumes 3 and 4. Volume 3 has 14 experiment segments in it, and Volume 4 has 11 experiment segments in it. All the information on the various DVDs is at the
LES
website through the links above to each volume.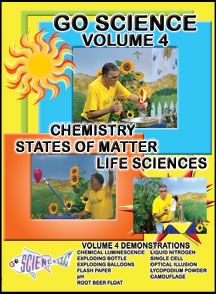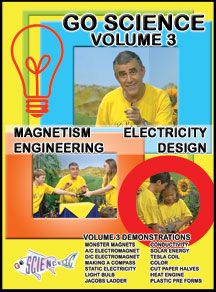 Go Science
DVDs are promoted as being appropriate for ages 6-14. The purpose of
Go Science
DVDs is to present science to children in a manner that will help them know and understand that science is cool, and it was created by our wonderful Creator!
The subject matter contains experiments and subject matter that can hold the interest of these ages, even down to the interest level of a 2 or 3 year old!
However, I would say the presentation and demeanor of Mr. Roy lends these videos as being more appropriate for pre-school through early elementary than upper elementary through middle school. It would take a very tolerant 14 year old to sit through these demonstrations, where there are conversations like this: "Glendy, can you tell the boys and girls what this object is?" Glendy: "A light bulb." Mr. Roy:
"That's correct! It's a light bulb! How many of you have light bulbs around? Oh, yeah! Lot's of people have light bulbs around..." Or, "Hey, have you ever heard sound?"
Mr. Roy is enthusiastic, but he seems to talk down to a pre-school level in these DVDs. For this reason, I think these DVDs will more easily hold the attention of kids 3-9 years old. There is material in these DVDs that can't be duplicated at home that is great for 10-14 year olds to be able to see, but I just wish he wasn't presenting it the way he does. I can't get my 12 year old to tolerate it.
About these DVDs:
This series was created for a television show called "Learning Time", and because of this each video clip stands alone. They strike me as clips that are also best viewed alone. Because each clip has a similar introduction and conclusion (like a television show does), these introductions and conclusions become redundant if you sit and watch the entire 25 minute DVD in one sitting.

For some reason the volume level at times varies from one DVD clip to the next, which is another reason watching just one clip at a time makes sense.

The experiments in these DVDs can't be duplicated at home. Because of that I consider the DVDs to have value for the students. My recommendation would be that a fun day's science could be created around each DVD clip (by the parent) so that the days science would consist of watching the Go Science movie clip for the day, and then the mom could present the students other hands-on experiments of a similar nature for the kids to do that day to complete the science class.

Each movie clip ends with Ben Roy's wrap-up statement that, "Every time we learn something new about science, we learn something new about our Creator, God!" I appreciate Mr. Roy's heart for bringing children to God, but I don't feel this line is tied in very well. When the six year old learns that red and blue mixed together make violet, she doesn't necessarily know anything new about her Creator, just something about His creation... Maybe I'm just contrary... But if a program is going to end with that statement, it is my opinion that it should also include the statement of what today's experiment(s) demonstrated about the Creator.

Mr. Roy says, "I find that interesting!" to such excess that I find him disingenuous...
I find
Go Science
to contain great materials and great experiment demonstrations, but I find Mr. Roy difficult to listen to for very long. (I had a similar reaction years ago to a certain purple dinosaur... ) However, I know that there are other folks who like purple dinosaurs, and there are folks who like Mr. Roy and
Go Science
! So I want to make it clear that my personal preferences should not be your sole factor that you use to base your decision on as to whether or not to invest in some of these DVDs. Here's an idea... Watch this video clip and get a sample on your own to see what these DVDs are like:
Go Science
DVDs are available through
LES
for $8.97 per DVD, or for $$47.95 for a six volume set.
Disclaimer:

This has been a TOS Homeschool Crew Production. Please let me know your thoughts!