In late February I learned I was to be part of the Homeschool Review Crew's
CompuScholar, Inc.
review.

I received one year's access to
CompuScholar
's new on-line courses,
Digital Savvy
.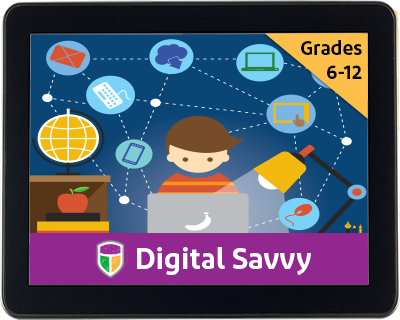 Digital Savvy
is a course for high school students. This is the age group
CompuScholar
has found most suited for this course, but you can certainly try it with a computer-savvy middle-schooler.
Digital Savvy
counts for 1 high school credit on your student's high school transcript. This is perfect where I live, Maryland, where the state guidelines for graduation require one high school credit in "Technology" for graduation. Even though home school students can be graduated without having all the credits required by the state for public school graduated students, many of us still follow those guidelines knowing they closely align to what potential colleges will be looking for.
Digital Savvy
is broken down into 25 Chapters which each contain three lessons, an activity assignment and a test. Each lesson contains a lesson video, a text assignment and a quiz. The quizzes and tests are automatically graded (immediately), and the parent can place settings so the student can retake the quiz to improve the grade, using highest grade achieved or getting an average of the scores. The parent/teacher needs to grade the Day 4 assignments. The ideal schedule to follow is to complete one chapter each week.
Digital Savvy
Chapters are as follows:
Fundamentals of Computer Hardware;
Fundamentals of Computer Software;
Operating Systems;
Computer Files;
Computer Maintenance and Troubleshooting;
Computer Networks;
Search Engines;
Computer Security;
Word Processing;
Spreadsheet Programs;
Presentation Programs;
Database Technology;
Project Management and Teamwork;
Mid-Term Project;
Digital Images;
Internet Communications;
Social Media;
More Social Media;
Creating Web Pages;
Web Page Design;
Web Links, Images and Animation;
Programming Concepts;
Digital Logic;
Careers and Technical Skills; and
Final Project.
There is also a 26th section for Supplemental Lessons and Enrichment Topics.
So this is basically a 26 week program, and the average school year is 36 weeks. This means you can skip a week here or there, or take two weeks on a particular Chapter. If your student is really digging into one of the Chapter projects, they can have more than one day to work on it. I love this type of flexibility.
With the variety of topics covered in this course, you can certainly consider covering the material in more than one way. The obvious way to approach the course is starting at Chapter 1, Lesson 1 and go through the course in order. This is the approach I used. I was working through the course myself as the student, and there was not a lesson or project I covered where I did not learn something. The other way to approach the course is to look at the topical list and target the areas where you are most in need of additional information. I don't mind recommending this to the parent/teacher, but I don't recommend it for the high school student taking the course.
I've been using a computer since about 1983, and being a computer-user is not the equivalent of being properly or adequately educated about these devices you are using! I have loved being able to take this course myself to increase my computer knowledge base, and I recommend this to every parent who purchases the course for their student. Now here is a bonus: When you purchase the course for your student, you will also get a parent/teacher account which gives you access to the same course as your student. So you buy the course for your student and can take the course yourself as well without purchasing a 2nd student account. I highly recommend the parent work through the course, as this way at any point in the course if your student hits a point of confusion you will be better prepared to step in and try to resolve the confusion.
In the event the student's question is beyond your ability, there is a means for contacting
CompuScholar
to get the question answered. This will often take up to 24 hours, possibly more if it is the weekend, so it is better for the student if the parent is able to answer the question.
Digital Savvy
is a new course. Sometimes new products have glitches that need to be worked out. This is another reason it can be good for the parent to work through the course first (or simultaneously). I found at least one place where the multiple choice question had two answers that both seemed to be correct. A fourth answer said "all of these are true", but that wasn't the answer because the third answer was clearly incorrect. I contacted and they agreed and immediately changed one of the answers so that it was clear which answer was the correct choice for the question. I love that type of responsiveness in a company, and
CompuScholar
appreciates any assistance in improving their product. This is a win/win situation, in my opinion!
So far I have learned the differences between hardware, software and peripherals, and I now better know the differences between different operating systems. I now understand the differences between freeware, shareware, and open source software. I am really looking forward to learning more about properly protecting my computer against viruses! So much more to cover.
Other members of the Homeschool Review Crew also reviewed products by
CompuScholar
. Some reviewed
Digital Savvy
, like I did; some also reviewed the
Web Design
course, and some reviewed the
Java Programming
course. To see other reviews of
these
CompuScholar
courses, please click the link below (click on the picture below).