In early February I learned I had been selected to be part of the group of the Homeschool Review Crew who would be reviewing an online art program called
Creating a Masterpiece
.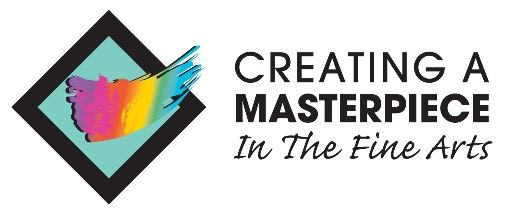 Crew members received a six month subscription to their
Monthly Plan
. I was blessed to be permitted to be the student for this review. If my son's life ever eases up from its present pace, I hope to get him to do some of these projects as well.
As I began to peruse the available lessons, I really got excited! I have, over the years, inherited and acquired many, many art supplies, some I didn't even know how to use! In
Creating a Masterpiece
I was seeing lessons that would teach me new things, things I wanted to know, and how to use materials I had in my art supply arsenal.
Unfortunately it seemed like every single lesson, every single art method, needed something I didn't own! I would have to order supplies. ::sigh:: I was prepared to spend money on supplies, but I was not prepared to wait for them to arrive!
So the first impulsive thing I did was follow the directions for the free sample lesson to do a soft pastel mountain scene on black pastel paper. I had lots of paper, but none that was specifically pastel paper. The only black piece I had appears to be some sort of poster board. I didn't care -- I cut it down to the size required and I created my first piece of art!
This piece is beautiful! This is the first and only photo I took of this piece, though. Being as I used the wrong paper, the pastel was not holding. I always thought a sealant would help with that, but I also didn't have the proper sealant. I used hair spray to try to seal the pastel. Big mistake! The moisture in the hair spray changed the colors of the pastels and did it inconsistently. The picture is no longer as pretty.
My supplies had not arrived yet, and I wanted to make something beautiful. I decided to make an acrylic painting. I did not have a stretched canvas, but I did have a pad of canvas pages. It was smaller than was called for, but it worked. It turned out beautifully!
Because it is a canvas sheet instead of a stretched canvas on a board frame, I haven't figured out how to mount it yet. I'll have to figure it out.
This would be a good place to tell you about how the
Creating a Masterpiece
program works. The Caribbean Lighthouse project is broken down into four lessons. When you click on Lesson 1, you immediately see the clickable picture for the video to Lesson 1. If you first scroll down the page, though, you find the list of supplies that you need, helpful hints, and lesson highlights.
The Lessons on a project can be completed one lesson per day, one lesson per week, or if you are on a roll you can do multiple lessons at the same time. Sometimes you must wait between lessons, though. After Lesson 3 on the Caribbean Lighthouse, the paint should be permitted to dry before beginning Lesson 4. The Caribbean Lighthouse is painted using acrylic paint. Projects painted in oil paint require more time to complete than those in acrylic paint. Acrylic paint can dry in one or two days, whereas oil paint needs about one week to dry.
After I painted the Caribbean Lighthouse, my order of art supplies arrived. A bottle of ink had broken in my box of art supplies and had gotten on much of the stuff. Fortunately much of my order was items that were individually wrapped in plastic, so I only needed the ink and a pad of paper replaced. I contacted the art supply company, and then moved on to decide what to make next.
I settled on doing another soft pastel picture. My adult daughter has chickens and a rooster. I settled on a soft pastel project called Country Rooster. It turned out wonderfully!
I didn't know roosters can smile, but mine looks like it is smiling!
I can't wait to do more projects! When life slows down for my son, I'm hoping I can interest him in doing a few projects.
Projects included in
Creating a Masterpiece
include projects in:
Acrylic Paint;
Alcohol Ink;
Batik;
Block Printing;
Carving;
Charcoal;
Colored Pencil;
Conte' Crayon;
Copper Tooling;
Glass Mosaic;
Gouache;
Ink;
Mixed Media;
Oil Paint;
Oil Pastel;
Pencil;
Relief Sculpture;
Sculpture;
Silk Dying;
Soft Pastel;
Watercolor;
Watercolor Pencils;
Woodburning.
Such an amazing variety! I can't wait to do more. I still don't have the supplies to do every project available, but I can do most of them. I'll add photos as I am able.
This is a really incredible art program! Depending upon the student, this program can produce great outcomes for budding artists from Kindergarten to adult. The video method is wonderful. You can pause the video whenever you need to, back it up, replay it. When I get more experienced I look forward to creating unique works of my own using the techniques I have learned. I hope I get that good!
Other members of the Homeschool Review Crew also reviewed Creating a Masterpiece. To read more reviews click on the picture below: