In early February I learned I would be part of the Crew doing a review for
Strong Learning, Inc.

Members of the Homeschool Review Crew received copies of the book,
Bessie's Pillow
.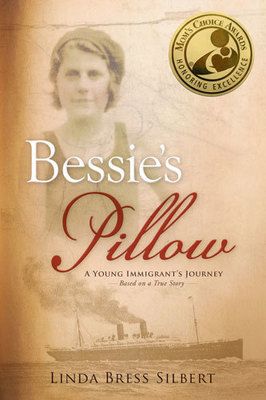 My son and I have been studying Spanish, and I was delighted to learn there is a bi-lingual version of
Bessie's Pillow
, and
Strong Learning
sent me this bilingual version! Unfortunately, for some reason the postal service delayed my book's delivery for weeks, so the English version is all that has been read so far. This was necessary in order to finish the book in time for the review!
The bilingual version is about 10" X 14" and is spiral-bound. The content is presented with one column in Spanish and one column in English on each page.
I had been informed there is a study guide to go along with
Bessie's Pillow
, so today I hunted around on the website to see what I could find. When you click the
Bessie's Pillow
link, you can see a menu bar across the top of the page. If you click on the For Teachers link, there are useful links to further your studies. You can get information about radio and movies during Bessie's era, as well as photos from Bessie's life, on the link for
"Bessie's America."
There is also a link to the
Bessie's Pillow Teacher Guide
which gives discussion questions and project and term paper ideas. In addition, Strong Learning offers a Companion Workbook available both in English and bilingual English/Spanish.
Bessie's life rings echos around many aspects of my family's immigration stories, so I have decided to give you stories of Bessie's life and parallel them with snippets from my family histories.
In 1906, when Bessie was 18 years old, she left her family in Glubokoye, Russia to escape the Russian pogroms that were being exercised against the Jews in Russia. This is around the time that my husband's Jewish ancestors fled from Odessa, Russia to escape the pogroms.
When Bessie was leaving Glubokoye, a woman named Mrs. Dreizen approached Bessie with a pillow, begging Bessie to try to get it to the woman's son, Nathan, in New Rochelle. This pillow, "Bessie's pillow", provided Bessie much comfort for many days ahead. In Yiddish the pillow's needlepoint said, "May this pillow bring you peace!"
Bessie traveled alone, an act relatively uncommon. Young women did not travel alone. They just didn't. Bessie was a courageous woman to do such a thing. I can't tell you how eerie this was for me to read, knowing that my great grandmother, Emma Savilahti left her homeland alone in 1901 and traveled to America, celebrating her 20th birthday while she was on board the ship. Emma and Bessie both entered the United States at Ellis Island, New York. I've been there and I saw Emma's documentation of arrival.
Bessie settled in New York and built her life there. Bessie eventually found Nathan Dreizen and delivered the pillow. In time they fell in love and married. Over the course of time they had children.
With two young children, Bessie and Nathan were devastated when their children, one by one, contracted Scarlet Fever and died. This was very sobering to me. At the age of 10 I, too, had Scarlet Fever. I was quarantined and treated with a medicine that was relatively new in 1968, penicillin. As you see, I recovered.
I already feel like I've revealed too many spoilers in my attempt to show parallels, but let me just reveal one more. Bessie and Nathan went on to have four more children. Sadly, Nathan dropped dead of a heart attack at age 44, leaving Bessie a widow needing to find a way to provide for four children. My grandmother, Esther, with four children, had to become a business woman to provide for her four children after her husband died when my mother was 9, in 1942.
Nathan's pillow again became Bessie's pillow and a source of comfort. In time of mourning, Bessie would hug the pillow tightly as she cried.
Bessie was an amazing woman. She was a successful business woman who, because of her love and compassion for others, often used her resources to provide for others. In her earlier days she visits the Hebrew Orphan Asylum with dreidels, candles and a menorah. Later it is bread or meals to the needy. As a successful older business woman she provides mortgages to people the banks refuse to lend to! She was quite a woman!
Bessie's Pillow
is a compelling book. It is a fabulous launching tool for early American social studies.
"Bessie's America"
provides links to radio shows and lists of movies from Bessie's time, many of which are some of my favorite all-time movies! I highly recommend this book to you for your personal enjoyment and for the benefit of your home school. I am looking forward, now to going back to the book to work my way through the content in Spanish.
Other members of The Homeschool Review Crew have also written reviews of Bessie's Pillow. To see more reviews, please click below: