In early September a select group of the Homeschool Review Crew were chosen to review a product by
Educeri ....... Educeri a division of DataWORKS
In exchange for my review I received 12 months of access to
Educeri Lesson Subscription Service.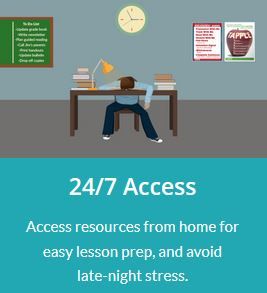 Educeri Lesson Subscription Service
is an online service with lessons in all subjects for all grades K through 12!
In my home I am nearing the end of my homeschooling years. I have been homeschooling since 1992! I long ago graduated my older two, and my youngest is now in 11th grade. Looking at this wealth of available educational material made me wish I had had this with a house full of "littles". Then again, back then there was only one device in the home with internet access, and we accessed our internet by modem paying by the minute or something. Seriously!
Anyway, my 11th grader is also enrolled at the community college in the Dual Enrollment program for two of his classes this semester and is only taking Geometry at home. Clearly I want to give you an idea of more than just
Educeri
's Geometry, so I took a tour of as many subjects and grade levels as I could so I could give you more a flavor of what they offer.

When you first log in to Educeri, the menu makes it easy to navigate the site.



You can begin by reading "How It Works" or "Training". I didn't find these helpful. So, starting by selecting a grade level, you can then select a subject to narrow your search. Here is the subject list for the website:


So, for fun, I'm looking at 5th Grade Math.


So as I work my way through the first lesson on how to add decimals, I begin to understand the system a little better. When you select the lesson, you then have a page or pages to print out for the student.


Then you have a presentation to walk through with the student that teaches the material for the lesson.

Educeri seems to have been originally designed for a classroom setting but is easily adapted to your home situation. In my home we have a cable we use to connect the computer to the television for family viewing of online movies. The same cable can be used to cover online presentations. I have a bluetooth mouse, so I can sit at a distance from my computer and click the mouse to proceed through the presentation.

Next I spent some time looking at High School Spanish. The lessons appear to go with some curriculum, but it doesn't say what. I like the way those Spanish lessons are laid out, but I haven't figured out any audio connected with Educeri. So I think the Spanish lessons need to be led by someone who already speaks Spanish.

I noted Educeri offers Spanish but not French. Just noting this here because I thought that is odd.

I looked at High School Science and found some interesting lessons offered in Earth Science, Biology and Chemistry. It was at this point that I noticed the lessons do not all have worksheets the way the 5th Grade Math lessons did. I guess at this point I don't know which ones have worksheets and which don't. It certainly makes sense for the Math lessons to have worksheets, right?

Educeri lessons are keyed to be in alignment with Common Core. Some folks sometimes have issues with some aspects of Common Core programs. I did not find anything objectionable in the lessons I looked at.

When students get to high school the curriculum becomes pretty intense. It is nice, sometimes, to have a way to continue teaching but give the student a bit of a breather from the planned lessons. Educeri does that for the high schooler.

Educeri also gives such a wide variety of lessons for the lower grades that I think it would be a valuable addition to many homes. Educeri offers a free 30-day trial, so why not give it a look? It's free, so it wouldn't hurt. I encourage you to give it a try. If you have any questions, post me a question below.


Other members of the Review Crew also reviewed this product. To see other product reviews, please click the button below.