In mid September I learned the Homeschool Review Crew would be doing a review for
CrossTimber
.
We were offered the opportunity to receive a 5" X 7" Personalized Framed Plaque with Name Meaning and Bible Verse, or we were allowed to upgrade to a larger frame, or get a cup, as long as we paid the upgrade difference over what we were originally offered. I mention this because it was a nice feature of this review. We don't normally get to alter our order; we get what we get. I opted to upgrade.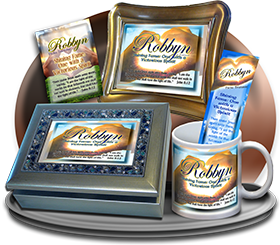 Initially I was not certain what I wanted to order. I received an email from John of CrossTimber. The email sent me to a page set up just for the Review Crew. This page contained a lot of information for the reviewers. One of the items was an invitation to ask for the name meanings of my family. I was intrigued!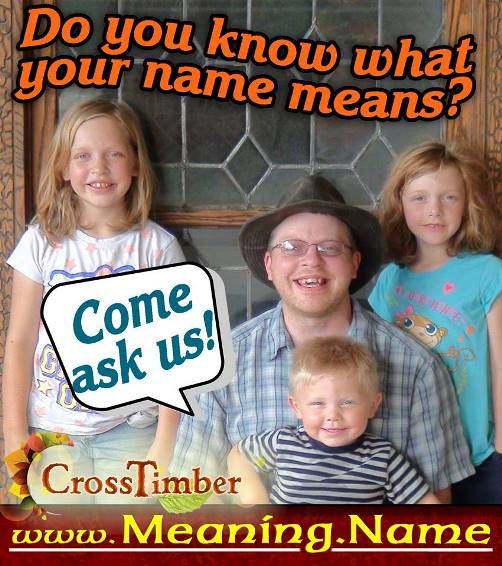 Thus began a chain of emails between myself and John Dehnart. Initially by email we discussed the full name of one of my children. John wrote back with definition and Bible verse for both first and middle name. Then John wrote back defining my first name and asking my husband's name. I wrote back giving him my husband's first and middle name. my middle name, my other children's names, my father's name, my mother's name, my mother's mother's name...
Meanwhile John was having similar email conversations with many of the 90 Crew members on this review. His head must have been spinning!
I eventually decided whose name I wanted a name plaque for, and that I wanted first and middle names (which was an upgrade because it needed a larger plaque). I began looking through photograph art for the backdrop of the plaque. There are, seemingly, hundreds of photos available, but I was finding looking through the choices exhausting, particularly as I was not finding what I wanted. I knew what I wanted -- I just didn't know if I could get it. I finally picked up the phone and just called to ask.
I learned that what I wanted was available, but because of copyright issues there was an additional $5 fee, which I was glad to pay. We put the order together, and John created a draft of the plaque to me. I approved it. I paid, and the order was placed.
Days later the plaque arrived, and it was beautiful.
Unfortunately, the frame had been damaged in shipping. We could see daylight through two corners.
I contacted John to let him know. Not to worry - it was insured! He wanted to know if the name plaque was okay, so I examined it. On looking at it, my husband and I both thought the words on the Bible verses did not show well -- too dark on dark. I asked John about doing the letters in white. I also looked at different photos. I surprised myself when I fell in love with a different photo! John changed photos AND color of print. He sent me a draft of the new plaque again; I approved it and we started again.
Days later plaque #2 arrived, and I was delighted.
I showed it to my husband, and he found that, again, there was a problem with the frame.
It doesn't show well in a photo, but for the value of the gift my hubby wants it to be perfect. I contacted John again, and a new frame is on the way.
------------------------------------------------------------------------------------
As Christmas approached, my hubby and I began to doubt the name plaque as a gift for our boy. Seventeen, he was asking for knives, machete, and parachute cord for making bull whips. What was I thinking when I spent extra money to upgrade from the 5" X 7" size. We began to see the name plaque as something he didn't want, and I only hoped he would be polite when he opened the gift he hadn't asked for and didn't want.
Boy was I surprised! My son was so delighted with the name meaning plaque!
He examined its every detail. He loves the jets in the picture. He loves the Bible verses selected for his name, especially the way the Isaiah 40 verse dove-tails with the flying theme ("They shall mount up with wings like eagles"). He was even a little surprised that there is a Bible verse that says that. (It's long been one of my favorite chapters...) So, five stars here! It's a big hit! He now has it proudly displayed on his computer desk.
-------------------------------------------------------------------------------------
So, in conclusion, this company bends over backward in customer service! Their products are wonderful. They work hard for folks even without an order -- they'll send you your name meanings if you ask!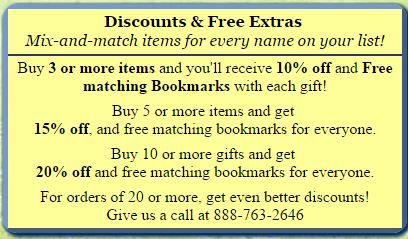 These make great Christmas gifts! I hope you will go to their site, enter the giveaway, look around and maybe buy some Christmas gifts. These are great folks! Tell them I sent you!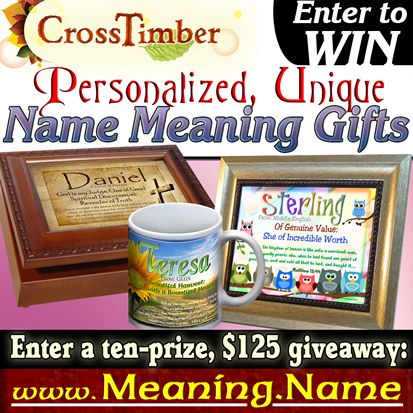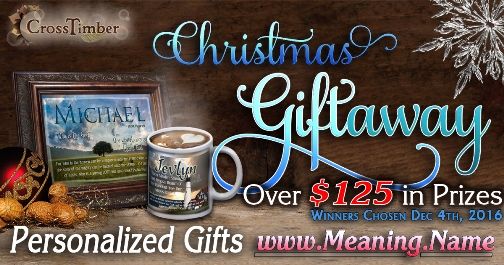 Other members of the Review Crew also reviewed this product. To see other product reviews, please click the button below.