As our school year was beginning this fall, I learned that a company called
Standard Deviants Accelerate was going to give the Schoolhouse Review Crew the opportunity to review
Standard Deviants Accelerate Homeschool Courses
for a review. I looked at their website and thought they looked interesting, so I volunteered to review their U.S. History course for grades 9 and above with my son.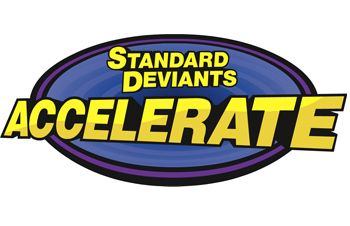 Standard Deviants actually has 14 different courses that they offer, providing a supplemental education program in various subjects for students ages 8 and above. For my son (in 9th grade), courses they offer that we could have chosen from include: Algebra, Biology, Chemistry, English Composition, and U.S. History. They offer Arithmetic for grade 3 and up, Fundamental Math for grade 4 and up, and Earth Science and Nutrition for grades 6 and up. For older students (Grades 11+) AP Biology, AP Chemistry, AP U.S. Government & Politics, AP U.S. History and AP English Composition.
And what really blew me away is that they offer a 6 month free trial! Who does that?
So, a lot of these courses appealed to me. I selected U.S. History for the review because the other subjects I was juggling with my son at the time of this review made U.S. History the subject I felt we could manage. I do have my eye on Algebra, Biology and English Composition, though, and wish I could have managed to review all four subjects for you. Maybe I can add more words about Standard Deviants' other subjects at a later time.
When you first sign up with Standard Deviants you receive an email with instructions for setting up your account. Going to the Standard Deviants website you initially log in, and then you select the course(s) you wish to use. You assign a name to the class (such as "First Period"), and the program generates a code that you share with your student(s). You email this code to your student, so your student needs to have his/her own email address.
Once the student has the code, he/she can go to the website and set up an account and enter the class you have set up. Once the classes have been set up, these class choices will show whenever the student logs in.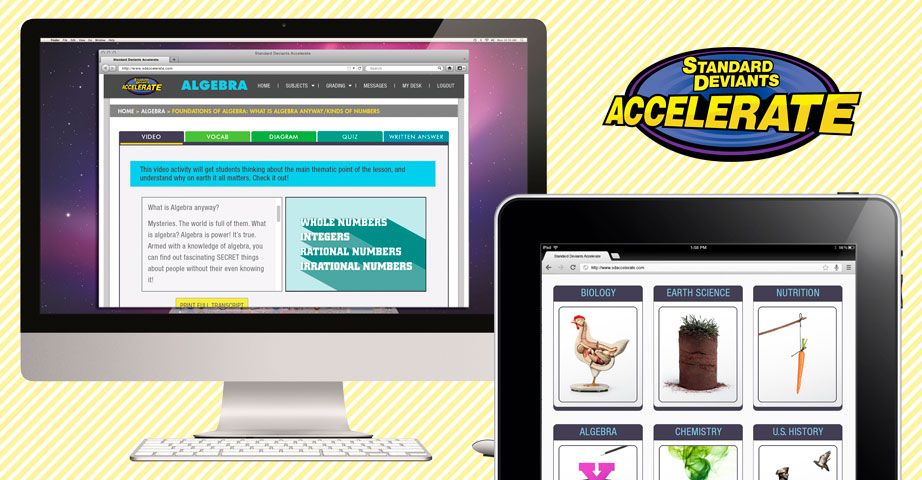 So, we jumped into U.S. History for 9th Grade and up. Wow! What a large amount of information in such a short time. I very quickly realized that I had missed the point that this was a supplemental resource for a student that was already studying American History. So I was doing my son a disservice by giving him this program at a time when we were not actually studying American History in our daily schedule. Standard Deviants should have been helping him by reinforcing information he had already heard before, or was learning simultaneously in the daily History class. However our History, for the past year, has been parked in the Middle Ages era, and our previous focus on U.S. History seems so long ago. My son was a bit overwhelmed, therefore, by the wonderful volume of amazing information.
As my sons scores began accumulating I could see he was not doing very well at the course. From this I came to the following conclusions:
To maximize his focus, we need to reduce distractions. The table should be free of distracting papers and clutter. The radio should be off. The dogs should not be outside barking or inside fighting over a toy.
My son should be taking notes. He not only found it difficult to pay attention (which note-taking would help with), but he also found it difficult to retain what he was seeing and hearing.
Do I have suggestions for how the program could be improved? To start with, I want to compliment the program. Standard Deviants utilizes a high level of technology. The videos are integrated with quizzes, some of which it keeps track of the responses and applies this to the scores. It is keeping the grades for my son! How wonderful is that?
Nevertheless, I do have some comments and suggestions.
I/we found it very difficult each morning to determine what had been done/where to start the new day. The list of lessons comes up in black type on a blue background. It would be wonderful if the text for a completed lesson would change color so the student can easily see in the morning where to start the new day. Maybe there could even be a third color (amber, "caution" or red, "alert") to indicate a lesson that was begun but not finished.
It would be nice if there were some way within the video that the points considered "Important" (as in "there will be a question on this in the quiz or test") were better highlighted so that the student can know, with all the information being covered, which items are more important to remember than others.
The teacher needs to log into the teacher account and go to a certain tab to find out how the student(s) is(are) doing. For home schools (I mean, I have ONE student), it would be really nice if the program could generate an email sent to me, the teacher, with one page per student, giving me a summary of how my student(s) is(are) doing in each subject.
The way the program runs, first the student watches an interactive video. Once the video ends, the student must open the previous page or window that the video launched from and go to the next tab on the lesson.

I would like to see two things: 1) the tabs at the top of this page should also be at the bottom of the page. As my son finished the bottom of the page, where the top no longer showed, he always thought he was "done" with the material for the day. 2) I would like to see a button ON THE VIDEO at the end of the video that sends the student to the next section (instead of the student having to go back to the page that launched the video). If this cannot be IN the video, then it would be nice if the selection buttons were UNDER the video, or if the video page closed automatically and the computer went automatically back to the first page. Even a "Continue" button would be nice. It just needs a little something to ease the transition between the sections of the lesson for the day.
I really wish Standard Deviants would expand their program so that what they offered was complete subjects, rather than supplements. How wonderful would it be to just have my student taking Algebra I on line, having the work graded, and me only needing to step in when he needs help. Same desire in every subject -- me just knowing that if he completed the program during the year I could confidently count it for credit for my reporting to my state and for my creating of the high school transcript.
I see a lot of room for expansion with this program. Standard Deviants could expand to one day include various levels of art appreciation and music appreciation, health and other sections of history (ancient cultures, dark ages, middle ages, renaissance and reformation, Canadian history, Australian history, European history, etc.).
I have really enjoyed having the
Standard Deviants
U.S. History program available for my son during this review time.
Standard Deviants very generously gave the Schoolhouse Review Crew reviewers access to ALL their classes for 12 months! So I am also looking forward to spending time in their other 9th grade level classes in the months to come.
If you are interested in any of these Standard Deviants courses, you can purchase any regular course for use by one student for $99 for a year, or $24.95 per month. The AP courses are available or use by one student for $14.95 per month.
If you would like to read more reviews about this and other Standard Deviants courses, click the link below.