As my son began his 9th grade year, I was painfully aware that we have not focused adequately on the skills of essay and composition writing. I was very happy when I learned that
Fortuigence was offering the Schoolhouse Review Crew four writing courses, and that my son and I would be given the opportunity to review their
Essay Rock Star Expository Essay Writing Course!

Fortuigence is an online company that was founded by a former classroom teacher named
Lily Iatridis. Ms Iatridis taught school for ten years before taking some time off to stay home and start a family. Fortuigence was born of a brainstorm to think how she might begin to offer online writing courses on her own. She has great respect for homeschoolers, and the largest portion of her clients are homeschoolers. Her goal is to help equip students to write effectively while equipping the parents to walk through the writing process with their students.

I approached the
Essay Rock Star Expository Essay Writing Course with my son with a bit of trepidation. This is the third student I have homeschooled high school with, so you might expect me to have a bit of confidence. What you may not know is that my older two students were in a co-op in high school, and the co-op included writing as one of its subjects. My daughters were not only not accountable to me for getting their writing assignments done, but their papers were also not graded by me. I found that to be a huge help. I either corrected everything (not giving them freedom to express their own thoughts, but trying to get them to express my thoughts) or else I thought everything they wrote was wonderful (with blinders that prevented me from helping them to improve their writing). Having an impartial 3rd party do the paper-grading was what I needed.
So along came this son that God gave me. He is so different from me. If I ask him to write an essay about "Topic X", he says he wants to write about "Topic Q" that I know nothing about. This leaves me feeling 1) like I cannot score his papers because I don't know if the material is correct or not and 2) like he's never going to learn to write on a topic that is assigned to him. Along came the
Essay Rock Star Expository Essay Writing Course.
The Expository Essay Course is broken down into bite-sized pieces. Each step along the way teaches the student (and the parent) how to approach that segment of the essay-writing process. It also gives links, PDF files, and ideas to help the student every step of the way. Each of the following steps was one lesson. After each lesson the student completes a related assignment, submits the assignment to the teacher, and receives feedback on the written work before continuing. Here are the steps/lessons:
1) Course Introduction, Rubrics, and Pre-Assessment (child sends in a sample writing assignment from previous work);
2) Purpose and Description; Brainstorming;
3) Organizing Ideas;
4) Free Writing;
5) Revision;
6) Editing;
7) Wrap-Up.
So we started off with the Pre-Assessment. That doesn't sound too difficult, right? You just send in a previous writing assignment. Well, scroll back up to that first paragraph where I said I have neglected writing and composition. Did you think I was kidding? I didn't have a previous writing assignment. This young man has never before written an essay or a composition. He has written answers to questions in workbooks, and he has kept a journal. Fairly Charlotte Mason in our previous schooling, I have often had him narrate to me orally. I tried to get him to do written narrations one year, but that flopped (he was unwilling and I did not fight with him). He now understands that learning to write essays and compositions is necessary to move forward into college and is willing to learn, but there was no "previous writing assignment". He had to start Lesson 1 by writing an essay to submit for the assessment.
It became necessary for me to instruct him just to get started. I discussed with him the basic five paragraph composition that starts with an introductory paragraph, is followed by three supporting paragraphs, and concludes with a paragraph that restates the introductory paragraph and wraps up all the loose ends. Initially we had some difficulty figuring out how to submit the essay. I tried to attach a document, but my computer was generating different document formats than the Fortuigence site wanted to accept. I finally figured out how to submit a ".doc" document.
We submitted my son's essay, and I waited with anxiety. I had forced myself not to read the essay, not to make corrections or comments. Later the same day, his instructor (who was Lily Iatridis herself, by the way) sent my son a note telling him he is a "competent writer" and had us move on to Lesson 2. Who knew? My son and I were both pleased and relieved.
So we watched the video for Lesson 2 and then read through the documentation that followed the video. There was a link given to a website that offers (limited) free support for brain-storming. I had to prompt my son to give him ideas on what to write on. I suggested he write on something he knows a lot about, and we both thought about that. He picked his topic and went to the brainstorming page and created lots of sub-topics. He had selected a "process" style topic, so I let him know he did not need to be constrained by the five-paragraph format of the previous essay.
Somehow I got lost in what I was reading and I directed my son, incorrectly, to submit a rough draft as his assignment for the brainstorming. He did the work and we submitted his writing.
Ms. Iatridis received this rough draft with surprise. We had by-passed four lessons or something. She read what he had written and responded to him with an email of glowing praise, suggesting that he didn't really need the course, and that if we weren't reviewing the course she would probably give us a refund. What? I mean, this is the second writing assignment in his life. My son responded to me, "Does this mean I never have to do another writing assignment?" I had to let him down gently. There is still so much for him to learn!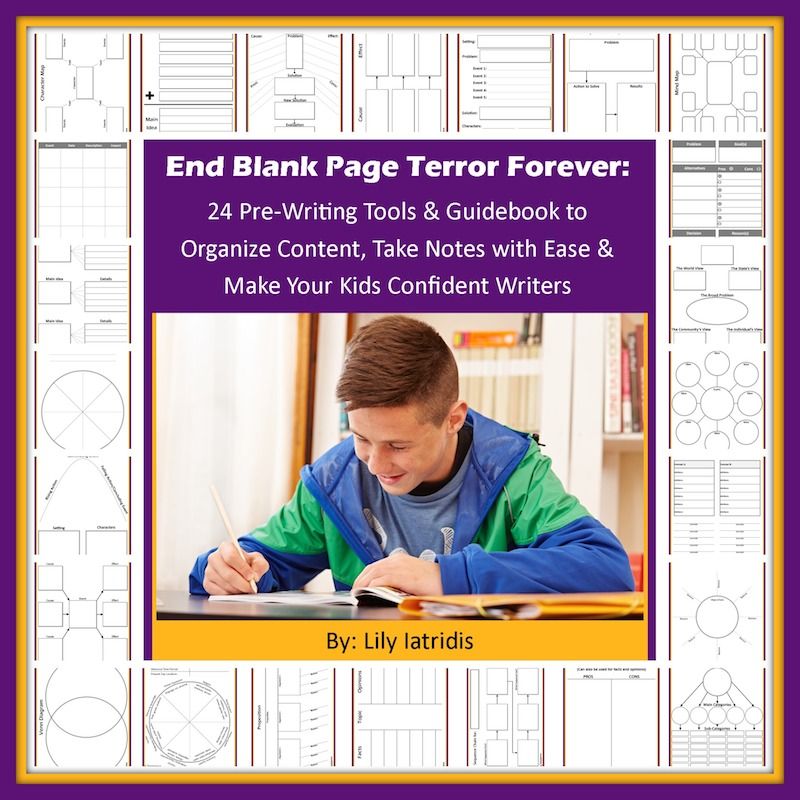 So we walked our way through the additional lessons, resubmitting the same essay after each lesson, until the lessons caught up to where my son was, having written his rough draft. Finally, after Lesson 6, his writing was reviewed with a fine-toothed comb. This is where the capitalization was scrutinized, punctuation, unfamiliar words, awkward wording, etc.
My son went over the teacher-markups and is making final adjustments to his composition, to create a great finished product. And I, meanwhile, have saved copies of all the tools and materials provided during the course, so we will have them in our arsenal for future writing assignments.
While I don't know if my son will ever enjoy writing (especially writing assigned to him by someone else), I think I can honestly say that he and I have both been totally pleased with our experience with the
Essay Rock Star Expository Essay Writing Course.
The constructive praise and comments made by the teacher were helpful, encouraging, and anything but shallow. And I totally feel this course was as beneficial for me as the teacher as it was for my son as the student.
The
Essay Rock Star Expository Essay Writing Course
is a perfect fit for 12-18 year old students. It is a "short course" (to be completed over the course of one month) in the Fortuigence offerings, and is priced at $57, counting as only a small fraction of the writing my son should complete this year. The company offered me the opportunity to get the rest of the essay program at a 40% discount, and I am mulling that idea over and will discuss it with my husband and my son. Right now I am thinking I have the skill and ability to teach Essay and Composition to my son, but not the confidence. So purchasing the entire course is a definite possibility.
So go to the
Fortuigence website and look around. Be sure to check out the free resources page while you are there. To see reviews by other members of the Schoolhouse Review Crew, click the button below. Crew members
reviewed four different products, so you can learn about all of them.