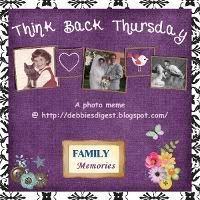 Today's "Think Back Thursday" is an excerpt from my grandmother Esther Holien's memoirs, "A Letter to My Friends and Family", which she wrote in 1998.
Esther was the oldest child of Alfred and Emma Efraimson. named Eina Esther at birth, born 1905 at a Minnesota iron mining town, Esther's family (Alfred, Emma, and little sister Jennie - born in 1907) moved from Minnesota to a farm in Perth, North Dakota where Alfred found work. Eventually that farm became the Efraimson's family farm. After the family relocation, Alfred and Emma welcomed:
Eino, in 1908;

Emma, in 1910;

Jo (Josephine) in 1911;

Hilda in 1913;

Arne in 1915;

Bill (William) in 1917;

Vi (Viola) in 1918; and

Carl, in 1920.
More children were born later, but I'm stopping where this story took place in time. In 1921, Esther, the firstborn, was turning 16. She had completed the local grammar school studies when she was 13. I will let her memoirs tell you the rest of this story.
----------------------------------------------------------------------------------------------------------------------
I finished grade school at 13 and tried very hard to get a job working for room and board so I could go to high school. However, I didn't look like I was more than ten years old and it took two more years before I grew enough so that anyone would believe I could do housework.




The idea was not that I liked housework. In fact, I hated it – that was the reason I was willing to do it – so I could learn, and be prepared for better jobs later on.




During the time I was home after grade school, a sad thing happened. My little brother, Arne, got sick with terrible stomach aches. By the time we got the doctor for him, his appendix had ruptured, and he was taken to the hospital in Devils Lake, about 70 miles from the farm. It was harvest time, and Mother and Dad could not stay with him. Someone had to, though, and I was elected. Of course, I was happy to do it.




The poison from the ruptured appendix had gone through his body, and penicillin and other wonder drugs had not been discovered yet. The Doctor could not contain the infection;; the incision would not heal, and evidently his bowels were blocked. We stayed there part of August and all of September – came home in early October.




Both of us were very homesick. I tried to keep Arne content by reading to him from magazines and books. Some of his favorites were Bible stories. He also liked to draw, so we did a lot of that. His favorite pictures were of foods because he was on such a bland, almost liquid diet.




Sometime after we returned home, in fact, it was Halloween, he had been too active and the incision opened wider. Dad got the Doctor and he operated on him at home, but they had to take him back to the hospital the next day. He did not survive the next operation.

==================================================================
For the longest time I knew that Gram had said she was one of 12 children, but whenever I researched her siblings I could only account for 11 of them. I am so glad these notes survived. Worse than dying when he was so young would be for Arne to be forgotten completely. I am so happy to be able to share these notes with you. If anyone in my extended family has a photograph of Arne, please, please share it with the family. Maybe there was no photo ever taken of him. I've never seen any photo of any of the children from when they were children. It is possible that there weren't any taken of anyone until they were adults, I don't know.
As always, please feel free to leave a comment or send me an email, especially if you have any corrections or new information you can send my way.