Our homeschool is very literature based. When I learned that
Hewitt Homeschooling
Lightning Lit & Comp
("Literature and Composition") was going to be reviewed by the
Schoolhouse Review Crew
, I immediately went to their website to see what they are about. My son is now in 7th grade, so I looked immediately to the 7th grade level. I was very pleased to see that Lightning Lit is a literature-based program, and I volunteered for the review. I was very pleased to do so, because many of the titles in this set line right up with the plans I have this year for JD and his literature. We have been strong in our literature coverage in the past, but weak in our composition and mechanics, so I was very interested to see what this program had to offer.
I have been aware of
Hewitt Homeschooling
, for twenty years, although I have never used any of their products (other than a "Scope and Sequence" decades ago).
Hewitt Homeschooling
originated with co-founders Carl Hewitt and a pioneer of the homeschooling, Dr. Raymond Moore, who wrote many homeschooling books that I own, with his wife Dorothy Moore.
My package from Hewitt Homeschooling arrived at the end of May. It is so beautiful! All glossy, shiny, with beautiful photography on the cover. These books are solid, in-your-hands, bound, paperback books (not e-books!). For this review I received the following: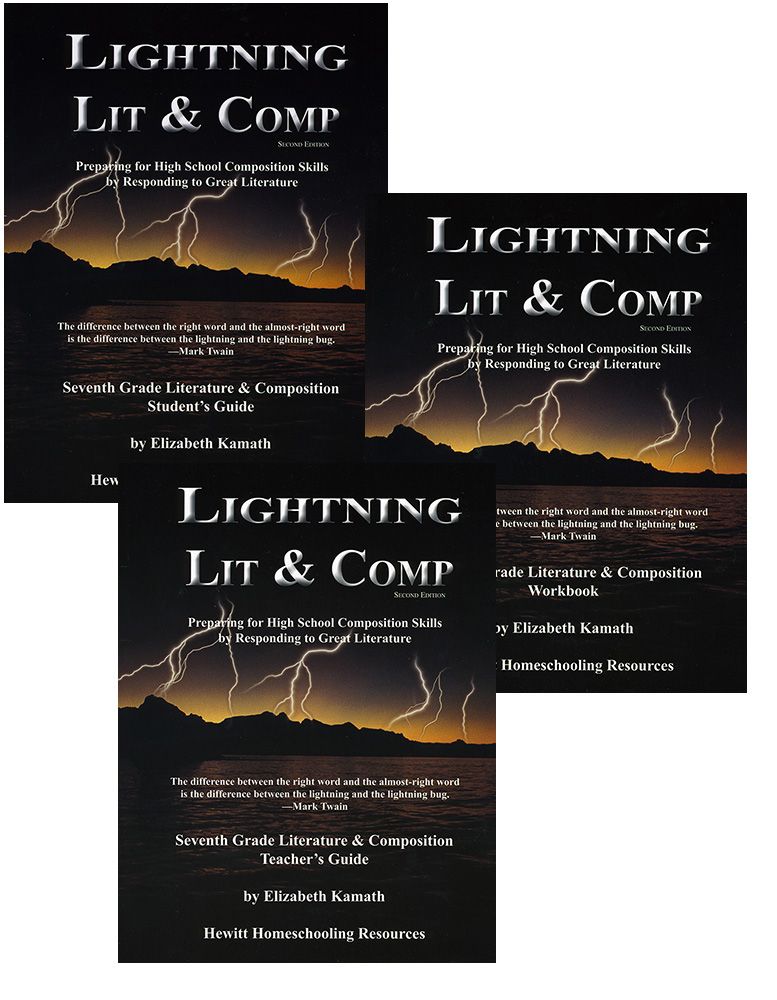 To use this program, you also need to acquire (purchase, borrow, locate on-line, etc.) copies of Rikki Tikki Tavi, Tom Sawyer, Alice's Adventures in Wonderland, Helen Keller, The Story of My Life, All Creatures Great and Small, and Stories & Poems for Extremely Intelligent Children. (You can get a complete pack with everything you need HERE for $91.73!)
Many of the titles in this Literature Plan were already in my plans for 7th Grade! This was an amazing fit to me for my upcoming school year. And, as I looked at the schedule for how to do the program, I was pleased that the methodology largely lines right up with the pace that I like to cover our literature books.
When the materials arrived, we were in our last few "official" weeks of our school year, but I jumped right in. I wondered how this program would work with my son. Previously we have been covering our literature assignments with some narration after assignments, but with no literary analysis. I know that my son will benefit from this program, but he is often very contrary with new things that I bring in to try to enhance our homeschool... What would he think...
Well, he just loved Week 1 of Rikki Tikki Tavi! I actually slid into doing some of the work as we drove home from vacation. We had done the reading, and my son really seemed pleased with himself at being able to answer as I asked him the questions from the book, and my husband was impressed with his recollection of a reading that had occurred some time ago (as in we did not cover the questions even the same week as the reading, but rather after a lazy week of vacation, with lots of distractions that could have kept my son from remembering the story). JD actually remembered the facts of the story better than I did, and I had read it out loud to him!
During our reviewing period, we moved on into Tom Sawyer

.

I am just loving knowing that I am now equipping him with information he needs for his foundation as he approaches high school - the mechanics of the literature, not just the literature itself. This program goes, step by step, very methodically yet incrementally, through Plot lines, openings as a device in writing, nouns, adjectives, capitalization, use of apostrophes, graphic organizers, pronouns, antecedents, knowing and writing to your audience... There is in-depth material on poetry: rhymes, couples, limericks, and haiku.
After five weeks with the material, I still find that the biggest difficulty we have in our home school is that my son does not want to be told what to write, and he does not want to write what he is told. He also does not want to review what he has written and does not want to revise what he has written -- he just wants to be done with it. This is a bull I am going to have to take by the horns this year, wrestle with, and win over, because writing skill is going to be essential to his college success. I believe that this curriculum will, this year, help me do just that. The fact that it combines the composition course with the literature materials seems just the right recipe for our family for this up-coming school year. I couldn't be happier!
Hewitt Homeschooling
's Lightning Lit & Comp for Seventh Grade is a rich resource, and I am giving it a very high score for my home school.
It is my opinion that this material is easily adapted to be used for 6th graders and 8th graders, as well as 7th graders, however for my 7th grade son it is a perfect fit.

This program has such a variety that I think it will benefit all learning styles.

I think this program runs most smoothly when the teacher prepares before the lesson, by pre-reading the guides and knowing what is coming up for each day's assignments.

Each student would benefit from having their own workbook, but the other books are reusable and non-consumable. In homes with two students in the same grade, it's up to you whether to share or let each student have their own Guide.

I did not encounter any areas in the books that I thought would be offensive to a secular homeschool. The company, itself, has religious leaning, so I do not know if all of their materials would be comfortable for a secular homeschool, but I believe 7th Grade Lit would be fine. (And, obviously, I am saying it would not offend a Christian home school.)

I have been very impressed by this program. I will be recommending it to my friends.

My son liked this program, and he doesn't like much. That is huge. (Later, when we start wrestling further over writing assignments, I am sure he will have a different opinion at times...)
In addition to
Lightning Lit & Comp for Seventh Grade,
Hewitt Homeschooling
has a complete line of materials for grades K-12. They not only carry literature packages for every grade level -- they also have programs for the various grade levels in Art and Music, Bible and Character, History and Geography, Mathematics, Science and Health, Thinking, and Vocational. If the material I reviewed is an indicator (and I'm sure it is), this is a company that I will be coming back to in the future for other materials for my home school!
DISCLAIMER: I received, from
Hewitt Homeschooling
, a three-book-set of

Lightning Lit & Comp for Seventh Grade at no cost. I did not receive any other compensation. I was not told what to say in my review; the opinions contained herein are my own and have not been influenced by outside forces. I love this program!
To see additional reviews of this product, and other products by
Hewitt Homeschooling
, please go to the Schoolhouse Review Crew blog page for Hewitt Homeschooling, HERE!
This has been a Schoolhouse Crew Review! I hope you have enjoyed reading my thoughts and experiences. Please feel free to leave comments below!