My personal childhood education was a public school education. I remember learning, as I entered 7th Grade, that one of the foreign language options being offered was Latin. At the time I had never heard of studying Latin. I was child #6 of 7, and my older siblings had studied Spanish. I was more inclined to study French as my grandmother knew French and I could practice with her. None of my friends were studying Latin, and whenever I heard from an acquaintance about their Latin studies the were really struggling. I pulled B's and A's in French, so I was glad of my choice.
Fast forward 15 years and I was again reading about Latin. I was beginning the home school journey with my oldest child and I was hearing about a classical Christian education, which was sounding like a good fit for our family. Classical Christian education is the cultivation of wisdom and virtue through the study of the great books and the liberal arts in order to pass on and preserve Western civilization (taken from video noted below). Students actually learn Latin and Greek and eventually are able to read the classics in their original languages. They learn logic. They learn how to think and they learn what to do. Here is a video on "What is a Classic Christian Education" from Memoria Press.
I didn't have much money, but I really wanted to give this a go. I poured over all the catalogs I could find, including a great source of information called
The Classical Teacher.
We had very little money available for our home schooling at that time, so I bought the least expensive set I could find for 1st Grade (not from
Memoria Press).
I received three books. I crashed and burned. I couldn't do it. I didn't know how to pronounce things. There were no videos (I had an audio tape of pronunciations). I didn't know what I was doing.
Six years later my oldest got to study Latin with a friend of mine. I was so grateful, but I still harbored the hope that one day I myself could also study Latin. With my second and third children I worked through a Latin and Greek root program, but I still wanted a straight Latin program.
Years later I had the opportunity to review
First Form Latin Complete Set with my son. Sadly, he just wasn't interested, and after the review period he dropped his studies of Latin and never returned. It took me a while to recognize that I myself have a love of languages and love being a life-long learner. I went back to the Latin and began my own Latin education.
When I learned I would get to study
Second Form Latin, I pulled out
First Form Latin and began to review.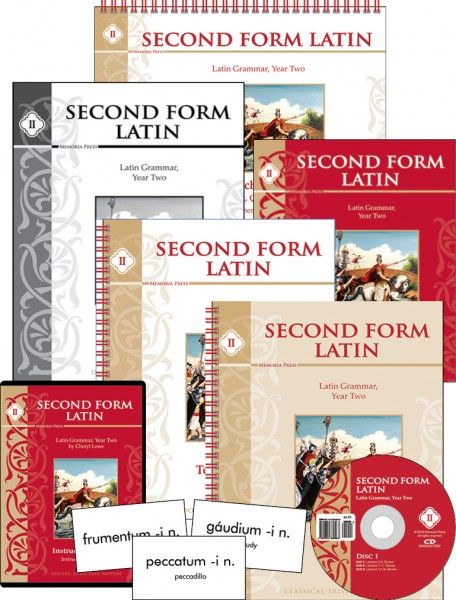 When Second Form Latin arrived, I read the introductory information and watched the Course Introduction, Unit 1 Introduction and Lesson 1. It was clear to me that needed to continue my review of First Form Latin during Week 1 of having the Second Form Latin materials.
In week 2 I moved into Second Form Latin. I have to say I am in love with Latin. The pace is challenging for me, but I am loving it. Second Form Latin was created by Cheryl Lowe. The Complete Set comes with Teacher's Manual, Teacher's Key (answers for Workbook and Quizzes and Tests), Quizzes and Tests book,
Instructional DVD set, Student Text, Student Workbook (consumable, for one student), Pronunciation CDs (two) and Flashcard set.
The flashcards came on flat perforated sheets that I had to separate and organize. I would have preferred that they had been pre-cut and shrink-wrap packed.
Second Form Latin builds on the foundation that was laid in First Form Latin. First Form Latin teaches 185 vocabulary words, six tenses of first two verb conjugations, five noun declensions, and first and second declension adjectives. It builds a foundation teaching Latin grammar.
Second Form Latin covers 180 more new vocabulary words and additional indicative active and indicative passive tenses of all four verb conjugations, -er/-ir nouns, i-stem nouns, adjectives in three declensions, personal pronouns and prepositions.
The video program is taught by Glen Moore. This teacher is really growing on me. He really rocks those declensions! I totally can't keep up with him! I am tripping over my tongue. It is a good thing I do this on my laptop with ear buds and a pause button! I press pause and then stumble my way through to catch up on those really long review segments. Here is a sample lesson video (I can't embed it because it was posted with domain restrictions).
The program is incremental with constant review. The material is best learned little by little, using a five-day week of study. My ideal week I would begin by looking over the Teacher's Manual material for the week. Then I would watch the video lesson on Monday, work on the Textbook and Workbook materials Monday through Thursday, checking my answers against the Teacher's Answer Key. I was also using the pronunciation CD and flash cards daily as I reviewed. Friday included the quiz or test. Then I would check the answers against the Teacher's Answer Key.
I really love Second Form Latin. I am going to try to continue my Latin studies so that maybe next year, if Memoria Press offers it to the Crew, I might be ready to review Third Form Latin. Eventually I would like to complete all four years and be able to read classical works in their original language.
I love the way the programs are color-coordinated, with First Form Latin in blue (right down to the spirals)
and Second Form Latin in red.
Memoria Press offers a wide variety of Latin programs for all ages. They also carry a complete offering for a complete Christian classical education. Their catalog is on line, so click on over to their website and check out what they have.
Other members of the Homeschool Review Crew also reviewed products from
Memoria Press (Latin,
The Book of Trees,
Nature's Beautiful Order). To see other product reviews, please click the button below.