so I was happy to learn that I would have the opportunity to read and review for
Apologia
a newly-published book,
Flourish: Balance for Homeschool Moms
, by Mary Jo Tate. Finally I got to review a homeschool resource that was just for me!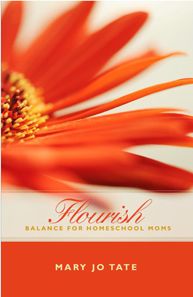 The book arrived, and I marveled at how thick it was. (There was also that joy of the smell of a newly published book, but there was also a certain degree of, "What have I committed myself to?...") I have been home schooling for 22 years, so I do read books like this with a certain degree of skepticism, not intentional, but like, "What could I possibly really get out of one more book?..." I set aside time each morning and began reading.
The book begins with pages and pages of brief testimony paragraphs, which I skipped for now since what I really want to get to is the content of the book. The
Table of Contents
is divided into 16 chapters, followed by Appendices A and B, followed by information on how to contact the author. ("What? A book that gives you information on how to contact the author? Really?!") The author has her own business out of her home, and if you wish to use her services you can contact her.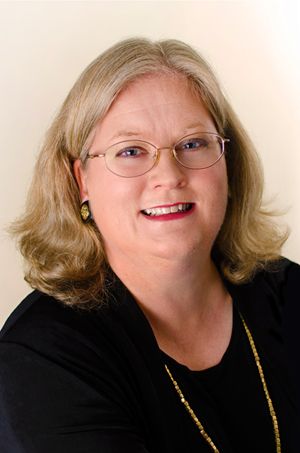 Each chapter is subdivided into smaller focus sections and ends with a "Take Action!" section. I had a brief six weeks or less to work on this book. My soul longed to read one chapter per week (two at the most), and spend the rest of the week applying the content. So, since I did not have time to do it that way I am afraid this review will come through as a "data dump", which is not my intention, so I will do my best to also convey the thoughts of my heart.
After 22 years of homeschooling, while always chasing my tail and trying to get it all done, I constantly feel like I am a performer on stage spinning plates on sticks, running to the next plate to renew its spin so it won't fall. (This is a reference to a performance I once saw on the Ed Sullivan show -- and I know I am definitely showing my age...) Basically, the only way to keep any plates from falling and breaking is to constantly run from plate to plate to spin, to renew its spin to keep it balanced on the stick.
Doesn't serving our families feel this way sometimes?
Well, Mary Jo Tate would know this even better than I do. Not by her own plan, she became the single mom of four boys when her youngest was only six months old. Committed to home schooling them, she had to develop her own business and run her home while home schooling. She not only accomplished this, but she also enables other moms to do what they need to do better through her ability to articulate how she did what she did. She has broken an organized life down into steps one can accomplish without becoming overwhelmed. This is not information that is unavailable elsewhere, however it is, in this book, put together in a way that is uniquely suited to the audience of the home schooling mom.
Now, before reading this book I really thought I was starting to be organized. People outside of my home marvel at my "organization". I hear comments like, "You are far more organized than I am." Nevertheless, I constantly feel like the camel that if one more straw is added to the load it will break my back. I really needed this book. For me it has been life changing. I haven't been able to quite finish it yet, and I want to go back and read it again in a way that I can savor it more, but it has already been life changing.
Things that I have taken from the book so far, on a fast read (that felt like trying to get a sip of water by closing my lips around the open nozzle of a fire hydrant) include the following:
Despite what other people think, I AM a work-at-home mom. I not only run the home, but I home school AND review products and keep up an active blog.
Be a life-long learner.
Accept your limitations, but then work to reach your goals anyway instead of giving up.
Time gets wasted and things don't get done when you don't plan.
You need to have a Big Dream. You can accomplish your big dream by taking small steps that all add up.
Take a week each year (right after Christmas is good) to plan out your year's plan.
Each week needs to be plotted out as to the big things that need to happen each day.
Each day needs to be written out as to what it includes, in greater detail than the week's list.
Keep a running "To Do" list that you refer to regularly (to cross off what has gotten done, and to add new things to).
Keep a notebook to keep all these lists together.
Don't get overwhelmed, please! I know -- I just did a data dump -- in my mind I see your eyes glazing over. Wake up! Stay with me, please!
Like I said, the book is full of information -- too much at one time is impossible to digest. I recommend that you put your pennies together, sell something, whatever it takes, and put together the money you need and order this book. It sells for $15.00, and it is just for you, mom! Make a plan to sit with it over a cup of coffee each morning to read slowly, savor, contemplate, take notes about, and take incremental action on. This book will "do you good"!
I am very thankful to
Apologia and Mary Jo Tate. I have already printed out my monthly calendars for 2015. I have blocked out my planning week in December. I have my notebook, and I have written out my answers to questions like, "What would I do if nothing stood in my way?" I already have my "Monthly Calendar", and have imperfectly been working on my weekly plan and my running "To Do" list. More than anything else right now, I am looking forward to slowing down my reading now and going back to reread and better absorb some of the content I covered so quickly the first time. (And I desperately need to get my 2014-2015 school planning started...)
Read, enjoy, and may you derive much benefit from
Flourish: Balance for Homeschool Moms
, And may you flourish!
To read more reviews by other members of the TOS Homeschool Crew, click the button below.