In January I was delighted to learn that we had been selected to review
Mango Languages. We were given access to the
Mango Homeschool Edition and had the amazing opportunity to select any of their 60 languages, and as many of them as we wanted to work on.
Mango Languages are suitable for ages 6 and up, so this product was a great fit for our family!
Mango Homeschool Edition
is a new homeschool curriculum to help you teach your child a foreign language of choice.

Have you figured out
how to homeschool your child in a language you do not speak? Have you considered using a program that would permit you to
homeschool online for the foreign language your child chooses to pursue?
For many years my son has dabbled in French, Spanish and Latin. Earlier in this year we had been working primarily on French (which I am able to teach), and I thought we would be working on French in the Mango program as well. That is where Miner worked during our first week with Mango. Week 2 did not go as we had planned -- lots of snow, and sickness to boot. We got very little school work done, very little Mango. As we started Week 3, Miner decided to try Spanish instead, and he has parked there ever since. Now, many weeks later,
he is happily plugging into his daily lessons, and independently working his way through lesson after lesson, happy with his progress.
I permitted my son to change from French to Spanish because:
Education is more successful when it is "delight driven", when the student is pursuing a subject he chooses rather than one that is forced upon him;

We live in an area with a large Spanish-speaking population (which is why my son decided to make the change), and it makes sense to study the language that he will find most useful in his life, especially since most people only ever work on a "2nd" language, never to go on to a 3rd, 4th or 5th.
I have to tell you, I really like this program. My son is making real progress. He goes into the lessons without complaint, and diligently works at the computer, practicing his pronunciation with the lessons. Miner is a particularly sensitive student, and learning a language in a live setting might have proven difficult for him due to an embarrassment factor whenever a pronunciation was corrected. With this method he is working hard to correct his own pronunciations without any embarrassment of teacher correction (or other students laughing, like there might be in a classroom setting).
After a short time of working with Mango Spanish, Miner jumped at the opportunity to practice speaking a Spanish with our local coffee-shop's Spanish-speaking barrista. And then he was motivated to continue working hard on his Spanish studies, so it was a win-win situation.
Mango also made the language program available to myself and my husband. Unfortunately my husband has not availed himself to using the program, which I knew was a possibility, but I myself have worked at several of the languages. I had a lot of fun one week working to learn how to speak Pirate! I also have Finnish roots, and I have worked to learn some Finnish. I am working on my Spanish now, as well as my Latin. I am also trying out Hawaiian and German, Japanese and Irish. Alright, the gig is up. I love learning foreign languages! I admit it. Here is a snapshot of a Latin Lesson:
As I mentioned, they have over 60 languages offered on their website! They are still working to expand beyond that!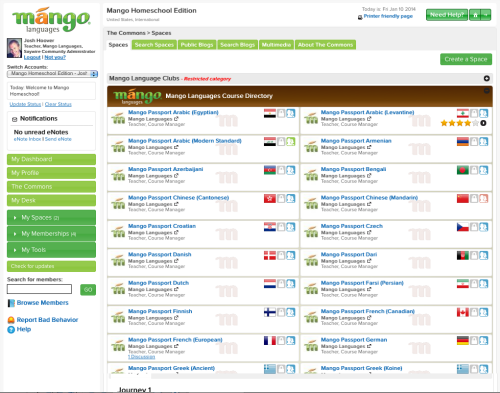 Some of you may have heard of
Mango before.
Mango is a language-learning that has, for many years, worked in conjunction with public libraries to offer language courses (free to the public, paid for by the library) to the general public. So, if
Mango is already available for free, you might ask, why would anyone want to pay money for the same program? Well, first of all, it is not the same program. The
Mango language program offered through libraries only gives the first level of the program. Second of all, the program I am telling you about today,
Mango Homeschool Edition, is a a new program created through a collaboration between
Mango and called Saywire, to create this amazing program called
Mango Homeschool Edition. Third,
Mango Homeschool Edition contains features that are not included in the version carried by the libraries.
I can't tell you how much fun my son and I are having learning how to speak our chosen "other" languages. The program is largely aimed toward developing fluent conversational abilities. I am not sure I would call the program an "immersion" (which means you throw the learner into a setting where only the new language is spoken, and eventually they learn it -- which is how we learn our native language). However, while studies have shown that immersion is the fastest way to learn a foreign language, I am not convinced that it is always the best way to learn it. My student can become frustrated and give up with those methods. The
Mango
method is working well with my son, and I couldn't be happier.
Mango is easy to use. You can choose how you wish to use it. For instance, for my
8th grade
son, Miner, I am happy for now if he learns to speak and understand Spanish. I might even count this as his first year of high school foreign language. I can't remember if our state requires three years of foreign language, or if is just that colleges I have looked at are wanting the students to have three years of a foreign language. Either way I have a two-fold goal: 1) for my son to meet the requirements of the state and/or college(s); and more importantly 2) for my son to become fluent in a 2nd language.
Mango Homeschool Edition
can help make that goal a reality.
Mango Homeschool Edition
(as I reviewed it) is currently a "Beta" program. It is fully functional, but they will be adding new bells and whistles throughout whenever they feel they are ready for "prime time". Even without additional features, I would take this language program in a heart-beat. I love it.
There are items in

Mango Homeschool Edition that show up on my screen, but that I don't have access to or I haven't figured out yet how to use. There is a "Groups" function that can be set up, so that you can communicate with your student directly. You can use it to communicate assignments; your student (child) can use it to write questions to you or communicate news ("I got 100% on my quiz!"). You can use it to practice written conversations.

There seems to me a method of assigning work that will show up on your student's "My Desk" space. I didn't attempt to use this feature. I had my son use the program (mostly) daily and let him progress at his own pace. Some students might complete a lesson a day, a lesson a week, or vary depending on their ability to remember things on different weeks.

There is a section in each language for Discussions, where you can ask questions, and they will be answered.

There is another section called "Forum", but right now it contains the same links as "Forum", so I'm not clear what the intended difference is/will be.

There is a section called "Chat", where students can communicate with each other. This is a section that might concern some parents, because the student can have conversation with "strangers" here. The method of security

Mango Homeschool Edition uses is that each individual in "Chat" is signed in with their true first and last name, so any violations in propriety can be dealt with immediately. Just click "Report Bad Behavior" under the "Browse Directory" link.
This entire union of Saywire and Mango is like an onion - each time I discover something new and begin to peel it away, I find more stuff!
Using the Program:
It benefits those who are primarily auditory learners. The language is spoken (we use headphones), and the student repeats what he/she hears.

It benefits those who learn

visually. The words being spoken are also in print on the screen. This hits my modality -- I don't learn as well from a CD program that I listen to in the car, for instance. It's as if I can't really understand what sounds I am hearing without seeing how the word is spelled.

Some students will also benefit by writing down what they are learning. I've done this in other language learning programs, and for me this is also extremely beneficial. However, sometimes you don't want to take the time to do that (me) or your student might just give up if you insist on doing it that way (my student). For most, this program will give a lot of benefit without a written component. For those who have their students write things out, God bless you! They will get a lot of benefit from that. But I won't insist on it right now with my student.
What I love:
This program is well thought out. I've been limping along in Spanish for years. This program, however, has really helped me to see places where I was making mistakes. It knows in advance where I am likely to have trouble and points it out. It made a special point to show me that "Buenos dias!" is different than "Buenas tardes!" because the first "buenos" is masculine, and so is spelled and pronounced differently than the second, "buenas". I've been saying "Buenos tardes!" and "Buenos noches!" for years, and I've been incorrect, it should have been "buenas". This program knew I could/would have a problem with this if it wasn't pointed out, and the program pointed it out and explained it.
And I'm saying I experienced this in at least three languages I've worked on so far with Mango -- it is the way the program works, and it is so helpful!
What needs improvement:
There is a function I mentioned where you record yourself saying a phrase and then can play it back to hear how well you are pronouncing the phrase. The function does not allow enough time for me to comfortably say the practice words. It counts down a slow "1.... 2.... 3...", and then it records for what feels like half a second where I am supposed to practice a sentence. It just doesn't give me quite enough time to record my practice phrases. I gave up and just say them out loud without hearing them compared to the program's audio. It's something I know they should be able to tweak, and I hope they will, so I mention it here.
So, what does it cost?
Mango Homeschool Edition
is a new product by
Mango Languages, and this is their introductory price structure:
1 subscription is $18/month or $125/year total
2 subscriptions is $28/month or $175 /year total
3 subscriptions is $38/month or $225/year total
4 subscriptions is $48/month or $275/year total
5 subscriptions is $58/month or $325/year total

Anything over 6 subscriptions is a special group rate that will depend on the number in the group. They are working on a pricing plan for "Family", but I there is no information on that right now that I can share with you.
So a student can study a foreign language for one year for $125/one year. That is an amazing price! When I put my daughter through Spanish with a local home school class, we were spending $450/year, and that was ten years ago! So, believe me, that is an amazing price. It is well worth the investment. The biggest challenge will be to stay with it. Unlike a class that you have to have your student at on Tuesday and Thursday from 9:00-11:00 a.m. each week, it can be very easy to just stop using something electronic that you already paid for last September. It does require discipline and diligence. I am working on my homeschool schedule discipline, where I treat certain subjects as "daily"s, like Math has always been. Spanish on
Mango Homeschool Edition is now a "daily" subject.
I will be planning to invest in
Mango Homeschool Edition for another year when my subscription expires. It's that good.
In conclusion:
So, anyway, I am just loving having
Mango Homeschool Edition as part of my homeschool curriculum. It gives me confidence that I will be able to help my son get his three years of Spanish as I homeschool high school. It is a great resource for people who are open to learning how to homeschool online for courses that are difficult to teach without outside assistance. Consider adding Mango Homeschool Edition to your homeschool curriculum plans.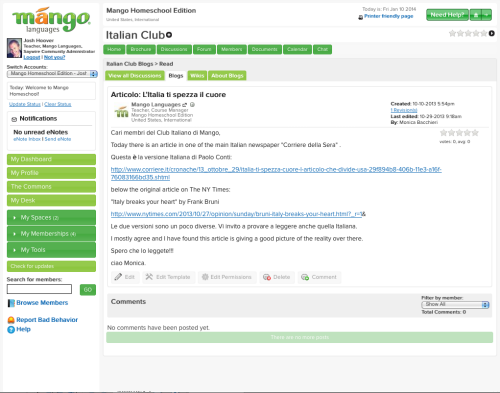 What is currently available on the site:
Over 60 different languages
Progress Assessments

Built-in journals, discussions and wikis
Collaborative learning spaces
eNote messaging
/chat rooms

Access to embedded/downloadable content

Support from other community members

Calendars to schedule meetings or study groups
Over the next several months, they'll be introducing other exciting features like:
Enhanced Tracking and Progress Monitoring - including seat time (for students and parents)
Goals and Personal Lesson Plans (both stand-alone and tied into Mango courses)

Resume and Portfolio Builder
~~~~~~~~~~~~~~~~~~~~~~~~~~~~~~~~~~~~~~~~~~~~~~~~~~~~~~~~~~~~~~~~~
In exchange for my honest opinion, I received one year of Mango Homeschool Edition. I received access to every language they offer for a full year for three family members! I was not told what to say, and the above comments are my personal opinions of the product.
Now my biggest challenge is to figure out how many languages I can actually study and learn simultaneously! What's next? Shall I do Hebrew and Greek? Italian? Norweigan and Farsi? Who knows?
So... what language have you been hankering to study?