There is a difficult balance we try to strike when making decisions for our children about how much media-time to allow into their days. This is why I was pleased, in February, when the TOS Homechool Crew was offered the opportunity to review the
Captivated DVD
, by
Media Talk 101.

The "sub-caption" of the movie "
Captivated" (which is actually a documentary) is "finding freedom in a media captive culture". I would have to say... that is where I live. My life is full of media
- computer usage, movies streamed on the computer or by DVD, radio, satellite television, and even that occasional movie at the cinema. And there is the cell phone usage, as well as the different apps on the various tablets. Even the use of a tablet for reading a book or following a recipe, not to mention the games to be played! Oh, life is full of media input!
When the DVD arrived, I so desperately wanted to sit and watch it through, several times. But it is a 107 minute video, and while I can find two hours to watch a movie with my husband or family, it is difficult to set aside that much time to do something by myself, even on my computer with earbuds. And I wanted to watch the documentary alone the first time, so I could figure out my own first impressions, before watching it through again with my husband, and possibly later with my son. So I watched it in half-hour or 20-minute increments, the first time through.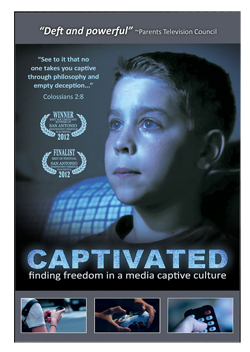 So after watching it through the first time, I watched again, taking some notes to help me create this review.

The important point this movie seeks to get across seems to be that media can be good or bad, and we need to be discerning. Even good media can be bad when discernment is not used. As someone who wants to be pleasing to God, I want my time to be spent in a way that I believe He would be pleased with. I want the media my children are receiving to be pleasing to Him as well. I don't mind that some of their time is spent with media just for the sake of pleasure and enjoyment. (When I listen to Bach or Tchaikovsky it is for my pleasure and entertainment!) I do not, however, want my child to be watching movies that might be desensitizing to evil (killings, violent crime, angry scenes). I do not want my child to be addicted to a video game.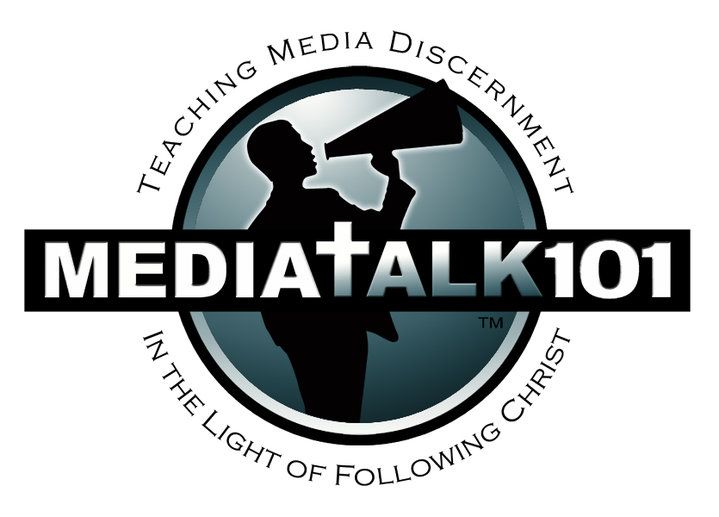 That being said, I am nevertheless not currently in a position to make changes as a result of having watched this video. It's complicated, and I won't go into it here. Suffice it to say, before watching the DVD I already held the opinion that I hold after having watched the DVD. Nevertheless, as I said, it's complicated. So, I will see if any change comes of this information being passed along to others in my family for their consideration. However, that's personal, and I won't be sharing it here publicly on my blog.
The creator of the
Captivated
documentary did not initially start out to create a documentary. There is one section on the disk that is a word from the producer. He tells of how, in his own life, he one day was convicted to be more intentional about his media choices. He went on a "media fast", which is a term that is used throughout the documentary. It refers to "fasting" from media, going without media, for a set period of time. The time you would have spent using media is then spent doing non-media activities, whether religious (Bible reading, prayer) or non-religious (family games, chess, horseback riding, whatever). When on his "media fast", he was really convicted about the choices he had been making, and convinced that he needed to make changes. He took this conviction and created his organization,
Media Talk 101
.
One day, when he was out of town for a film academy and festival, he was telling his host about what he does, and the convictions he has that he shares with others. He was challenged to take his experience and his message and create a documentary on the subject. And the result was
Captivated
.
In addition to the documentary and the word from the producer, the DVD also contains extended interviews with folks who have taken the
Captivated message and made changes in the lives of their families.
One concern I would have with the
Captivated documentary is that many of the individuals interviewed in the movie seem to have chosen to give up media entirely, to get rid of their television, give up movies, etc. My concern is not that these decisions are wrong for some people. My concern, rather, is that this strong bias, expressed by individuals in the documentary, might turn some people off so that they do not hear the "Use discernment!" message but will, instead, dismiss the content of the DVD because it is too extreme. There are some extreme views expressed in
Captivated, but my opinion is that the message should not be cancelled out just because some people respond to this message in an extreme way. (it would be as if some people decided not to associate with me just because I, for personal reasons, have given up drinking alcohol and eating meat.)
So my opinion is that
Captivated has an important message for people to consider, for the well being of their families, so they should invest in this DVD and watch through it several times, thoughtfully, and consider what their own response to the documentary should be.
This movie is intended for adults, but has been approved for all ages.
Captivated is available from
Media Talk 101 for $16.95, with a special discount right now where if you want two copies it only costs $21.95. In addition to the 107 minute documentary, the DVD contains over two hours of additional extras (movie trailer, Gospel for Asia promo, Word from the Producer, Extended Interviews). The extended interviews are worth watching as much as the documentary itself.