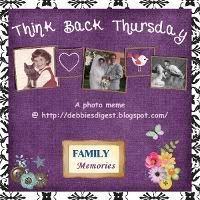 Usually, as I do geneology studies, I find myself uncovering amazing historical information from the past, like a huge treasure hunt.
Today, though, I uncovered information that brings me to tears.
In previous records I have written about my "Kissin' Cousins". My mother, Ida (a 3rd born) was married to my father, Herbert (a 1st born), and Herbert's next brother Robert, a.k.a. Bob (2nd born to Dora and Herbert Hall) was married to my mom's older sister, Carole (1st born to Theodore and Esther Holien). Carole and Bob's kids were as close as genetically possible to being our siblings without actually being our siblings.
We grew up mere miles from each other (did not attend the same schools, for the most part); we were together constantly for holidays, summers, and family get togethers at Gram and Grandad Hall's. (Grandfather Ted being deceased, Gram Hall often invited Gram Holien to these get-togethers as well.)
Well, since adulthood we adult cousins have not been good at staying in touch. We were in contact in the 2000's as our two sets of parents passed away in short order (my dad 4/06; their dad 5/07; my mom 6/07; and their mom 11/08 I think).
Well one of the cousins I was particularly close to, growing up, as our birthdays are only a month apart. (There was actually a 3rd cousin born in the same one-month period to Ida and Carole's brother Wayne. Eric passed away in 2005.) My close cousin, David, married Janice sometime after Rick and I were married. They had four children together, but sadly their marriage ended in divorce.
The only one of their children I've ever met was Jesse. One day My mom and I, with my two daughters, drove to West Virginia to visit Gram Holien, Aunt Carole, and to meet Jesse. He must have been 12, and my girls were 11 and 8, and oh how they loved him. Becky especially. He was such a cute hunk! They never forgot that day!
In the above photo, left to right, Kristin (my oldest), Esther Efraimson Holien (my maternal grandmother) Carole (my mom's older sister), Becky (my 2nd daughter) and Jesse, with me behind Carole. I think this photo was taken in 1997.
Well, today I learned that Jesse passed away in 2010 at the age of 24. I found an obituary put together by someone, I assume a relative, named Missie.
Thank you, Missie, for the information you did provide. From it I have been able to piece together (with a little help from my memory) your mom's maiden name, and have been able to add you his sisters' to my information on Ancestry.com . But... what relation are you to Jesse?
One search more and I learned it was suicide.
I am aching for my cousin in his loss. And Janice. And the siblings, grandparents, aunts, uncles, and cousins. I had never even heard.
From the obituary, photos Missie contributed: