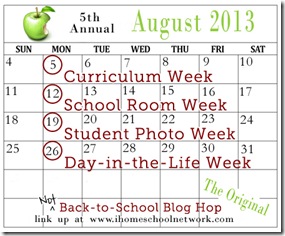 It seems like I already did this, somewhat, recently. But a bunch of folks seem to be doing this this week, so I thought I would join. I'll try to keep it interesting.
So, in the state of
we are required to teach eight subject areas (Math, Science, Language Arts, Social Studies, Art, Music, Physical Education and Health), and we are required to be reviewed either by the county or by a private "umbrella". Since I don't like the county's oversight, our home school is under a church school's umbrella, and the umbrella also requires that we document religious education/Bible.
So here are choices I am currently kicking around for this school year (I am kind of squishy this year and not firmly decided...):
Bible is easy:
Math is finishing Pre-Algebra (several curriculum choices) and rolling into Algebra I (several choices). I'm trying to get my son to finish Horizon's Pre-Algebra and move on into Horizon's Algebra I, but he doesn't seem to be getting it. So, on the back burner I've pulled out Mastering Essential Math Skills: Pre-Algebra Concepts, which we used some at the end of last year. He's still not strong on some important concepts, though, so rather than plow ahead or continue to flounder, I bought Math U See manipulatives, and a friend is lending me the DVDs and letting me have the student book. On the back burner, you'll also see Princeton Review Step-by-Step Method to Mastering Algebra, a DIVE CD/DVD, and VideoText Algebra I. So, I guess basically I really don't know what we're using for Math yet.
Science is Apologia Physical Science, and/or Supercharged Science with Nature Studies added in.
Social Studie
s will be Notgrass America the Beautiful:
Language Arts combines Notgrass Literature, writing programs, grammar, spelling and handwriting. This is also where Latin falls:
Art and Music:
Physical Education: Family Time Fitness
Health: Boy Scouts... Daily living and instruction...