I'm always looking for good films I can watch with my hubby, so I was delighted when I
learned
Mapelle Films
had a movie for us to review, I volunteered!

I received
Trust Fund
to review.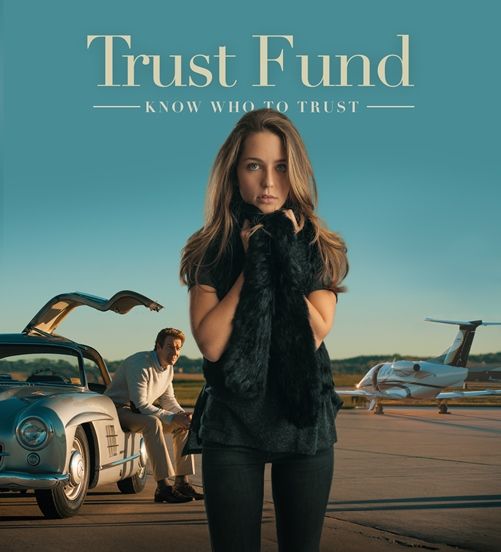 I also received the book
Love Was Near
to read after watching the movie.
Trust Fund was an interesting movie. The story line revolves around a family with two young adult sisters and their dad. The mom passed away a number of years previously, and the family still struggles to deal with the loss. The family business, a publishing company, was started by the mom and dad, and since mom's death dad has been running the company. The older sister, Audrey, also works for the company.
As the story begins, Reese, has been in Italy and is returning home. She was sent to Italy by her dad to attend a six-week writers' workshop. During that time, though, she had opted to skip out on the workshop and instead spend the time with a new Italian boy friend, Milo, to "see the country".
As Reese returns home she is in a quandary. She has spent the money she received as an advance for the book she started writing, which she has done no more work on. Writer's block. She had lied to her father and doesn't care; she misses Milo. Her bank account is overdrawn, and she doesn't know what to do. She finally agrees to work for the family publishing company, and basically isn't happy with her situation.
When seriously snooping in her dad's office, she uncovers a document that causes her further fodder for her discontent. Then when an "opportunity" surfaces to do some serious white-collar crime, she makes a very bad decision and gets into a situation that she feels she can't return from. She flees back to Italy, to Milo.
The story is reminiscent of the Bible story Jesus told of the prodigal son. Audrey is the good child who stays at home, doing the bidding of her father. Reese is the prodigal who takes her "inheritance" and flees, and then squanders all the money.
It is a very good movie, and I did enjoy it. My husband thought the plot was a little too predictable. Most families experience a prodigal at some point, so the story line might hit home for many. However, there are ways in which the story won't fit many families. Personally I have difficulty relating to a movie discussing a $10 million Trust Fund for the sisters. Seriously, I wouldn't really be able to wrap my mind around a $1 million trust fund!
I also did not share this movie with my adult daughter. When you watch this movie, you immediately put yourself in Reese's position, seeing things through her eyes. My daughter doesn't want to think about her mother dead. And there is also that "prodigal" issue -- the movie wraps things up nicely, but our family prodigal is not so nicely wrapped up!... And I don't think this movie would interest my almost-adult son. I'll offer it to him, but
he hasn't watched it
for purposes of this review, and he is currently out of town.
This movie/book set makes a good study that can be done between a mom and daughter. Also,
Mapelle Films has designed a
download study guide
for small groups to dig deeper into the themes of the movie!
The concept is that this is the book that Reese finally eventually got published in the movie. I had it sitting by my chair, and my husband saw it. "Hey! Isn't that the... That's the book in the movie, isn't it?!" That was fun!
Love Was Near is light and airy and easy to read. It targets a young adult audience. It is broken down into very manageable segments with questions and room for the reader to write answers and journal. It is written like a diary the author expects someone to read. It ends with a sweet resolution where Reese comes to recognize a steady patient love who has been waiting for her, loving her, for years. It is very sweet. That part my daughter might enjoy, because her own love story resembled Reese's in some respects in regard to her own journey.
I highly recommend
Trust Fund and
Love Was Near. I do recommend previewing and prereading, if you know your situation would merit such. I think my daughter might like to watch the movie and read the book, but not WITH mom. Then it might be easier to view it with her brain in a 3rd person perspective. Go to the above links and read more.
Other members of the Homeschool Review Crew also reviewed these items, and you can read more reviews by clicking the button below.