If you follow the Schoolhouse Review Crew on their blog, you've probably seen Koru Naturals reviewed in the past. I did not volunteer for the previous opportunities -- the time wasn't right for me. When I saw we had another opportunity to review their products, I asked the Crew leadership to let me be part of the review.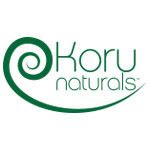 I have not, historically, concerned myself with whether or not products I use are natural or not, but I am currently researching the topic and giving the matter serious consideration. This post will not be about that issue, though, but will strictly give my opinion about each of these products.
Skin Clear Cream is a facial moisturizing cream. Applied twice daily to clean skin, Skin Clear Cream clears up skin that is troubled by acne, improves the look of skin that has blemishes, and improves overall elasticity. Well, I've never been troubled much by acne (and am not, at my age, troubled by it ever), and I don't have any blemishes (I don't think freckles count). I wondered (and hoped) that use of this product might reduce or eliminate the fine lines (wrinkles) I have developed around my mouth, but I have not seen improvement. I wasn't sure how to test overall elasticity -- I'm not Elastigirl, and didn't want to stretch my skin to see if it stretches better now than before use of the product. I guess I'm not clear on what skin elasticity is or how you test it.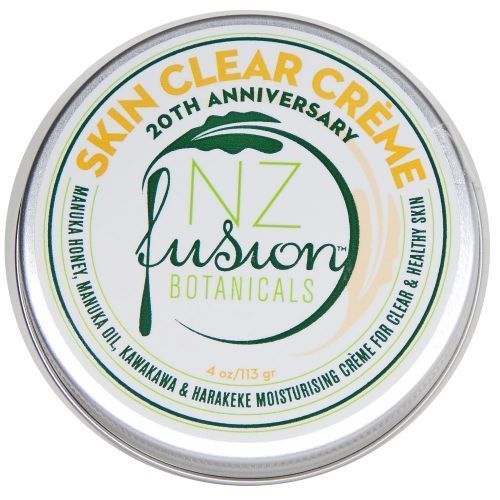 In general, Skin Clear Cream left my skin feeling heavier than I preferred - the product felt more like a topical coating of my skin, not like something that was being absorbed. That was my personal opinion -- your mileage may vary. I do know that I figured out on Day 1 of using Skin Clear Cream that it is better to moisturize your face before putting Emu Oil and Blue Tansy Oil Cream on your aches -- the essence of the Emu Oil in the air near my eyes (when I moisturized after using the Emu Oil) made my eyes water! Buyer also needs to know this product (Skin Clear Cream) is not to be used by pregnant women.
The second product I got to try is Manuka Honey Propolis Soap. This product, particularly, felt like I was giving myself a gift each day. I have to tell you, though, giving up my normal brand of deodorant soap (that I have used since I was 14, not kidding here), was a difficult thing to get myself to do. I did, though. The other issue was that I selfishly (and thoughtfully) hid my soap each day so no one else would use it. I was concerned that certain family member(s) might take baths with the bar, leaving it floating in the water, causing it to reduce more quickly by dissolving in bath water. I didn't want the bar gone before the review ended. I also, quite plainly, just wanted this one to be mine, all mine!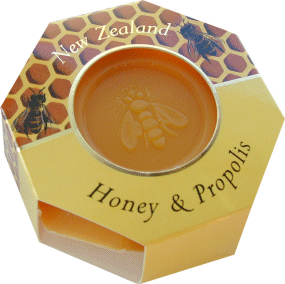 The Manuka Honey Propolis Soap came wrapped in plastic in a cute cardboard cover with a picture of bees and honeycomb. The fragrance is fabulous! The bar is golden on the top (see the bee in above picture) and creamy on the bottom. I had understood the soap had moisturizing properties and thought the creamy side must be the moisturizing side, but the website says both the manuka honey and the propolis have moisturizing properties, and I think that means the bar is moisturizing throughout.
I have been using the bar in my daily shower for close to two months. I even cleaned my face with it. I generally never using anything on my face - just wet it in the shower and dry it. However, I was supposed to have a clean face each time I used the Skin Clear Cream, so I used the Manuka Honey Propolis Soap. It left my face feeling thirsty, so I still felt I needed the Skin Clear Cream. I also used the Manuka Honey Propolis Soap regularly to shave my legs (I usually use my other deodorant soap). I couldn't really note a moisturizing effect in any of my uses (arms, legs, face, skin in general). If I decide I want to stick with a natural soap, though, I will definitely consider using this one. I love the way it smells, and I would feel like I was doing something nice for myself. I'd have to come a long way in my thinking to want to share my lovely soap with anyone else in my family -- I'm that selfish...
The third product I got to try was Emu Oil and Blue Tansy Oil Cream. I have some chronic pain issues, so this one I was really, really looking forward to trying.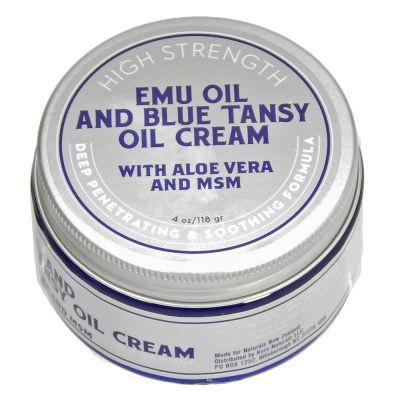 This product has been sitting in plain sight in my bathroom for close to two months and, no joke, two days ago my husband said, "Hey, when did you get the Emu Oil?" I said I'd had it for awhile. His next question, predictably, was, "Does it work?" I had to say I was still trying to figure that out.
The nature of my chronic pain is that it is insipid -- it is not constant; it comes and it goes. I might wake up one morning in (back) pain, apply some Emu Oil, and the pain goes away, but the next day wake up in pain and NOT apply the Emu Oil, and the pain goes away. So would the pain have stopped without the Emu Oil the day before? Another day I apply Emu Oil and the pain does not go away. Did I use too little? Did I not massage enough, or not get it in the right spot? I still haven't figured out how well it works. But I have it, it is natural, it smells nice, and it isn't harmful. I feel better using Emu Oil to try to get relief rather than using Diclofenac topical medicine and getting certain relief but knowing bad chemicals are getting into my bloodstream. It's nice having the medical stuff if I'm in really bad pain, but for everyday pain I'd rather be using Emu Oil, even if I'm not certain how much relief it is really providing. I think if it were even providing only a placebo effect I'd still rather use Emu Oil than powerful drugs if using is Emu Oil enough to help me get by.
So, there you have it: Manuka Honey Propolis Soap and Emu Oil get thumbs up, and Skin Clear Cream not so much for me. If I had started with acne and it had cleared it up I might have written a different review. So if you yourself have acne and are curious how well it works for that, give the button below a click and head on over to the Crew Blog to read other reviews. That way you can learn how well Skin Clear Cream worked to clear up acne on other Crew members who were able to test the product for that.
Other members of the Review Crew also Koru Naturals products. To see other product reviews, please click the button below.