When it comes to vendors I love to review products for, I have to tell you that Institute for Excellence in Writing (IEW) is high on my list. When I learned they were an upcoming vendor and that I qualified for the review, I volunteered!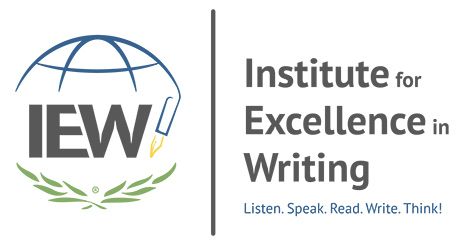 I was especially interested in this review for their Timeline of Classics. In my home schooling I work diligently to see that the literature we are reading corresponds to the historic era we are studying. Sometimes this can mean source documentation (historical material written by someone who lived through the era and events they are writing about), but more often we are reading fiction about the era or written during that time period. I looked forward to getting to peruse Timeline of Classics to get more information about literature I might not be familiar with, or to correct my information about which works are good to read related to which historic subjects.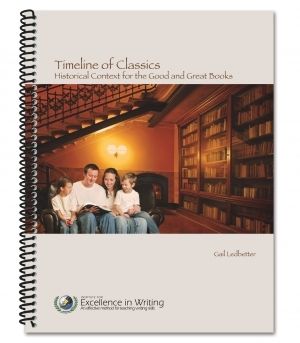 I love the picture on the cover! Are they in a library? Or is that their house? If the latter, I want that house! Okay, back to the book itself. Timeline of Classics: Historical Context for the Good and Great Books, by Gail Ledbetter, is a sturdy paper-bound spiral containing about 100 pages. (It begins with some Roman numeral pages, followed by 86 pages printed top-side only, followed by some alternately numbered A-1 to A-9 pages.)
The format of Timeline of Classics is chronological -- the book begins with "The Ancients" and concludes with "The Modern World". Each page has 20 to 25 or so titles listed and described by time period, title, author and reading level. The resources listed are a combination of books, audio books, movies, etc. that you can choose from. The suggestions are not comprehensive (the list does not include every possible resource), but provides a variety of options so you might get ideas you wouldn't have otherwise thought of.
We are currently studying history in the 1800s, so I quickly worked my way to that time period in the book. I quickly learned that A Tale of Two Cities, which we are currently reading, most accurately falls into the 1789-1799 era of the French Revolution. I kind of knew that before (although not the exact dates, I thought it fell before 1800), but we didn't get it read last year and I didn't want to neglect doing it now. (We are running out of home school years before college.) Then I saw all these other titles from the same time slot that I want him to read, and suddenly I was questioning whether we will ever get to the 1800s in our reading!
The second IEW resource in the set that I looked at was the Teaching with Games Set, by Lori Verstegen. I was so happy to have received both the spiral-bound book and the DVD. For a long time I thought the disc set was a CD set of the book (which says "eBook" right on it, so I thought it was a digital form of the book). When I finally looked closely at the disc set, popped disc 1 into my computer, I finally understood the disc set is a 3-disc set! Disc 3 is the PDF eBook (and also has bonus material), but Discs 1 and 2 are recorded workshop material teaching the teacher how to teach and use the teaching games! The style of the format is similar to the seminars teaching how to use Teaching Writing: Structure & Style, which I also have. The disc set is so helpful!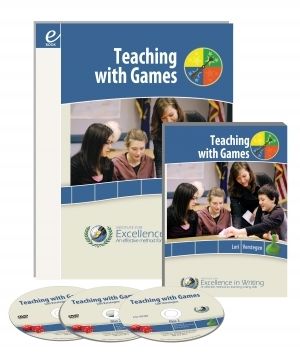 The book is an approximately 8-1/2" X 11" spiral-bound, paperback book of 117 front-side printed only pages. The Table of Contents breaks the games down into: I: No-Prep Games; II: Matching Card Games; III: Question Games; IV: Math Facts Games; and V: "Make as you Teach" Games. The games suggested are of such a breadth that there is something for students of any age. I have only one student, and I found adaptations for games so they can be played by two players only! For me in my home school that attention to the diversity of different home schools is hugely helpful! My student is older, and I really can't remember the last time he willingly played a board game. So for our use, "Nooseless Hangman" and games with questions are the most helpful from these resources. This book reminded me of games my older (now-graduated) students used to play of "20 Questions". I don't think my son had ever played it. And games can lighten up the learning atmosphere and bring the fun back. I needed that!
The third resource I received with the Resource Set is A Word Write Now: A Thematic Thesaurus for Stylized Writing, by Loranna Schwacofer. A Word Write Now is 107 pages, printed front and back.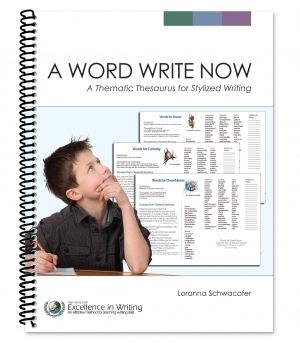 The Table of Content shows how the book is broken down. The initial sections are an Introduction, an Overview, and Simple Definitions of Parts of Speech. The main body of the book is broken down into sections focused on A) words about Character Traits; B) Descriptive Words; C) Words for Movement and the Senses; and D) Appendix of helpful topics and the Bibliography.
I love the way this book makes alternate words available to the budding writer. "She was very angry!" can become, "The enraged woman indignantly slammed the door and screamed." The ideas come to the writer just by looking at the columns of choices of nouns, characters, adjectives, adverbs, and verbs. The difference this can make to the student writer is huge! Brainstorming words without a thesaurus is a huge waste of time, and a standard thesaurus is a difficult tool for the budding writer to use. My older two students would have loved this book! My present student, not so much just yet. We're still struggling to write regularly. You would think I am asking him to swallow Caster Oil!
I am so thankful to IEW for their generosity in allowing me to receive copies of these resources to review. I do like this Resource Set. As I mentioned, for my home school the Timeline of Classics is going to be helping us for several years. A Word Write Now will be more useful to us once I get my student writing more diligently. Teaching with Games will be of value, too, as I adapt it to our style and get my son used to playing games with me as part of our day. As time goes by, In the years left in my home schooling I hope to use these resources extensively. (My son is not enthusiastic about these resources; what can I say?)
Other members of the Review Crew also IEW products to review. To see other product reviews of this and other IEW products, please click the button below.