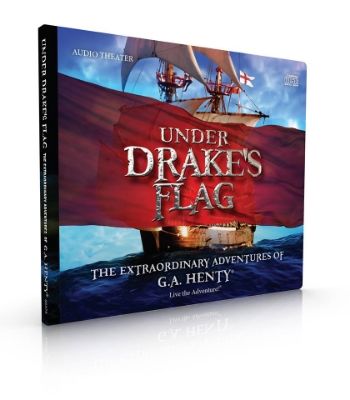 I was excited when it arrived, because I was certain my son was going to like it.
What Did We Get?
We received the 2 CD set of
Under Drake's Flag, as well as the digital download of the Study Guide.
Upon receiving my package in the mail, I opened it to find an attractive CD jacket, very colorful! When opened it revealed two CDs and an enclosed Study Guide.
The Study Guide has a section that tells you about how to use the study guide, followed by a section by section breakout of the drama, with exercises in "Listening Well", "Thinking Further" and "Defining Words". It is broken down into 19 subject areas to discuss that are contained within the story on the CD.
I thought the Study Guide was great, but then I received as well the on-line study guide, which is greatly expanded over the one that is included in the CD pack. It includes a section about G.A. Henty, the author of Under Drake's Flag (the book that is being dramatized), as well as a section about Sir Francis Drake, the individual the story is ultimately about. Each section of Listening, Thinking and Defining is expanded over the one included in the CD set.
How Did We Use It?
My efforts to introduce the CD adventure of
Under Drake's Flag were initially rebuffed by my son. He wanted to be on break from school for the summer, and he felt like I was trying to "make him do school" during summer break.
The opportunity to introduce the CDs arose, though, as we took a day-trip to the beach. "Stuck" in the car for hours on end, and beginning to get bored, he reluctantly agreed to let me pop in the story CD to listen to.
When we had finished listening to the first CD, I asked him if he wanted to continue listening to the story, and he said yes, but with a ho-hum sigh as if meaning, "There's nothing else to do right now..." In truth, though, it was an act he was putting on. At some point in the listening he reluctantly confided that he really was enjoying it and was glad I had brought it to listen to.
In fact, my husband (at this point listening by default) was totally hooked by the story as well, listening to the very end and commenting here and there about the content. He is not very familiar with this period of time. None of us actually know very much about the "Spanish Inquisition", which is part of the story, and hearing this drama left both of us interested in researching the matter further.
As far as using either study guide at this time, though, we did not. It was, after all, summer. My son will have the opportunity to cover Admiral Drake again as we get to him in our History rotation, and I can't wait to pull this CD set and Study Guide out again and really dig in and get to the meat of it (and especially defining vocabulary words) at that time. Why? Because my son resigns himself to the necessity of deeper study during the time we traditionally call the school year, but if I tried to do it during the summer he wouldn't be focused. It would be like having a conversation with a brick wall.
Any Special Issues or Concerns?
Under Drake's Flag is presented from a somewhat Protestant view. My husband, in his faith, is a Catholic believer, and I am a Protestant. He does not know the history between Protestants and Catholics all that well, although he is aware there have been events or practices in the past of the Catholic Church that were wrong (indulgences, for example). Listening to this drama tends to leave the listener thinking that it was terrible the way the Spanish Catholics were handling anyone who disagreed with the way they saw things. Now this is not a slam against the Catholic Church, but rather a slam against something that truly existed within one group of Catholic believers at that time. And I have still not studied the Spanish Inquisition any further to get further information. My previous experience with materials by G.A. Henty, though, is that they are well researched and accurate, even if presented from a Protestant slant (which might sometimes make them uncomfortable for Catholic believers to read or listen to).
Age Range for this Product?
These videos are ages 6 to adult. Some of the audio might have subject material you are not ready to discuss with your younger ones. Personally, I am glad my sensitive son didn't listen to this when he was younger than 12 years old. Each family, each child is different. You listen to it yourself first to decide.
Specifics about the Product?
2 CDs and a Study Guide for $29.95;
2 Hours of non-stop adventure!
Digital Study Guide PDF is available as a part of other offer combinations available on the Under Drake's Flag page. The Study Guide itself is worth $20, but for $20 you can get the Study Guide AND the mp3 download of the audio adventure. There are also other offer combinations on the page to choose from.
Heirloom Audio Productions
was very kind to let me review
Under Drake's Flag. I really enjoyed this audio adventure. If you go to their page you can see snippets about how they created the recording and you can listen to small sections of the audio adventure.
If you would like to read more reviews of
Under Drake's Flag, click on the button below.