Today I get to tell you about an online resource called
Time4Learning
. I first learned about
Time4Learning
four years ago, when I was on the Maiden Voyage of
TOS Crew
.
I looked for my previous review, but I'm not able to find it. The synopsis is that in a very short period of time, I lost so many family members that it was unbelievable. And at a time when I was not functioning well,
Time4Learning
was a gift from God!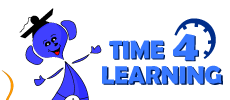 Time4Learning
has a program for children from K through 8th grade. They have lesson plans for students in Language Arts (primarily Grammar), Spelling, Math (PreAlgebra & Algebra Online), Social Studies, Science, and Art (for an extra fee). And the parent has their own log in, so they can get reports and know what their students have completed and how well they are doing.
For the littlest ones,
Time4Learning
starts out with an eye-catching phonics program: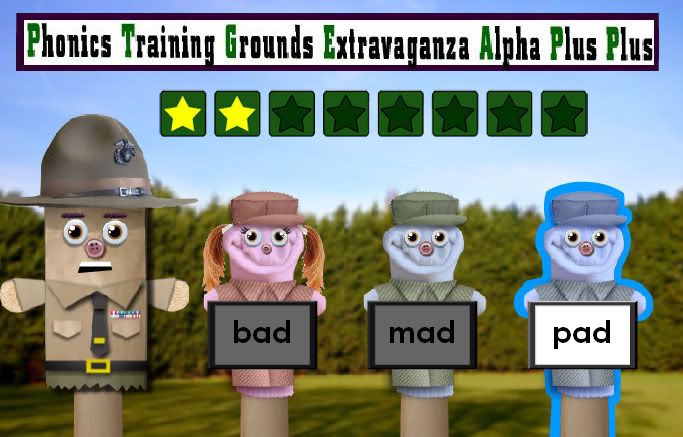 This program walks them through, step by step, to early reading, and then strengthens their reading and gives them confidence. Each year their reading is
challenged and strengthened with presentation of words at gradually increasing levels of difficulty. As they are presented with reading tasks, if they need help they can click on an icon and the program will read the section for them. As they read with their eyes and hear with their ears, they learn words they were unable to figure out on their own.
Math is also presented each year according to age appropriateness. Kindergarten begins with number recognition and beginning addition. First grade presents addition and subtraction of single digit numbers, with beginning concepts of many facets of mathematics, including units of measure and telling time. Second grade incorporates yet more concepts, such as graphing, in addition to addition and subtraction of two and three digit numbers, information about fractions, reinforcement of telling time, etc.
Each year continues to build on the last, and units within each area offer the option of tests and quizzes. Parents can check not only the scores of tests and quizzes, but also can check to see level of mastery at each level that the student has completed.
The Language Arts sections of the program start by introducing the basics: parts of speech, capitalization, and punctuation. (There are eight parts of speech, which I probably can't remember off the top of my head, but they include nouns, verbs, pronouns, adjectives, prepositions, articles, etc.) The learning doesn't stop there. I was delighted when I realized the program was filling in holes I had left in my son's education in additional areas: synonyms, antonyms, homonyms, etc.
We got into a lot of interesting conversations over pronunciation as a result of the sections on homonyms. "Our" and "hour" are, but they sound like "Ow-r", whereas "are" sounds like "ar". "Aunt" does not sound like "ant", and "where" does not sound like "wear" and "ware". So, those were fun conversations. (With my English father and grandparents, "aunt" sounds like "ah-nt", and with my phonogram awareness, "where" starts with an airy "wh" sound that a plain "w" does not make.)
The Language Arts section also includes Literature pieces. I really enjoyed overhearing as my son was listening to stories from American Tall Tales, such as stories about Pecos Bill.
We also have had fun with our son entering into our adult conversations with bits of information he had learned that I, his homeschooling mother, had not taught him. I can't remember the most recent example, but it seems like it was something about space that he had learned. I was caught off guard by what he said and asked him, "How did you know that?" He promptly replied, "I learned it on Time4Learning!"
The
Time4Learning
program also contains a Social Studies section, presented in a lively, captivating way. There is also a new section for Art and Art Appreciation, but this section costs an addition $10/year fee, and this was not included in what was made available for me to review. I will say, though, that we have used it before, and it is my son's favorite part of
Time4Learning
. I would catch his watching the same section from Art again and again -- it was not just the Art section he liked, but the content itself was so interesting that he would return to the same sections again and again.
********************************************
Most of my contacts with
Time4Learning
have been through their website. However, in the event that you wish to contact them directly they are available by "snail mail" (USPS) and by "Land line" (telephone):
Address : 6300 NE 1 Ave, Suite 203 Ft Lauderdale, FL 33334
Hours: Weekdays - 8:30am to 7:00pm (6pm on Fridays) EST
Phone: (954) 771-0914 Fax: (954) 827-7600
The company's site map contains a
plethora
of information. Not only does it contain links to help beginning homeschoolers, but I also saw that anyone, even YOU, my dear reader, can get a free month of
Time4Learning
in exchange for a review that you would give on your blog. Sweet!
Time4Learning
has been an amazingly kind company, coming to my aid at a time when I was grieving, wanting one more month of their service but unable to pay for it. At that time they were so kind to me, giving me one extra month at no charge. I will always be thankful to them for that.
Time4Learning
is available for one low price. From their website:
The primary curriculum consists of language arts and math.

The language arts curriculum is presented in a suggested sequence designed to create a strong literacy foundation. It includes phonics, grammar, reading comprehension, spelling, vocabulary, writing skills and more. The language arts curriculum correlates to state standards.
The math curriculum combines multimedia lessons, interactive activities and reinforcing worksheets to teach basic arithmetic, number sense & operations, measurement, geometry, pre-algebra and more. The math curriculum correlates to state standards.

Time4Learning also offers science and social studies as an added bonus. The science lessons are available from 1st through 6th grade, and the social studies lessons are available from 2nd - 7th grade levels. Because state by state standards differ, science and social studies may need to be supplemented to satisfy your local requirements.

Please note that it is possible to use Time4Learning for just one subject, however, pricing will not change.
That last section, that you can use for just one subject -- the way they have the membership set up, you the parent can decide, for instance, not to use the science because you do not wish to expose your child to an evolution point of view. I, for my part, chose to permit my son full access. I chose to stay close at hand, where I could overhear the content he covered, so we could later discuss anything I had heard that was different from what we believe. There was one example, for instance, where a literature example of hyperbole said something like that dinosaurs died out millions (maybe it said billions) of years before man was on earth. (I believe Genesis suggests that dinosaurs were created on the 6th day, as were man and woman.)
Also, from there website:
Time4Learning includes the following:

Online curriculum for grades Pre-K through 8th
More than 1,000 interactive animated lessons
Self paced lessons that kids will enjoy working on
Math & algebra tutorials & printable worksheets
Language arts, phonics & grammar lessons
Interactive, project-based reading activities
Science (grades 1st - 6th) & social studies (grades 2nd - 7th)
Detailed reporting for easy record keeping
Extensive lesson plans & teaching tools for parents
and much more...

Time4Learning is web based, so there is no software to download, no CDs and nothing additional to purchase. Members can access the program 24/7 from anywhere with a computer and an internet connection.
So, I hope you have gotten the impression that I like this program. How can you not like a program where your child who hates school wakes up asking, "Can I just do Time4Learning today?"
That being said, there were some areas that I considered weaknesses or areas that I didn't like:
--As I mentioned above, the program has a decidedly evolutionist slant, which shows in some of their science, and which also occasionally slips into other subject areas.
--There is an "Assignment" area where teachers can set up student assignments, so the student knows what the teacher wants done when they fire up the program, but this section is available for "school" teachers, and has not been made available for homeschool teachers.
--When child is in "Playground" area, the links made available seem to actually go off of the "Time4Learning" pages and go to other websites. (I found myself on PBSKids.org when I clicked on several links from the "Playground".)
So that's the good and the bad of it. While my son learned a lot using Time4Learning, I was not good at planning, nor at implementing a plan, so my son used the program as a fun supplement to what we were already doing. With careful planning and implementation it can, possibly, be used as a full curriculum for Language Arts and Math, and maybe even other subjects depending on the laws in your specific state. It is also useful for students in conventional schools as an after school program.
I received one month of access to Time4Learning in exchange for this review. I was not paid for my review in any other way than the free use of the program. I hope you enjoyed my review. You can read this and other TOS Crew Reviews of this product at the
TOS Crew Reviews Page
.
Please leave me a comment -- I like comments!