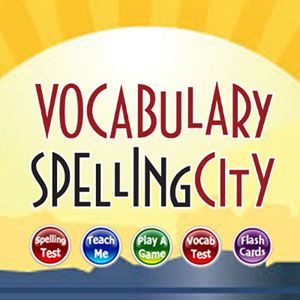 I had the opportunity to review
VocabularySpellingCity in the past (my previous review), but there are aspects to the program that I discovered this time that I didn't find last year. (I don't know if they are new, or if the program is just so comprehensive and amazing that it takes awhile to discover all the great things about it!
I have had access to the
Premium Membership

for a little over a month now, and I am still discovering ways I can integrate it into my program. The more lists I get set up with the program, the more we use the program. I just have my son log into his account each day and work through the assignments I have set up for him for that day. When he completes an assignment and takes the test, I am able to monitor his progress through the Teacher's Toolbox tools.
The first way that I wanted to use
VocabularySpellingCity was to create SAT Prep vocabulary lists for my son from an online set of lists I had found. There are so many words there that I focused on words I figured he didn't know the meaning of or words I thought he didn't know how to spell. So I got lists set up, and he is quickly catching up to me, so I need to input more words.
VocabularySpellingCity has a variety ways for the students to work on the program. There are flash cards: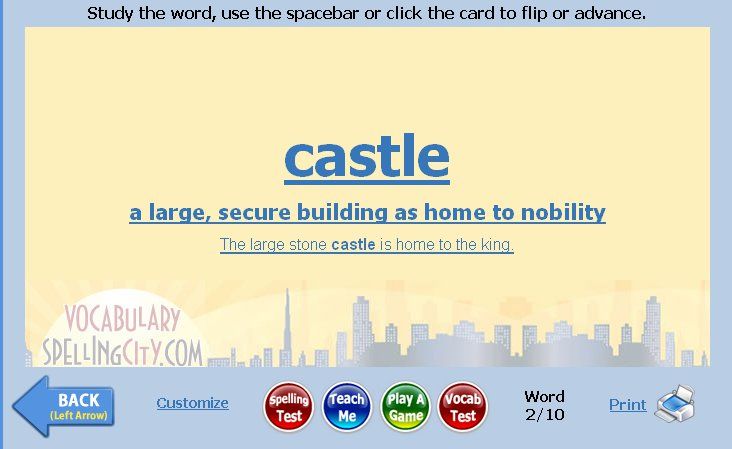 There is a fun game called Word-a-rama: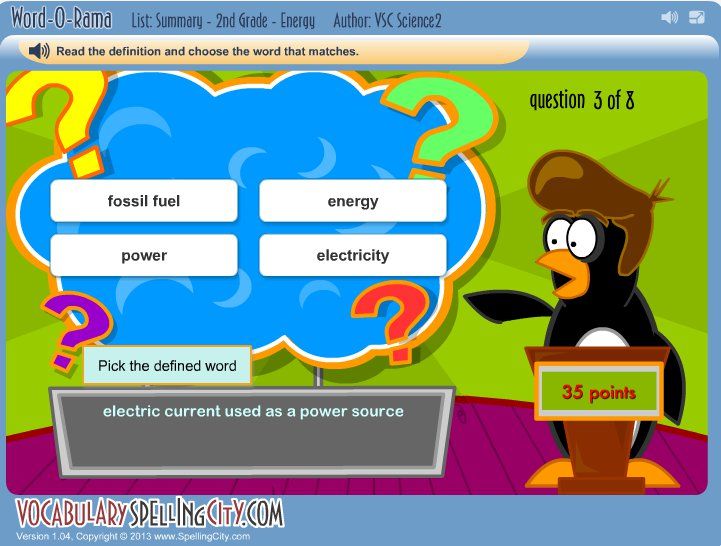 There is another fun game called Letter Drop:
Unfortunately, my son, "Mr. Attitude", doesn't want fun ways to learn. He doesn't want to learn. He just wants to be done. So most of his time on
VocabularySpellingCity was just spent right on the word lists and tests, trying to finish, not caring about other fun things on the site he could do.
Nevertheless, this program has benefit to our homeschool. Watching the videos available on the site, I got more and more ideas of ways I could use this program for my son's benefit. The videos go very quickly, so I often ended up watching parts of a video again and again to see what the screen had on it (things I was interested in that were different from what the narrator was focusing on). Additional ways I am beginning to use this program:
Vocabulary lists from our Science course;

Math lists;

Social Studies lists;

Language Arts lists;

Literature word lists;

Science word lists;

Handwriting practice;

Writing assignments;
So what I am saying is that the further I dig into this website the more amazing it seems to be! I especially like the fact that when my son takes a test on this program, the results are tallied electronically and his score is stored for me to retrieve and record in his records. That was so easy!
Many of the videos on the website are geared toward how this program would be used by a classroom teacher. Some of the great functions needed by classroom teachers aren't needed by home school parents. We don't need to know how to send letters to parents, etc. That shouldn't deter you from considering this program. We can ignore the aspects about how to load large groups of student names and how to group them. That doesn't bother me.
The aspect that I like best about this program is creation and designation of assignments to the student. I love for my son to go to his page and see what his current assignments are. That is so perfect for him with his particular issues. ("What do I need to do to be finished?")
Are there any disadvantages?
The biggest problem many home schoolers will have with this program, besides the time needed to learn how to use it (which we have to do with any new thing that we switch to), is the time it takes to set things up at the front end to keep things flowing smoothly throughout the year. My son's biggest complaint about our home school is that, when he looks at me, I am constantly on the computer. He can't really discern whether I'm playing games, reading email, creating lesson plans, learning a new language, reading about a new product -- he just knows that I am on the computer doing what I "want to do", and he wants to be on the computer playing the video game that he is addicted to and isn't being allowed to.
The second difficulty that I have has nothing to do with the program itself, but has more to do with the ever delicate balance we are constantly walking in my home, trying to get my son to understand the importance of being trustworthy on the computer to stay on the task(s) assigned. His sole goal seems to be to finish assigned tasks so that he can switch his screen over to either his video game or the video site where he watches videos about his video game. It is a never-ending battle. Still working through trying to figure a way to configure one desktop so that it can only access the educational sites I want him to go to and block the sites that he is allowed on during his "free" computer time.
So, there's the honesty. These issues are not insurmountable, but they are real in my house.
VocabularySpellingCity's
Premium Membership

costs $29.99 for a full year for up to five students. It is for all grade levels (K-12). If you (bless you!) have more than five in your home school, contact the sales department to see if they can give you more slots. You probably don't need a Teacher's account (for up to 25 students, costs $49.99 for a year), so maybe they can pro-rate additional students in your family. actually has a free, "Basic" program. From there site, here are the difference and benefits you get by purchasing the Premium Account over the Basic Account: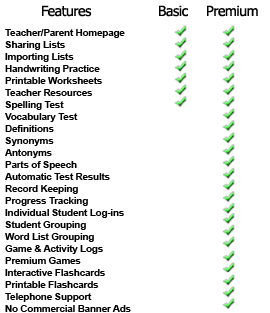 Overview:
I just have to say, I'm in love with this program. I am so glad to have been given this opportunity to see the new expansions and improvements to the site. I look forward to continuing to use it this year. I consider the price to be very reasonable even for a one-student family like mine, but those with more children get the same value at the same one low price! I think this is a wonderful program at a great price. If you still aren't sure, then sign up for the "Basic" program and use that for awhile. You can upgrade to Premium whenever you want!
I received a one-year free Premium Membership in exchange for my honest review of this program. Other members of the TOS Homeschool Crew also had the opportunity to review this program. To see their reviews, click the CREW button below.