In April the TOS Homeschool Review Crew learned that we would have the opportunity to receive a product from Christianity Cove to review.

My son has experienced some bullying, so I was intrigued by a title called Bullying and the Bible. I was asked if I had a second choice, so I also put down the title Freedom Ride. I was really surprised when I received both
Bullying and the Bible AND a copy of
Freedom Ride! So I will be reviewing both. I will review
Bullying and the Bible first.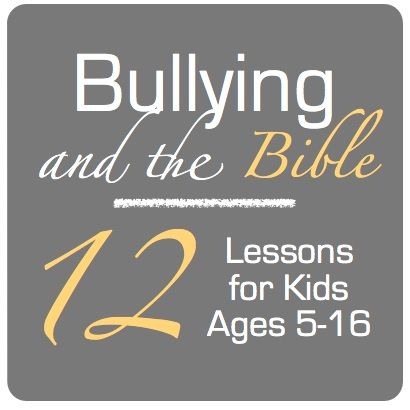 1. Identifying bullying behavior;
2. How to handle bullies vs. meanies;
3. How to help victims of bullying (being good bystanders);
4. How to safely warn bullies (being courageous bystanders);
5. What to do if you are a victim of bullying;
6. Ways to change if you have bullied.
Lessons are divided up into the Lesson Capsule (teacher intro), Top of the Lesson Attention Getter, Intro Material Presented by the Teacher, Scripture Reading, Discussion, and This Week in Prayer (to keep them thinking of the content during the week.
Bullying and the Bible for Young Students Ages 5-9 is available as a PDF download for $27.
~~~~~~~~~~~~~~~~~~~~~~~~~~~~~~~~~~~~~~~~~~~~~~~
My son is 13, for purposes of this review I focused only on the version for older students. The above chapter titles are so good, though, that I guarantee I will be going over that material as well to see what I can glean from it.
1. Joseph




2. Moses




3. David




4. Shadrach, Meshach & Abednego




5. The Adulterous Woman




6. Jesus
We jumped into the lesson for Joseph and worked our way forward. From the very first lesson, my son was engaged with this material. I had suspected he would be, but with my son I never know until I get there. But this subject material struck close to my son's heart and experiences.
The program begins with a good definition of bullying:



Bullying: Negative verbal or physical behavior that is done (a) directly to a
person or person's property, (b) with the conscious intention of either
upsetting the person or manipulating the person's behavior, which (c) God
would not approve of.
The material then walks the student (class) through different biblical stories with scenarios that can be thought of as bullying, and then talks about modern-day scenarios the student might be able to relate to. My son certainly could!
The lesson format is clearly designed for Sunday School groups. I just adapted it to use with one student. I can see ways in which using this material in a class-room setting would open conversation up and get it flowing in a way that might not happen with one student. But in my situation, I even think one-on-one was better so that my son felt the freedom to speak freely and transparently. We have a good relationship, and he felt free to dump his heart. He didn't need to feel concern about what other students might think, or concern that he might be mocked or harassed later about what he had said.
The most interesting thing I have learned so far from this material is the concept that an individual can inadvertently set themselves up as targets for bullying, but can also learn techniques, and an attitude, that can deflect a bully, cause the bully to reconsider that maybe the individual is not really a good target. I never thought about this when I was a child, but in retrospect I can see situations where I was bullied to a point, but at that point I had had enough and refused to tolerate it any more, and inevitably that, in itself, seemed to send an invisible message to the bully that I was done, and she quit. So this curriculum helps our kids learn that, and helps them begin to learn how to behave differently so they are no longer targeted by the bully.
We are almost done with this program, and it has been good. I will also be looking over the material for ages 5-9 as well, just in case there is also material in there that might be helpful for my son. I have not been happy that he has been bullied, and I have been very glad we were selected to review this product.
Bullying and the Bible for Tweeners and Teens (ages 10-16) is available as a PDF download for $27.
~~~~~~~~~~~~~~~~~~~~~~~~~~~~~~~~~~~~~~~~~~~~~~~~~~~~~~~~~~~~~~~~~~~~
The second book we worked on during this review period was
Freedom Ride. The purpose of the curriculum
Freedom Ride is to prepare high school students to own their own faith and know how to walk in that faith on their own, so that when they move on to college they do not walk away from what they believe.
The
Freedom Ride program has 12 lessons spread out over 82 pages, and is written for Sunday School or youth group settings. Like Bullying and the Bible, they can be adapted to be used with one student, but it means there are cute activities you can't really use. I sort of described the activities to my son when we couldn't do them. Some of them we were able to do, just the two of us switching back and forth, taking turns. They would be easier with a larger class.
The Lesson Titles are:
How to Talk with God (and not break out in hives and actually enjoy yourself);

How to Hear God's Voice (& not scoot under the bed or break out in more hives)

;

3 Reasons We Don't Hear God (& how to get the wax out of your ears);

Following God's Leading (& not ending up in Catawangawanga);

Loadies, Cokeheads, Drunks, Stoners (& the psychology of stooping so low);

Gossips & Other Trumpet Mouths (& ways not to join the band)

;

Peer Pressure: You're Not a Zit (& how to get the wax out of your ears)

;

Peer Pressure 2: You're like a Balloon (so don't end up deflated);

Facebook Fights & Texting Wars (& how not to get your face blown off)

;

Finding Your Gifts from God (& therefore some meaning in life)

;

Putting Yourself in Others' Shoes (& not catching their foot fungus);

Loving Your Brothers 'n Sisters (even when you want to clobber each other)

.
Lessons are divided into a "Lesson Capsule" for the teacher, as well as a description of the "Preparation" for the Class Activity. Once the teacher is prepared, the class includes a Class Activity, Small Group Discussion (with two or more sections to choose from), and a personal application section called "Help All Week". The lessons can be completed one per week or one per month (it seems like it would work best to be used weekly).
My son did not like this program right away. He warmed up to it with the second lesson, which is amazingly quick to me (if you only knew my son...). He still was not enthusiastic about the content of this particular e-Book, but then he is a little young for the content. The material is very "real-world", and my son having been home-schooled all his life, he hasn't been exposed to some of the real-world topics the way a public-schooled student may have been.
This particular program was more difficult to adapt to use with one student. As a curriculum for a Sunday School or youth group, though, it looks excellent, particularly for high school students. The author is right spot-on that our Christian students need to cover this material and be firm in what they believe before we send them out into the world where they need to stand on their own two feet. I do recommend this material, and I will revisit it when my son is a little older.
Freedom Ride is available in seconds as a PDF download for $29.00.
~~~~~~~~~~~~~~~~~~~~~~~~~~~~~~~~~~~~~~~~~~~~~~~~~~~~~~~~~~
The Schoolhouse Review Crew had the opportunity to choose from a large variety of titles available from
Christianity Cove. To read more reviews of the above products, or to see information about other products by
Christianity Cove, click the button below.