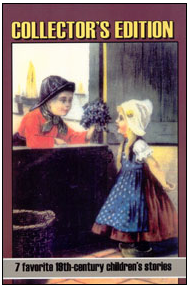 I was reviewing many products simultaneously, and as I was reviewing my list of products and how I was doing working through them, I realized I had never received my copy of the book! We notified the company, and they quickly got a copy to me. That said, however, I have not had the book as long as I should have, and sadly have not read as much of it as I would like to have read for this review. Nevertheless, I believe I can give a

good review with the amount that we have read.
The Collector's Edition is a paperback book, measuring 5" x 7", 1/2" thick, with 166 pages. It is part of The Children'

s

Heritage Collection by

Grace & Truth Books

. This is a collection of stories originally published in the 1800's by the American Tract Society.
As the title states, the book contains seven children's stories.
I wanted to use these stories as a nice time when I could snuggle up with my son, like at bedtime, and just read rich wonderful stories together. Unfortunately, it's been a long time since bedtime reading has been a practice for me. Sometimes Daddy does that, but Mom has usually been reading out loud all day and doesn't want to read again at bedtime. Also, for JD, Mom reads out loud when it is a school assignment. He said, "It doesn't feel like snuggle, cuddle, reading time. It feels like schoolwork, a homework assignment. I don't want to do it." Basically, it also amounted to, "I'd rather read... (this other book)..." So, since I rea

lly did want to test out this book on him, it really did become one more book I was reading during the day. That wasn't my intention, but it is what it is.
Now also as an explanation, my son is very difficult to please. If you read through many of my previous reviews, they begin to look like a commercial for Life Cereal from the 1970's: "Give it to Mikey. He won't eat it; he hates everything!" That has been my son. My reviews have read like, "It's a good

product. My son hates it, but I like it."
That said, I present to you this positive praise: My son seems to like these stories. What that means is he is not groaning and complaining when it is time to read them. I tell him I am going to read the next story for the day, and he is like, "Okay." And if you were familiar with my son, you'd probably be saying, "Wow! They must be good!" I certainly am not experiencing anything like him asking for one more chapter, or one more story, but it is

such a pleasant thing to have him not complaining, like he is with some of the other books I am requiring him to work through.
The content and messages in these stories are meaningful, without being too sickly sweet, or too preachy. I have really enjoyed these stories. They are quaint and sweet, and convey values I want to convey, but as a story where someone else is conveying the values, which is reinforcement of my values, rather than my son experiencing any more instances of, "Mom says..." or "Mom thinks..." I love coming across new reading materials the empha

size values I share.
I will not be reading the last story, "The Death of Emily", to my son. I previewed it, and he would hate it. He has a very tender heart. He knows death exists in the world, and has experienced death of grandparents (and can see death of his aunt on the horizon). He can read certain types of stories that deal with death, but not the type where you are lead to love the person in the story, and then they die. I've come to accept that this is the way he is, and have decided I don't need to

force him to "get over it"; it is just who he is. There will be enough real death in his immediate future (aunt, other grandparents), and other stories dealing with death. It is okay to let him skip certain stories that I might have gone ahead and read with a sibling.
The

Grace & Truth

Collector's Edition

normally sells for $7.50, but is currently on sale for $6.50. It might make a nice Christmas present for your nieces or nephews (or your brothers or sisters to read to your nieces or nephews), or it might make a nice addition to your own library to add to your bedtime reading books. For th

e price, this is a very nice book.
I

n addition to the Collector's Edition, Grace & Truth also carries a wide variety of other books for boys and girls, young men and young women. Click the Crew link below to go to the Crew Review blog entry for

Grace & Truth

to check out reviews of their other products, or click on the

Grace & Truth

link to see their other products.
DISCLAIMER
: As a member of the Schoolhouse Review Crew, I receiv

ed
a paperback copy of
Collector's Edition: 7 favorite 1

8

th-century children's stories
from
Grace & Truth Books
,
in exchange for my honest, uninfluenced review.

I was not required to write a positive review nor was I compensated in any other way. All opinions I have expressed are my own or those of my family. I am disclosing this in accordance with the FTC Regulations.
This has been a Schoolhouse Crew Review.

If you like my reviews, consider leaving me a nice comment! :)