My current favorite "base" curriculum (main core curriculum that I add other things to) is
Ambleside Online.
In my state, home school law requires that we educate regularly and diligently in eight basic subject areas: English, Mathematics, Science, Social Studies, Art, Music, Physical Education and Health.
One of the reasons I like
Ambleside Online
is that composers are studied throughout the years of the child's education, so that by the time of graduation they have had the opportunity to become familiar with the lives and works of 39 composers.
Downfall: I don't always implement my
Ambleside Online
curriculum plan well. In other words, my lesson plan might say that I am currently to be covering Mendelssohn, but I might not actually be doing it adequately (if at all). Some weeks are better than others, but I wish I were doing better than I am.
So when the opportunity arose to review a product by Maestro Classics, a CD of Swan Lake, composed by Tchaikovsky, I liked the idea and jumped at the chance. We actually studied Tchaikovsky a couple of years ago, but I really didn't think my son remembered it, nor that we covered it adequately or well. (See previous paragraph.)
So I was delighted when I was selected for this review. Maestro Classics sent me a CD of
The Story of Swan Lake
, with a little booklet of The Story of Swan Lake. The music on the CD is performed by the London Philharmonic Orchestra. The booklet contains some cute things for the kids: a maze, a dot-to-dot, and a cross-word puzzle. It also it contains some information about Tchaikovsky himself, as well as information about the story of Swan Lake, and the words and music to a little song, "Tchaikovsky Wrote a Great Ballet". There is also information in the booklet about the conductor of the London Philharmonic Orchestra, the CD's Executive Producer and Narrator, the guitarist on the CD, various types of guitars, and a small lesson on major and minor keys. That's a lot of information for such a small booklet!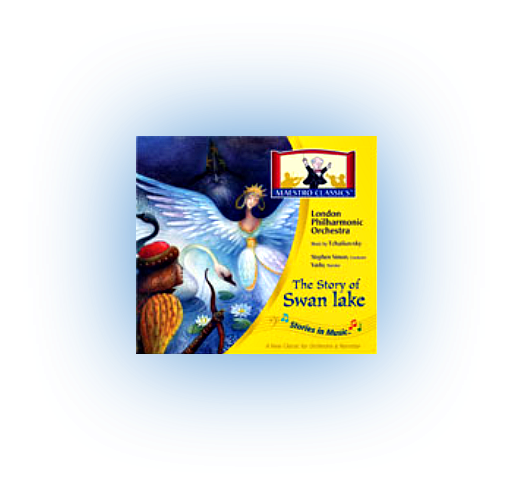 After perusing the booklet, I put the CD into my drive and began listening. The CD begins with a track that works through the story of Swan Lake, where the narrator explains the plot and the action while Tchaikovsky's music plays in the background. Very nice.
The second track teaches the student about Tchaikovsky, and presents a variety of his musical compositions (in brief). I really enjoyed learning about Tchaikovsky. I enjoyed the description that he was not a child prodigy, but was rather an insecure, overly sensitive, messy little boy who took music lessons beginning at the age of five. Because he was a smart young man, he was soon reading music as well as his teacher. His father was not preparing him to have a career in music -- he had been told that Pieter would not likely be able to make a career in music, so he was being prepared to have a career as a civil servant.
Pursuit of music was not being encouraged in his school; however, when his mother died of cholera when he was 14, Tchaikovsky turned to composing as an outlet for his grief. His father permitted him to take piano lessons, but he continued his education to be a civil servant. After graduation, he became a civil servant, but continued to pursue music in the evenings and began to study music theory. Through a few interesting turns of events, Tchaikovsky made the decision to quit his Civil Servant job to attend the newly opened Conservatory of Music in St. Petersburg, Russia. When he graduated, he was invited to serve at the Musical Conservatory at Moscow. There were ups and downs in his development, but his works quickly became popular. He himself still preferred to be behind the scenes, even as other musicians performed the music that he had composed. Interestingly, Tchaikovsky's music was more popular in America than it was in Europe! Tchaikovsky died under mysterious circumstances at the age of 53.
People continue to love Tchaikovsky's music, his melodies, and his ballet.
After a section about Tchaikovsky himself, the CD talks about the music of Swan Lake itself. The conductor narrates explaining that ballet contains two types of music: dance music, and music to tell the story.
The CD's third track is a section of solo on electric guitar. It is wild, blaring, and I didn't like it. The accompanying booklet explains that the music is that of Joe Stump, one of the top shred guitarists in the world. Obviously I don't like shred guitar. I know they didn't have electric guitar in Tchaikovsky's time...
The CD ends with three tracks about the song, "Tchaikovsky Wrote a Great Ballet." - The first plays a piece of music that Tchaikovsky wrote, set to the words of the song, "Tchaikovsky Wrote a Great Ballet". That track is followed by the same song an additional time, music only, no words. The CD ends with the producer encouraging the listener to have fun with the song of "Tchaikovsky Wrote a Great Ballet," following along the words and the music in the booklet.
The Good and the Bad (and recommendations)
:
First, the good:
It's Tchaikovsky. Hey! I love it that materials are being created to teach children to appreciate classical music. I love that the research has been done for me: the music is there, the composer's biography is there; the story behind the music is there.
Then, the bad:
I really love Tchaikovsky. While the CD serves an educational function, I still wish there were more pure music. In fact, I would love it if the CD were two sided. One side could be exactly this CD; the other side could contain as much as possible of the music of Swan Lake. That would have been perfect.
The Specifics
: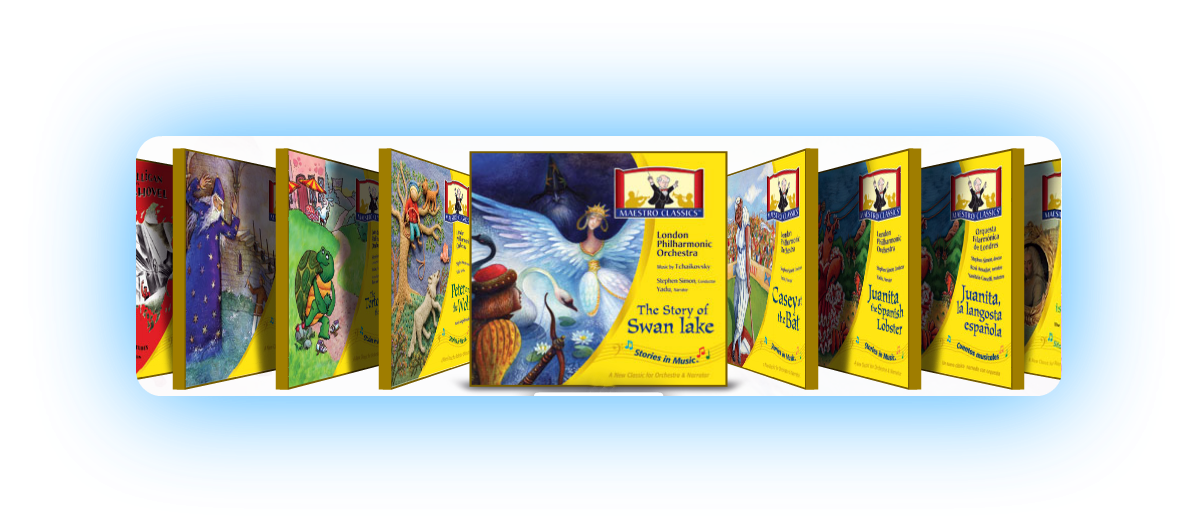 Maestro Classics materials are intended for anyone ages six and up. My personal opinion is that most families will find these materials most suitable for children ages 6 - 12.
I did not detect any particular religious bent in this product.
Study of classical music is good for all students. I guess, theoretically, auditory learners might benefit the most from this type of product.
I will be recommending this product to my friends who also do composer study and expose their children to classical music. I think Maestro Classics has a lot of room to expand their product offerings. I would love it if they were to go to my particular curriculum's home page, look up the composer studies, and make one CD with six musical pieces each of all 39 composers that the composer study schedule cycles through. They could do all my work for me! They could have the musical works on one side of the CD, and the other side could tell the biography of the composer, a little history and geography of his life, and the stories behind the musical scores that are on the flip side. Well, I'm probably dreaming, but I guarantee that I WOULD find a way to buy three CD's a year for my three composers of the year if they were to do this for me! :)
Disclosure: I received a free CD of
The Story of Swan Lake
, by
Maestro Classics
, in exchange for my honest opinion and review. I received no other compensation (other than the aforementioned), and this page contains my honest opinions.
This has been a TOS Homeschool Crew Review.
TOG Crew Review page
for this product.Throw me a bone! Leave me a comment! I love comments!