When I arrived in this world, I was unable to speak. When I needed something, if it did not appear without being requested, I probably cried until my mom could figure out that I was hungry, or wet, or cold.
My parents and my brother and sister had a different way of communicating, and I wanted to learn that way to express myself as well. So I watched, and I listened, I payed attention, and I learned. Real life language learning occurs best through this method, known as immersion.
In my later school years I wanted to learn French, so I signed up for French class year after year. French was taught using the immersion technique: after day one of class, English was never again spoken, unless you asked in French, "How do you say..." and then you could say an English word, "cow?". I learned to speak French. I never became well educated in French grammar, or learned all the possible declensions, but if I was dropped on a street in Paris, I could find the bathroom or order a meal.
Since then I have wanted to learn to speak Spanish. I have made attempts in the past to learn Spanish, to teach Spanish, but I have failed. Quite frankly, I haven't found myself to have the discipline to follow through. But now my son also wants to learn Spanish, and I know he will need to have a two years of a foreign language in high school. I paid to have my other two attend outside classes for foreign languages, but this time I'd like to go through the course with him!
This past month I was given the opportunity to review a Spanish language program called
REAL Homeschool Spanish.
("REAL" stands for "Relax, Enjoy, Aspire, Learn)
The author, Dr. Karyn Williamson-Coria, received her doctorate in Expanded French Studies, and then went on to learn Spanish on her own, with the help of her Spanish-speaking husband. After her children were born she began to home school, yet continued teaching Spanish and French.
I really like that
Homeschool Spanish
Dr. Williamson-Coria's concept with this course is that the homeschooling parent should learn the foreign language with the home schooled student, rather than the student learning independently from some home school curriculum program, or learning from some outside class. Now, those other methods work, and are perfectly valid for credit when applying for college, but it will be easier for my son to learn Spanish if I am also learning it because I can integrate the language into many aspects of our day throughout our day. This way learning the language is occurring through the immersion technique, which language experts will tell you is the ideal way to learn a new language.
The REAL Homeschool Spanish
"Book Bundle" can be
purchased
as an electronic download for $49.95 and includes the REAL Spanish Book (105 pages) (written more to the educator than to the student, but can be shared by the student), Activity Book (175 pages), Answer Book (45 pages), and Audio Files. For $59.95 you can get the same bundle, but with the addition of the Daily Curriculum Guide (50 pages) (very helpful). For $99.95 you can get a printed copy of the entire Book Bundle with Curriculum Guide and audio CDs.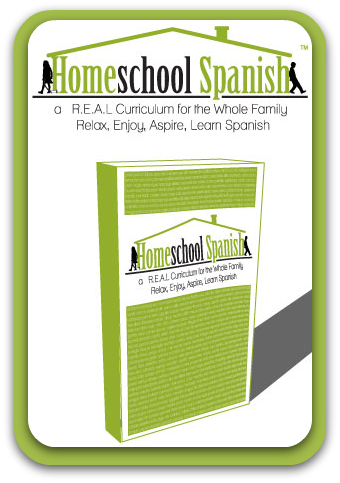 Each lesson incrementally focuses on a section of vocabulary and language to learn, and has corresponding audio files to listen to which can help with proper pronunciation. I find this helpful. I am trying, but my daughter says I speak Spanish with a French accent! By taking a peek at the
Table of Contents
, you can see what is covered in the course. Take a peek at some of the
pages from The Spanish Book
and you can get a flavor for how the book is set up, as well as see how well laid-out the materials are. At the end of each chapter of The Spanish Book there is an Idea Section.
Here is a sample for you to see.
The lessons in The Spanish Book are reinforced through corresponding sections in
The Activity Book
. You can know, step by step, what to do each day by following the
Daily Curriculum Guide
.
The
REAL Homeschool Spanish
website also has additional helpful resources that you will find helpful and beneficial: in addition to helpful cultural links, there are links to recipes, puzzles, maps, quizzes and games, history, animals, songs, and on and on. There are hours of additional support materials linked there.
Generally speaking, I did not find this curriculum to be religious, so it would not offend secular home schoolers. Being a program with no religious bent, it also would not offend home schoolers with strong religious beliefs. It is just a language program. It doesn't discuss anything religious that I found.
With this program, some can probably implement the system with limited preparation in advance. I, on the other hand, cannot -- for me this program requires I work the lesson in advance before teaching to my son. For one thing, I don't know the language. For another thing, if I don't make sure I know in advance what I am about to teach, a lot of our time gets wasted while I rummage through pages trying to find the right ones, rummage through computer files to find the right audio file. I have to have pages flagged and have audio files queued up and ready to play. Otherwise my son would lose patience with me and I would lose his attention. Yeah, attention issues in this house. It's a balancing act -- keep it short, keep it quick, keep it moving, take a break and move on to the next subject...
POSITIVES
:
Immersion language learning;
Incremental introduction nicely done;
Audio track available and easily accessible, and very essential in my situation;
Daily Curriculum Guide is a day at a time, not a week at a time like some might be;
Activity Book is fun and engaging;
Ideas section helps me to think of ways to continue to integrate Spanish into our day throughout the day;
These materials are created in a way that a variety of ages can learn simultaneously. That means I can start now, or next year, or I could have started three years ago, and a large family can start one, two five, seven students all at the same time! Wow!
Affordable -- more affordable than many other language programs.
NEGATIVES
:
I received the download version, when I would have preferred to receive materials that were already printed out. I feel like I'm spending a fortune on ink this year, and I definitely needed to print out and organize a notebook (with several sections with dividers marked) to properly implement this program smoothly. On the other hand, if I had more than one student, I imagine I would see this version as preferable.
Heavy teacher prep required for teachers who do not already know the language.
One thing I wished this program had was audio/visual files, not just audio files. I learn much better with video/book programs than audio/book programs.
Even with all the positives listed above, my experience with this program thus far have not been wonderful. I do not consider this to be due to any fault in the program. Rather the problem was the timing of this material's introduction to our home school. My son is already doing so much school work, and there are subjects my state requires that we are having difficulty getting done. For both of us, the thought of diving into this program just now the way it should be done was enough to make us groan. My son is 6th grade this year, and I am optimistic that I can plan to fully implement this program beginning in September and have a much better outcome. I will try to keep you posted.
Disclosure: I received a free set of
The REAL Homeschool Spanish
in exchange for my honest opinion and review. I received no other compensation (other than the aforementioned), and this page contains my honest opinions.
This has been a TOS Homeschool Crew Review. To see more reviews of this product, visit the
TOG Crew Review
page. Throw me a bone! Leave me a comment! I love comments! Let me know how you like my reviews, and if you have any questions.