In early June I learned we were among those lucky Crew members who would be reviewing another production by
Heirloom Audio Productions
.
A couple of weeks later my package arrived containing the CD set of
Beric The Briton
.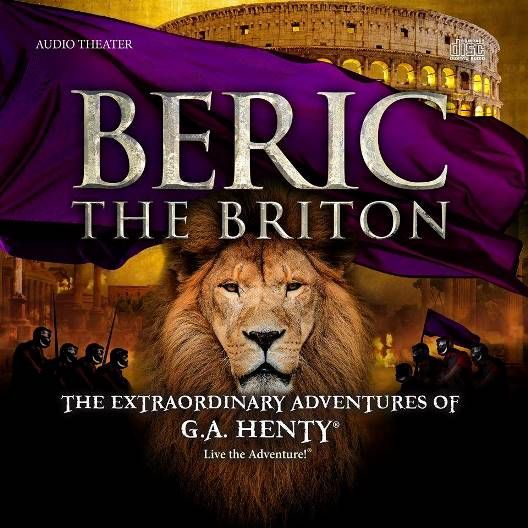 We had a couple of long trips on our schedule. Fortunately one of them was perfect for my plan to listen to the adventure. Perfect, in this case, meant my son was a captive audience, Dad was not there (he sometimes talks when we're trying to listen to something), and the trip was long enough that we'd be able to listen to the complete adventure.
To set this up I want to make sure my readers all understand that my son is a difficult critic. There is no gray area -- everything is either black or white, he either loves it or he hates it.
So, as we drove the 90 minute drive from our home to Baltimore, where we were to see the orthodontist, we dove into
Beric The Briton
.
This was an easy product to review. My son loved it from word one. When we got to the end of disk 1, he picked up the package to switch to disk 2. He saw the lion on the package and asked me if the lion on the cover meant the story was related to a certain C.S. Lewis series with a lion character. I said, no, it was a different story and I didn't know why there was a lion on the cover picture. (Later my daughter got it right away -- she saw a lion and the

Colosseum

. I couldn't see that while I was driving.)
My son started asking questions. "When does this take place?" "When did Rome fall?" I couldn't remember. As we listened, we pieced together that the story took place during the first century AD. I still haven't looked up the date for the "Fall of Rome".
So we finished the story. My son, the difficult critic, LOVES it! We saw my adult daughter (who lives ~60 miles away) a couple of days later, and he was raving about how good it is, that she's going to love it. I tried to hang onto it for photos for this review, but after searching for it all day I called my daughter. She has
Beric The Briton
with her!
She thought I said she could take it! ::sigh:: No photos.
Little snippets of the story line: Beric has been educated in Rome and has gotten a good education, including an education in Rome's military techniques. Beric returns to his family in Brittain. As he comes of age he is made chief of his people (tribe, I think). The Brits don't want to be under subjection to Rome and are fighting to keep Britannia free, but the Brits don't have good methods for warfare. Beric trains his group how to fight, and for awhile they make a difference, but ultimately the Brits are overpowered by the Romans. Beric and his friends are taken captive and required to become gladiators.
I won't tell you any more of the story now (no spoilers!). I will tell you there is a lot of battle as part of the story. When my son was younger he did not do well with this type of story. So I'm offering a warning here that tenderhearted children might not like this story. I now have a 16 year old who is in Civil Air Patrol, with plans to join the military. With his newer, mature mindset he loved all the battle tactics and descriptions of differences between how the Romans fought and how the Brits fought, and the changes Beric tried to implement. So when purchasing
Beric The Briton, you might want to listen to it yourself first and decide if one or more of your children might need to be exempted from listening to the story.
Beric came in a folded three-sectioned portfolio. It included two CDs and a little booklet that I can't describe because my daughter took it. Previous audio dramas from Heirloom included vocabulary, word search, crossword, and other fun educational items.
Included with the CD packet I received in the mail was a letter with instructions on how to access the bonus materials! So let me tell you about this wonderful bunch of bonuses! These include:
The study guide is a fabulous bonus. It is designed to help parents of younger students talk to their children about the storyline and its lessons. The study guide is 50 pages long and can be printed out double-sided on 8-12" X 11" paper. You can take it to a printer by storing it on a USB drive, or you can print pages you want at home in color or black and white.
The study guide has a beautifully illustrated cover page followed by a page giving credits to the cast and crew. Next comes the Introduction that describes how the study guide can be used. The study guide breaks the storyline down into shorter sections. It explains how each smaller section has a set of questions broken down into "Listening Well", "Thinking Further" and "Defining Words".
The next section of the study guide has small biographies about G.A. Henty (the author of Beric the Briton), Julius Caesar and Queen Boadicea. Then the question sections begin with "The Story Begins." I love the way the sections are broken down by disk # and track #. I also like that the sections are marked by tracking number. This way you can find the right spot regardless of how your device indicates its tracking. There are 30 sections of questions, and these also include some recipes and some links for further learning.
After the question sections there is a list of titles to consider for further learning about the early Brits and the Romans of the first century. This is followed by a section with historical background for Beric the Briton. There is a page encouraging following the "Live the Adventure Newsletter". This is followed by a Bible study and a section discussing the significance of the Colosseum in Christianity.
The study guide concludes with mentions of all the other audio dramas that have been produced thus far by
Heirloom Audio Productions
.
As I said,
Beric The Briton
is a winner in our house. I hope you will consider purchasing this and other audio dramas from
Heirloom Audio Productions
. I love their ministry and the way they are working to bring history alive!
Other
members of the Review Crew also reviewed this product. To see other product reviews, please click the button below.