During the month of July, I was given the opportunity to ready a new book that rocked my socks! And today I get to tell you about it!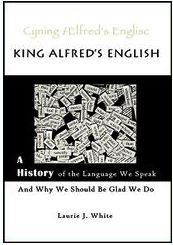 Let me start by giving you some of my personal background. First of all, ethnically, I am 1/2 English, 1/4 Finnish, and 1/4 Norwegian. So, I've always thought of myself as half British. Until recently...
I have been homeschooling 22 years. When my two oldest students were studying world history, the Middle Ages, and various aspects of the older civilizations, I read along with them and tried to understand what was going on, but I was lost. If I was lost, they probably were too. I couldn't keep up with the Angles and the Jutes, the Saxons and the Burserkers... They all just left a fuzzy, cloudy recollection in my head that they were part of European history, and that was it. And I had an understanding that at one point Rome extended to include England. I remembered that Gaul was what we now call France, and that Normandy is part of France too...
But after reading
King Alfred's English
, I understand so much of this material so much better! And it is an easy, quick read, and I want to go back and re-read it and go through the study materials to really, really wrap my brain around the entire thing completely!
For one thing, as I inferred before, I now am no longer content to to refer to myself as merely 1/2 British, and now being 1/2 English means something entirely different to me than being 1/2 British. What my "real" heritage is depends upon where, on the island, my grandparents were from. If they were from Cornwall, as I think they were, then I can still call myself 1/2 British in heritage. But if they were from a more central part, like London... That is where the Angles settled, and that becomes an entirely different heritage. But I won't tell you; you have to read it yourself.
I have also long been a logophile (if I am correct, this should mean a lover of words), or more correctly I have been one who studies word origins to help my students understand word definitions and spellings. I also teach my children phonics. I have now learned why "wh" sounds like "hw" (but I'm not going to tell you; you have to read it yourself). I learned:
that languages simplify over time; how, and why;

the history of "ain't"; that it used to be an acceptable word;

the origin of the terms "upper" and "lower" case for letters;

the ongoing battle of Latin: what it's about and why it's important;

this history of the toilet (ha! ha!);

more about druids,

corrected my history understanding about Constantine;

learned the origin of the Christian XP symbol and the origin of the term "Xmas";

where the name "jeep" came from... and so much more.
Reading this book was such a hoot! Every day I was sharing new tidbits with my family, "Did you know that..." ...and since they weren't reading the book and didn't have the context, for the most part they didn't care! But a lot of the time they were interested and thought the information was very interesting. I can't wait to go back and read it again, this time studying the material more deeply using the Student Page as I read so that I can get even more out of it!
Laurie White has really hit the mark with this book! I look forward to sharing it with my son fully this coming school year. But I sense you may not be completely convinced. I have a suggestion. Read the first chapter and see with you think! You can also see more about the contents by taking a look at the Table of Contents. If you decide to have your students cover the material in the book, you can also refer them to the
Student Page
, and you yourself have your own Teacher's Page to get worksheets and tests for your students, as well as their answers.
King Alfred's English
is brought to you by PNP and TheShorterWord.com (to understand that name, read the book!). This company also offers Baktar: A Tale from the Andes; Barn Roofs, Quail Coveys, and General Mischief; and World History/Bible.

DISCLAIMER:
I received a free Kindle copy of
King Alfred's English in exchange for my honest opinion. The opinions expressed in this review are my own, and I was not told what to say.
This has been a TOS Schoolhouse Crew Review.
" alt="Photobucket" border="0" />
To see more Schoolhouse Crew Reviews, go to the Schoolhouse Crew Review Blog page for
King Alfred's English
: